Real Sociedad Midfielder Reportedly Unlikely To Return To Real Madrid Next Season
KEY POINTS
Martin Odegaard is currently loaned to Real Sociedad from Real Madrid
The 21-year-old Odegaard is scouted as a rising star with the potential to further improve his game
It has been reported that Odegaard may see one more year with Sociedad before returning to Los Blancos
The roster of Real Madrid has had considerable depth in the past seasons with several talented players on loan. One of these includes 21-year-old Martin Odegaard who is reportedly unlikely to return to Real Madrid next season.
The midfielder has been one of the more promising players for Real Madrid with the way he composes himself on the field. Ever since signing up for Los Blancos in 2015, he was a loan for several teams including Sportclub Heerenveen, Vitesse and recently at Real Sociedad.
Throughout his stint with these teams, Odegaard has shown improvement in his game with his discipline to work hard coupled with his cerebral approach to the sport. The manner he finds his teammates with crisp passes partnered with his laudable dribbling skills puts him as an asset to any team.
This was exactly what he has done at Real Sociedad in just over 28 matches. The former UEFA Supercup winner has managed to score on seven separate occasions with eight assisted goals to add.
Per Goal, Real Sociedad president Jokin Aperribay believes that Odegaard is bound for one more year with his club.
"I think Odegaard is going to stay at Real. It is what I believe and the hope we have," Aperribay shared.
"When you stay at Real, if you stay, you have to be convinced, like when he came last year. Convinced that it is the best option for next season," Aperribay added.
The young star is bound for more in his career as he's proven in multiple times that he can keep up with the world's best players. Gaining more and more experience with other clubs only shows the potential that the Norwegian possesses.
It'll only be a matter of time until he returns to Real Madrid to show how much he's grown but for now, it's still speculated that he will remain with La Real.
"The decision is up to him and I think he will stay," Aperibbay concluded.
In addition to all the praise, former Sociedad player Roberto Lopez Ufarte sees Odegaard as an excellent midfielder who carries the tools to be great.
"I think he has his head screwed on and he knows why he came here: To show people, to show that he has a lot of ability and that he is waiting for a spot to open up at Real Madrid," Ufarte said.
It will be interesting to see how Odegaard's career evolves through the years under Real Sociedad and Real Madrid.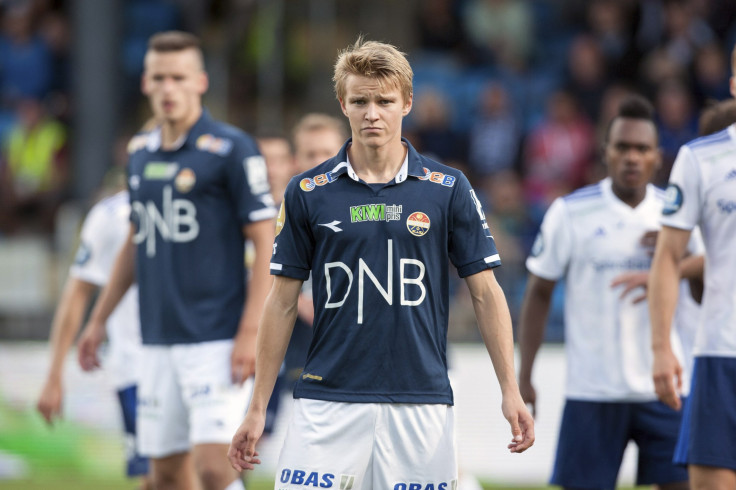 © Copyright IBTimes 2023. All rights reserved.