Recalled: Some Chevrolet, GMC Natural Gas Vans Need To Be Fixed, Again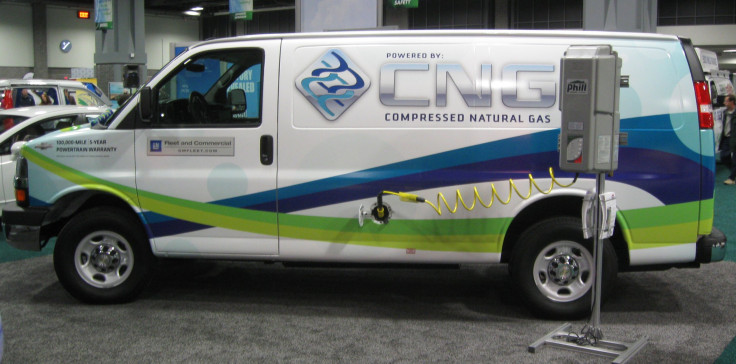 General Motors is recalling thousands of its vans that have been converted to run on compressed natural gas (CNG). This is the second time the vehicles have been recalled to repair a fuel leak that could cause a fire. No injuries have been reported.
The notice covers 3,196 Chevrolet Express and GMC Savana vans from the 2011 to 2014 model years that run on compressed natural gas. The vehicles "may have a CNG high pressure regulator that leaks natural gas into the atmosphere," GM told the National Highway Traffic Safety Administration in a letter dated Aug. 13 that was made public by the traffic safety watchdog on Thursday. "If a leak is suspected, the customer should not start the engine or drive the vehicle. The customer should immediately have the vehicle towed, inspected and repaired."
The vans were modified to run on natural gas by Impco Automotive, a Sterling Heights, Michigan, company that converts GM, Ford and Isuzu trucks, vans and commercial vehicles to run on liquefied propane or CNG. After reviewing warranty data regarding gas leaks, GM and Impco concluded that the leaky regulator that controls the flow of gas from the storage tank was connected to a May 2013 recall of the same vehicles to replace a component that could corrode and cause a an electrical short and fire risk. Thirteen of the vehicles were purchased in Canada; the rest are in the U.S.
Owner can look up their Vehicle Information Numbers at GM's Recall Center website here. About 29 million GM vehicles have been recalled so far this year in 66 announcements in the wake of the controversy around the way the company handled a fatal ignition switch flaw in older sedans.
In March, over 300,000 Chevrolet Express and GMC Savana vans from model years 2009 to 2014 were recalled to fix an airbag problem. And in March 2013, 48 Chevrolet Express CNG vans were called back to fix a storage tank pressure relief device.
Earlier this month, The Los Angeles Times reported that Honda and GM's Chevrolet division are taking a stab as introducing low-emission natural-gas-fuelled passenger cars. Natural gas costs about half the price of gasoline in California. Currently CNG-powered vehicles are largely used in commercial trucks and city buses. But consumers have been wary of the technology. Honda's upcoming CNG-powered Civic and Chevrolet's Impala that can take both gasoline and compressed natural gas will come with the same warranties as their conventional counterparts in an effort to attract consumers.
GM's recall shows the kind of issues that could crop up using a tank of compressed gas to power a vehicles. While tanks can be strong enough to make them safe, the components between the tank and the engine can pose a leak risk. Proponents of compressed gas alternative fuel systems (which in the future could include compressed tanks of hydrogen) point out that the systems aren't any more dangerous than driving around with a tank of liquid gasoline.
© Copyright IBTimes 2023. All rights reserved.