Reddit, Mozilla And Others To Protest NSA Spying, Honor Aaron Swartz On 'The Day We Fight Back'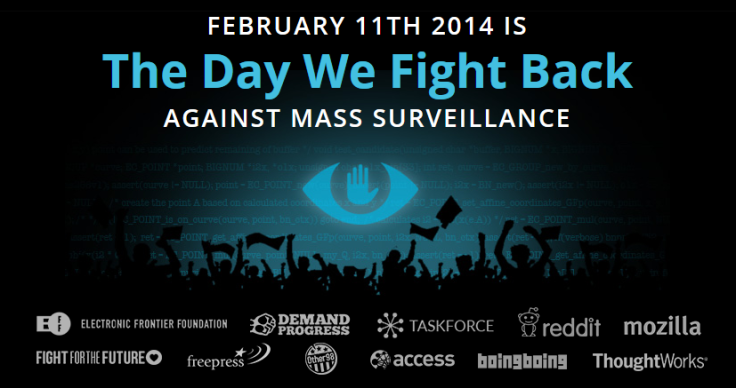 A coalition of Internet activist groups has announced a worldwide day of solidarity and activism opposing the National Security Agency's surveillance programs and honoring the memory of open-Internet activist Aaron Swartz.
Dubbed The Day We Fight Back, on February 11, Reddit, Free Press, Mozilla, the Electronic Frontier Foundation and several other organizations will urge their users to contact lawmakers and speak out against the NSA's cybersurveillance programs in the name of a free and open Internet. Sites will display large banners directing users to their lawmakers' contact information.
The Day We Fight back also plans to honor the two-year anniversary of a series of Internet-wide protests that brought down the Stop Online Piracy Act and the Protect IP Act. In January 2012, Reddit, Wikipedia and a host of other sites blacked out much of their content in protest of a proposed bill to curb online freedoms in the name of ending piracy. Ultimately, the move was successful, and SOPA and PIPA died before they could be signed into law.
Josh Levy of Free Press said that the fight against the NSA's surveillance is a continuation of the 2012 cyberprotests against SOPA and PIPA.
"SOPA/PIPA and the fight against mass surveillance are part of the same continuum of activism; they're two parts of the same fight," he said. "This explains why the core organizers of the SOPA protesters are also central to the organizing against mass spying. At its most basic level, the movement for Internet freedom is about protecting our basic rights online -- our rights to free speech, to assembly, and to privacy.
"This movement is snowballing," he continued. "Every time our digital rights are attacked -- and whether those attacks come from the corporate sector or from government -- more people are coming together to protect them. So yes, the NSA is bigger than a bill that failed to make it through Congress. But the digital rights movement is bigger now than it was then, too, and it is only getting bigger."
The Internet blackout was announced just days after the one-year anniversary of Aaron Swartz's suicide on Jan. 11, 2013. Swartz co-authored an early form of RSS, helped design the link aggregator Reddit and co-founded the online activism group Demand Progress, which was instrumental in previous Internet protests against SOPA and PIPA. At the time of his suicide, Swartz was facing prosecution for computer fraud and wire fraud after releasing over 4 million downloaded academic journals online.
Those involved with The Day We Fight Back say they want the protest to honor Swartz's memory and passion for securing and promoting civil liberties.
"Today the greatest threat to a free Internet, and broader free society, is the National Security Agency's mass spying regime," Dave Segal, executive director of Demand Progress, said in a press release. "If Aaron were alive he'd be on the front lines, fighting back against these practices that undermine our ability to engage with each other as genuinely free human beings."
© Copyright IBTimes 2023. All rights reserved.