Redskins Name Controversy Update: Congressman's Letter To NFL Commissioner Goodell Cites 'Hurtful Slur'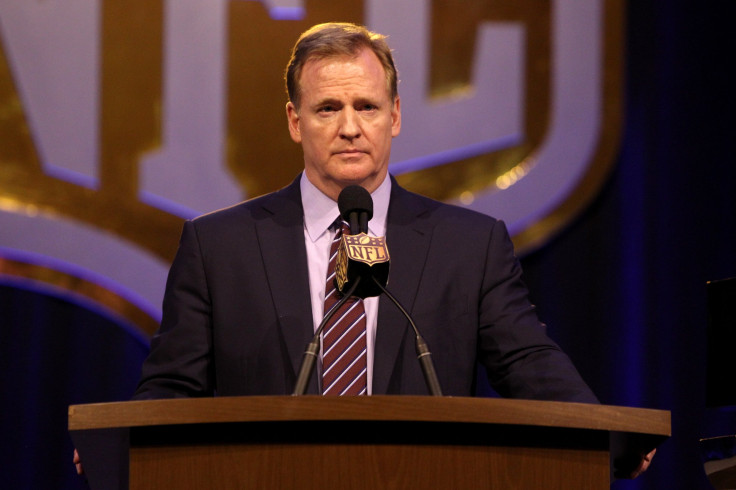 Another politician took the time to criticize the name of the NFL's Washington Redskins, calling it a "hateful, hurtful slur," in a personal letter sent to League Commissioner Roger Goodell, via Auburn's the Citizen Thursday. U.S. Rep. John Katko, R-NY, wants the league to force a name change. In doing so, he became just the third Republican in Congress to throw support behind the "Change the Mascot" campaign headed up by the Oneida Indian Nation.
The Redskins and owner Daniel Snyder have drawn scrutiny for the team's name, which many Native Americans say they find offensive. The franchise has not budged and has said the name honors Native Americans. The letter addressed to Goodell from Katko, who represents New York's 24th district, was highly critical of the team name, but the congressman's letter was personal and stopped short of using official congressional stationery.
"To millions of people — Native American and Non-Native American alike — this team name represents a hateful, hurtful slur from a bygone era, and the time has come for a change," Katko wrote in the letter. "A mutual love of sports unites tens of millions of Americans across all regions, ethnic groups, income levels and faiths. However, I believe that the continued use of an ethnic slur as a name for one of the most established teams in the NFL stands in stark contradiction of this unifying tradition and calls into question the league's values."
Katko also pointed out that more than 50 senators and a number of tribes had spoken out against the name, calling it slur. Erin O'Connor, spokeswoman for Katko, told Syracuse.com that the Congressman received a response from the NFL acknowledging the letter and saying that such decisions are left to the franchises to decide.
Katko has previously jumped into the fray surrounding hot-button sports topics. He sent a letter last year asking the NCAA president to reconsider sanctions against Syracuse University's men's basketball team and signed on as a co-sponsor of an NCAA reform bill, according to the Citizen.
© Copyright IBTimes 2023. All rights reserved.