Redskins WR DeSean Jackson Suffers Separated Shoulder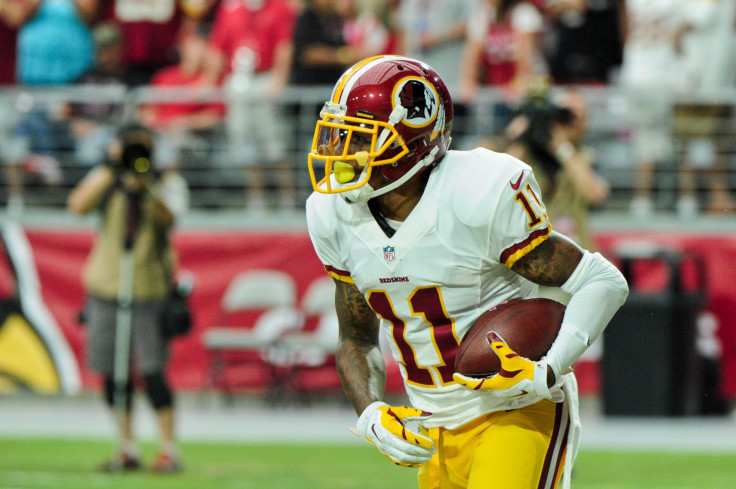 DeSean Jackson has suffered a shoulder injury from when he ran into a sled during a recent practice by the Washington Redskins. Jackson was diagnosed with a Grade 2 separated shoulder, which will most likely put him out of commission for the next two weeks. But he will have enough time to return to the field before the start of the new season.
According to ESPN, the 28-year-old wide receiver walked off the field with his shoulder wrapped after the practice session. Redskins head coach Jay Gruden confirmed the injury. Jackson, who described the injury as "painful," should be ready for the team's preseason games barring any complications from the injury.
"It was the impact of when I hit the ground," Jackson, who also suffered a shoulder injury last season in Week 2, told ESPN. "It's an unfortunate situation. I was just playing and trying to compete and just had a freak accident."
Jackson, who was a second-round pick in the 2008 NFL Draft, played for the Philadelphia Eagles from 2008 to 2013 but was released by the squad prior to the 2014 season. He signed a three-year deal $24 million contract with Washington in April that year. Jackson is a three-time NFL Pro Bowler, making the elite squad in 2009, 2010 and 2013.
In his first year with the Redskins, Jackson tallied 1,169 receiving yards on 56 catches with six touchdowns. For his career, he has a total of 7,286 receiving yards on 412 receptions with 38 touchdowns. In related Redskins' injury news, cornerback DeAngelo Hall also left the team practice with a groin injury and will be sidelined for at least a week.
© Copyright IBTimes 2023. All rights reserved.