'Reformist' Official And Top Auto Company Boss Latest Targets Of China's Anti-Corruption Campaign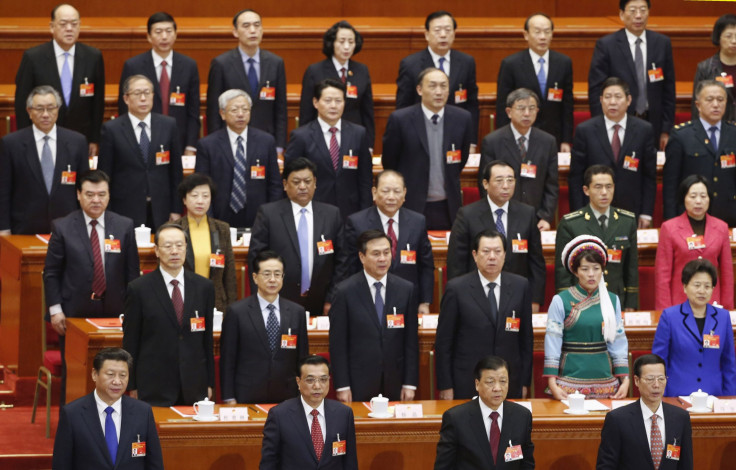 SHANGHAI -- No sooner had Chinese Premier Li Keqiang concluded the annual session of China's legislature on Sunday by pledging to fight against vested interests in the system, than there came further evidence of the leadership's willingness to take on big names as part of its anti-corruption campaign, with the detention of two prominent senior officials.
Xu Jianyi, the 61-year-old chairman of the powerful government-run automaker FAW Group (formerly First Automobile Works), which has joint ventures with Volkswagen and Audi, was one of those detained on suspicion of 'serious violations of party discipline and law,' official code for corruption. Based in the northeastern city of Changchun, FAW also makes the Red Flag, the domestically produced limousine that was the car of choice for China's communist leaders from Mao Zedong on.
Also detained on the same charges was Qiu He, deputy Communist Party secretary of the southwestern province of Yunnan, and, like Xu, a delegate to the legislature with a rank equivalent to deputy minister. Qiu, 58, is a controversial figure who was once tipped for top political office. Seen as a protégé of Vice President Li Yuanchao, under whom he once worked in eastern Jiangsu province, he first attracted attention while mayor of the Jiangsu city of Suqian, by doubling its GDP in five years with a string of pioneering reforms, including privatizing hospitals and encouraging private schools. Qiu also publicized the names of candidates for official posts, encouraging the public to report any corruption allegations against them.
Qiu's approach won wide media coverage in China, but also attracted criticism: he was accused of forcing residents to take part in mandatory labor on local infrastructure projects, a charge he denied. However, China's then president, Hu Jintao, seemed to endorse his reforms, and, in 2006, he was promoted to deputy governor of Jiangsu province, before moving to Kunming, capital of Yunnan province, as the city's Communist Party chief in 2007. One of his first steps there was to publicize the phone numbers of thousands of local officials, in what he described as an attempt to promote transparency, or as he put it, "Sunshine government;" he also instituted checks to make sure officials were not taking long lunch breaks. The following year he was named one of the 'outstanding contributors to China's reform' at an official conference.
During his four years as Kunming party boss, Qiu oversaw a massive reconstruction of Kunming, with new roads, a new airport and the planting of many thousands of trees. But he was again criticized for an arrogant approach. The official China Daily newspaper said on Monday that he had "impose[d] heavy-handed policies on officials" and angered citizens with forced demolitions, while one former adviser told the South China Morning Post that Qiu eventually became a "hated figure" in Kunming, and accused him of being obsessed with vanity projects. Chinese state media have suggested that Qiu is being investigated for corruption in the city's urban development process -- with reports saying he was criticized for favoring contractors from Jiangsu, where he had previously worked.
Qiu's case is, on the surface, a reminder of the great power that some local leaders have accrued under the Chinese system in recent years. It may also be evidence that China's current leadership, under President Xi Jinping, is not prepared to tolerate officials who are seen to have become bigger than the system. The leadership has stressed that no-one is immune from its anti-corruption campaign, which has recently extended to the military, with 14 generals reported to be under investigation.
Meanwhile, the detention of FAW boss Xu, which sent the company's share price tumbling on Monday, may be an example of what China's leaders have said will be the next stage of the anti-corruption campaign -- investigations into some of China's largest state-run enterprises, which still dominate key sectors of the country's economy. Xu had presided over a recent report that pledged to clean up corruption at the company -- for which several lower level officials have already been detained -- but Xu's detention suggests that investigators were not satisfied with his commitment to the process.
Premier Li stressed on Sunday that these campaigns are designed both to clean up and streamline China's economy, saying: "The government is reforming itself. Vested interests will be upset. This is not nail-clipping but taking a knife to one's own flesh. We are determined to keep going until the job is done."
Some critics have suggested that the anti-corruption campaign may still be partly a vehicle for the current leadership to settle scores with rivals; prominent sinologist David Shambaugh last week warned that this could lead to dangerous rifts within the system. One delegate to the advisory body to China's legislature last week also questioned the legitimacy of the Communist Party's anti-graft body, the Central Commission for Discipline Inspection, being able to detain suspects without a court order. Chinese media quoted him as saying this "exposed the detainees to abuse."
And human rights groups have also criticized China's leaders for disregarding legal process in some cases, and for a crackdown on civil society. However, the country's leadership appears to be calculating that the removal of senior figures, however it is carried out, will in itself help to appease a Chinese public that has over recent years become weary of repeated cases of official corruption.
© Copyright IBTimes 2023. All rights reserved.