Refugees, Feuds And Fake NGOs: Volunteers Doing Humanitarian Work International Aid Organizations Aren't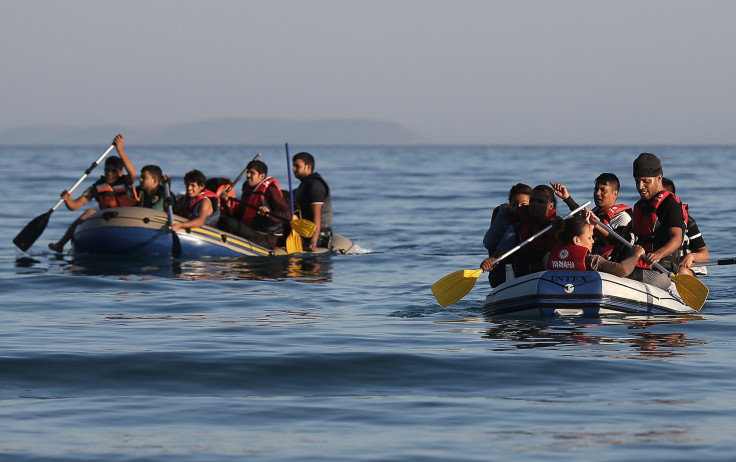 LESBOS, Greece – Eric Kempson is an unlikely hero. Two decades ago, the 60-year-old woodcarver, resembling a cross between Goldilocks and a 1980s rocker, left the south coast city of Portsmouth, England, swapping the dockyards of postindustrial Britain for the unspoiled Mediterranean coastline. Lately, though, his island paradise is anything but bucolic and tranquil: Along with his wife, Philippa, and teenage daughter Elleni, he's been pulling hundreds of children from certain death in the Aegean Sea.
"I didn't set out to do this," he tells International Business Times, sitting in the garden of his idyllic village home, a few minutes away from the hot springs of Eftalou, revered among locals and tourists for its apparent healing properties. "But what would you do if thousands of desperate people washed up next to your house?"
Kempson leans forward. Behind him his wood carvings -- ornate jewelry, sculptures and even kitchen tools, made from local olive wood -- are on display. Next to him a table is laid for tea with china cups, saucers and a teapot for prospective guests.
The lush, verdant setting is hard to square with the scale of the humanitarian catastrophe happening on the shores below.
More than 2,500 people, the majority Afghan refugees, arrived on Lesbos Wednesday morning over a three-hour period. Some 40 rubber dinghies, each carrying around 60 people on a boat built for 30, made the journey from Turkey in heavy rain.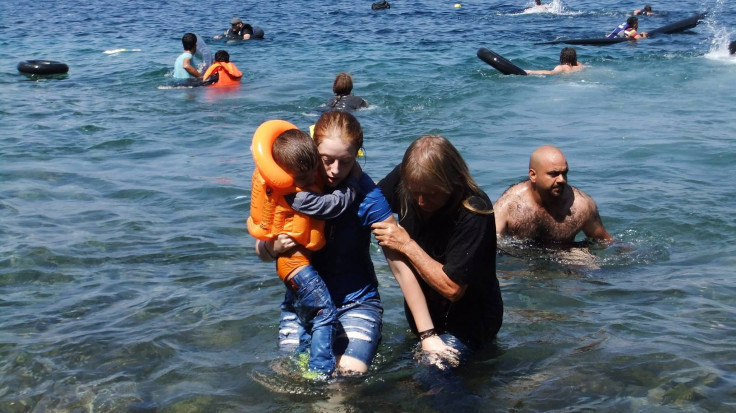 Kempson's teams of volunteers were there to meet them. He has 60 volunteers, spread across the northern coast of Lesbos. A third come from the Boat Refugee Foundation in the Netherlands and include among their number a doctor. Another third are Norwegian volunteers, including rescue personnel, coast guard members, firefighters and paramedics. The final group comprise an assortment of men from gyms and boxing clubs around Denmark.
It's a motley crew, Kempson admits, but it works. "Every day we're in the water, saving lives." Confronted with thousands of new arrivals in a few short hours, as many as 400 people are in the water, a majority of whom can't swim.
"It's chaos, utter chaos. Little babies, panicking men, and mothers screaming."
Mostly, the volunteers are successful in their rescue missions. At other times the boats overturn before the rescuers can get to the refugees.
"We do all we can, but when [the refugees] are in the middle of the ocean…" He lets the silence speak for itself.
Last week, 34 refugees, almost half of them babies and children, drowned when their boat sank on the crossing.
The smugglers, Kempson says, are only interested in profits. At the moment they are finding it hard to keep up with demand, so most of the boats set to sail are not only overcrowded but unseaworthy. "You can still smell the glue on some of them," Eric says. "They're being pumped out on a production line … The quality is bad."
Stories of boats bursting or splitting down the middle are not unusual. But getting people on dry land is just the beginning. Children often arrive dehydrated and, if they've been in the water a long time, suffering from hypothermia. The volunteers do their best to warm them up and rehydrate them.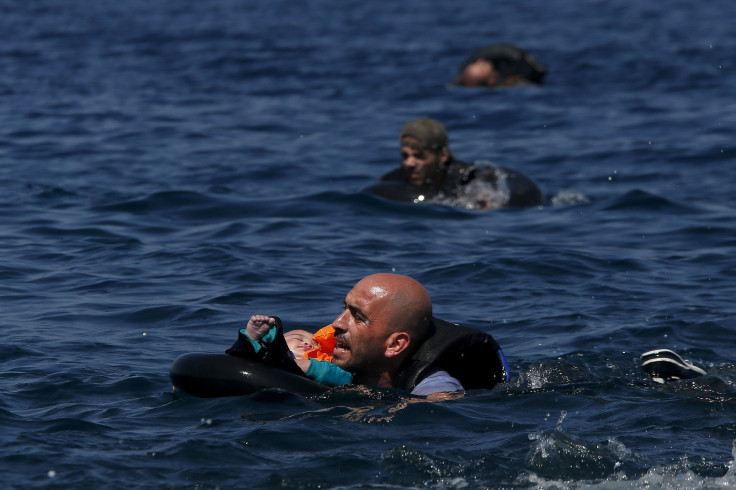 More troubling are the young men who arrive with bullet wounds and shrapnel still inside them. One woman arrived, Kempson says, with shrapnel sticking out of her side. Another refugee, only 14 years old, had been shot and was wearing a bandage that hadn't been changed for weeks. When medics undressed the wound, they discovered gangrene so extensive it was unlikely the boy would live.
"What do you say in such a situation?" Kempson says. "The boy was traveling alone, both his parents died in the [Syrian] war. How can you tell him, 'You're not going to make it'?"
Despite, or perhaps because of, the tragedies that unfold daily before them, the volunteers are a lively bunch, jibing and joking with one another. With their tanned skin and sun-bleached hair they could almost pass for tourists were it not for their neon high-visibility jackets.
Femke Spierling, a mother of two from northern Holland, is one of them. Currently unemployed, she decided to offer assistance for a few weeks. "It feels good to help," she told IBT. "When you see the pictures of women and children on TV, and what they've been through, you want to do anything you can."
One repeated complaint from volunteers is the almost complete absence of help from international aid organizations. "Where are they?" Spierling asks. The only people who are helping refugees on the island, she says, are the largely independent volunteers and tourists who stay to help.
Kempson is infuriated by the lack of assistance given by the United Nations High Commissioner for Refugees (UNHCR). In eight months, according to Kempson, UNHCR has donated 7,500 bottles of water, enough to last the refugees for two days. Kempson gets through 4,000 bottles a day, donated by volunteers from around the world.
"[UNHCR] have done absolutely nothing," he says. "They've stood by and watched as we do all the work."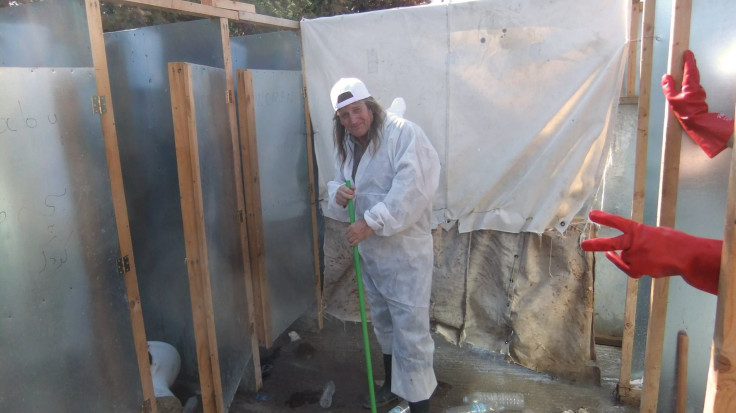 Other non-governmental organizations (NGOs) are little better, he says. "This crisis has really opened my eyes to the so-called work that NGOs do. A lot of them are just here to make money."
Kempson can count on two hands the number of NGO representatives he's met, from all over the world, who expound their humanitarian plans for the refugees – improved sanitation, accommodation, medical care – and then leave the island without doing anything.
It's not the only battle he's had to fight. The residents of Molyvos, the nearest town and a hub of tourism, have been very hostile to efforts to help the transitory refugee population.
Kempson has had his tires slashed and been spat on by angry locals. "They think that if we're horrible to the refugees they won't come."
After receiving three portable toilets for use by the refugees, Kempson's volunteers were forbidden to put them up by the local council. "The mayor of Mytilene [Lesbos' capital] can see what's going on, but he's powerless to stop it. These people rule by fear."
At an open meeting of Molyvos' Ladies Association in June to discuss the refugee crisis, a woman stood up and said, "Shoot them on the beaches."
Not all of the locals have responded in such a violent way. Many, Kempson says, have been the first to welcome families when they arrive and attend to the infants. Staff at seafront restaurants and hotels have donated bottles of water and blankets for children. The villagers of Skala Sikaminias, a few miles northeast of Molyvos, on whose shores many refugee boats arrive, have been incredibly kind, Kempson tells IBT.
The next months will be some of the hardest the volunteers have seen this year, he says. "In the winter we're going to lose a lot of people through hypothermia. We need all the help we can get. But [the leaders of Molyvos] don't see it that way. They don't care."
But Kempson is not a man easily dissuaded. He returns to his tool kit to resume building the storage units that will house supplies for the refugees. If anyone can find a practical solution to the problem, it's him.
© Copyright IBTimes 2023. All rights reserved.