Regal Cinemas Adopts New Security Policy, Bags And Backpacks Are Subject To Inspection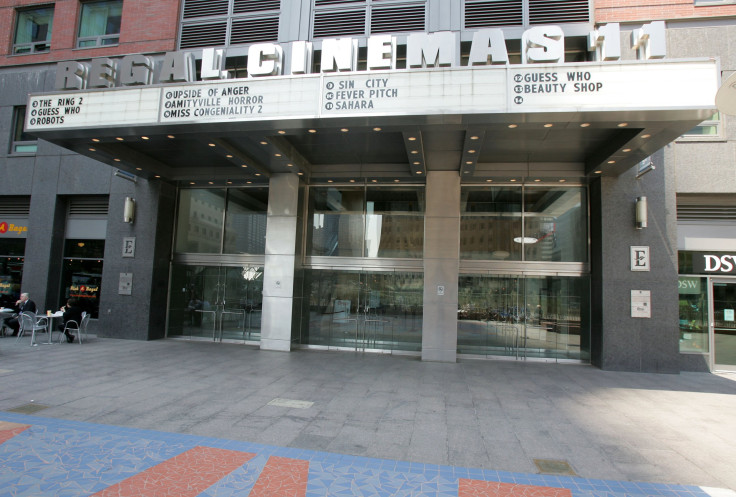 As moviegoers head to the nearest Regal Cinemas to catch the last action flick of the summer, they'll be confronted with more than just a waft of buttery popcorn smell when they walk through the door. Regal Cinemas unveiled this month new security measures that allows bags and backpacks to be searched before admission to a theater, the first policy of its kind in the movie industry.
After a series of recent movie theater shootings, patrons and film houses have debated tougher security policies, including metal detectors. But Regal's bag check could set a new tone as movie houses struggle to compete with cheaper forms of entertainment, including streaming sites like Netflix. Industry experts said it's too soon to know whether the security policy will affect sales or turn off customers looking for any excuse to avoid high theater prices.
With 7,300 movie theater screens across the country, Regal Entertainment Group is the nation's largest movie theater chain. The new security measure was so quietly implemented that it is not quite clear when the policy actually started, but local TV stations reported that customers said bag inspections were taking place in Regal movie theaters in Texas, Virginia, Florida and Ohio earlier this month. A Regal spokesperson could not immediately be reached for comment this week.
"Security issues have become a daily part of our lives in America," the policy, which is stated on Regal Cinema's website under "Admittance Procedures," reads. "Regal Entertainment Group wants our customers and staff to feel comfortable and safe when visiting or working in our theaters. To ensure the safety of our guests and employees, backpacks and bags of any kind are subject to inspection prior to admission. We acknowledge that this procedure can cause some inconvenience and that it is not without flaws, but hope these are minor in comparison to increased safety."
A Safer Experience
While it's not clear what exactly prompted the new security policy, there has been speculation that a movie theater shooting in Lafayette, Louisiana in July that resulted in two deaths, and the Aurora, Colorado, movie theater shooting in 2012, during which a man gunned down 12 people, are responsible for the bumped up security.
The new security policy is a good way for the movie chain to avoid liability issues for random terrorism acts that might incur, said Jack Plunkett, CEO of Plunkett Research, a global market research firm in Houston, Texas, but it could possibly be met with negative sales because tightened security measures typically make events less pleasurable.
"I think the new security measures could have two effects," said Plunkett. "Parents will feel safer sending children to the theater, or people will see it as a nuisance… I'm sure Regal did research and interview focus groups. They didn't do this on an impulse. Regal undoubtedly studied this very carefully before they decided to make this move, but we will have to wait and see how it will affect sales."
But Paul Dergarabedian, senior analyst for entertainment research company Rentrak, predicted the increased security measures will have zero effect on the box office. A lot of the time, security measures act more as a deterrent, and often just raise awareness that there is a potential of getting caught for doing something bad, he said.
"It all comes down to the product," said Degarabedian. "Is anyone not going to a particular music venue or sporting event because of security? That is the lowest factor on the totem pole when it comes to people deciding whether or not to go to an entertainment event."
How the policy is implemented is just as important as the actual policy, according to Emily Huddell, vice president of marketing at Turnkey, a marketing research firm that specializes in sports and entertainment. The best way for Regal to ensure that the bag check policy will go over well with customers is to be honest with them about its motives behind the search, said Huddell, and to use focus groups and surveys to ensure the security policy is successful after it is implemented.
"I think regardless of what is driving the change, the more open you are about why you make decisions the better effect it has on customer's perception," said Huddell.
Other big movie chains will likely wait and see how customer satisfaction is effected by Regals' new security policy before they decide to implement their own, marketing experts predicted.
"I think they will watch Regal for a quarter or two and if it doesn't have a negative effect they will implement similar policies," said Plunkett. "If Regal gets too many complaints they could decide to re-trench."
Conflicted Customers
The movie theater industry has been struggling in recent years to keep up with companies like Netflix and HBO Go, streaming sites that allow consumers to watch content from the comfort of their home. In 2013, Regal Cinemas' net profit was $157.7 million. It dropped to $105.6 million last year.
Diane Moriarty said she prefers to watch Netflix and cable as opposed to going to the movie theater. For her, movie tickets and concession snacks are overpriced, and she was turned off by the idea of increased security.
"I think it's overkill," said Moriarty as she took a smoke break near a Regal Cinema in lower Manhattan this week.
But some movie patrons welcomed the notion of additional security. "I think it's sensible based on the recent events that have happened in the past couple of months," said Mike LeDoux, a financial consultant in New York who goes to the movies about twice a month as he sat outside a cafe in lower Manhattan and listened to music on his phone. "I don't think it would affect my decision much on what movie theater I choose to go to, though."
The bag check policy could make a big difference for a certain group of consumers, however. For many people, a good movie and a bucket of buttery popcorn or box of candy go hand-in-hand, and high concession prices encourage some customers to sneak snacks in.
Moviegoer Tamara Bryce, a health care worker in New York, chuckled at the thought of security checks discovering more smuggled candy than firearms. Regal "will definitely see a spike in concession sales because a lot of my friends sneak in snacks," she said.
© Copyright IBTimes 2023. All rights reserved.