Reggie Bush Agrees To 4-Year Deal With Lions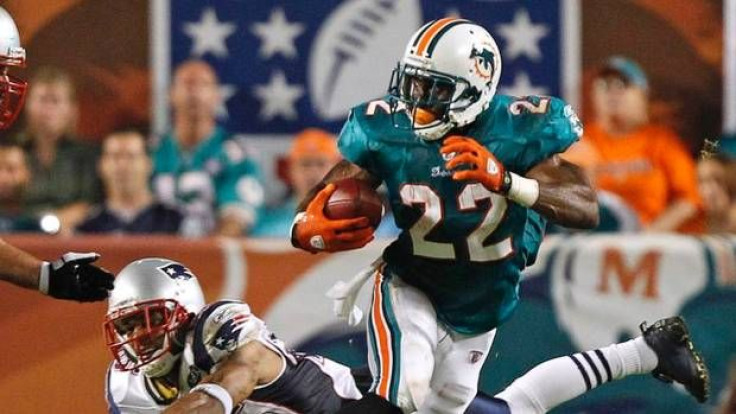 Free agent running back Reggie Bush agreed to terms with the Detroit Lions on Wednesday on a four-year deal worth $16 million.
Bush, who turned 29 earlier this month, joins a Lions squad that finished 23rd in rushing yards in 2012. Bush rushed for 2,072 yards and 12 touchdowns, and caught 88 passes for 488 yards, in two seasons with the Miami Dolphins.
"It just made sense," said Bush at a press conference, about joining Detroit. "It felt right from the beginning ... They didn't have to sell me."
Bush also cited the presence of star wide receiver Calvin Johnson as a factor in his decision.
"It's a running back's dream," Bush said about the offensive scheme. "That's the first thing we talked about. When we were watching film and you see those safeties deep and safeties rolling over, double-coveraging Calvin Johnson. It's a running back's dream.
"We have to be able to run the ball in that situation. That's one of the reasons why I wanted to come here, to be able to bring a balanced attack and help take some of the pressure off Calvin Johnson and Matthew Stafford and just complement them."
Bush entered the league with the New Orleans Saints after being drafted with the second overall selection in the 2006 NFL Draft. The all-purpose back helped lead the Saints to a Super Bowl title in 2009, and returned four punts for touchdowns in his first three seasons. Despite a strong rookie season, Bush was plagued by injuries and struggled to receive playing time in a crowded backfield in his subsequent four seasons with the Saints.
In Miami, Bush received a more prominent role, with 216 carries in 2011 and 227 carries in 2012. Bush is expected to carry more of a receiving load in Detriot, as well as provide support for emerging running back Mikel Leshoure.
"We already knew [Bush's] talent, we could see that talent on film and we knew how that talent fit our offense," head coach Jim Schwartz said. "The thing that we didn't know is what a good guy he is, what a humble person he is, and what a student of the game he is. We think he's going to fit real well with the rest of our locker room."
Bush will have to find a new number since Bobby Layne's No. 22 is retired.
It was an active day for the Lions. Two defensive backs were inked to five-year contracts as cornerback Chris Houston re-signed to go along with free safety Glover Quin, formerly of the Houston Texans, to strengthen a secondary that finished 14th in the league in opponents' passing yards. Detroit also added defensive end Jason Jones, formerly of the Seattle Seahawks, on a three-year deal.
The Lions finished with a 4-12 record in 2012 in a NFC North division that boasted three teams with 10 or more wins.
© Copyright IBTimes 2023. All rights reserved.