Reggie Bush: Over-rated Tag Could be Shed with Miami in 2011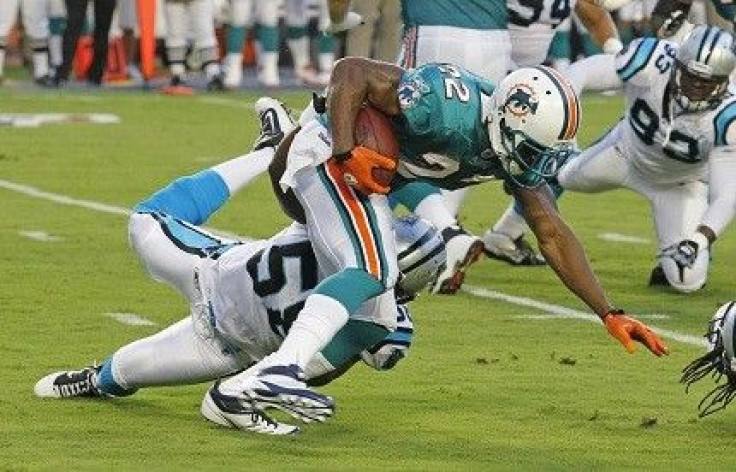 Critics of Reggie Bush are quick to point out his flaws without much hesitation.
Bush isn't a running back you hand the ball off to for 20 carries, he's injury prone, and isn't a true runner, are the comments the naysayers use to describe the former Heisman trophy winner.
Dolphins head coach Tony Sparano thinks differently. He believes Bush will bring a level of unpredictability to Miami that the club can use on first and second downs.
Miami fans have already taken a liking to Bush before Monday night's official debut against the New England Patriots.
In a preseason game against the Carolina Panthers on August 19th, the Sun Life Stadium crowd chanted, Reg-gie! Reg-gie! In that game, Bush had eight carries for 48 yards. The following week was far less impressive, with Bush receiving five carries for a total loss of one yard.
Still, the starting running back job belongs to Bush. With Ronnie Brown and Ricky Williams gone, Bush relishes the opportunity to be Miami's featured running back, something he always had to share with the Saints.
I wanted to make an impression with this team and the fans, Bush said of joining the Dolphins. I'm all about earning respect.
In New Orleans, head coach Sean Payton ran a system where he used five running backs who received 36 or more carries over the course of the 2010 season. While Chris Ivory received 137 carries, Pierre Thomas received 83, Julius Jones received 48, and Ladell Betts received 45, it was Bush who got the least amount at 36, yet he had the second best rushing average at 4.2 yards per carry.
In previous seasons, Bush had to share carries with less notable players like Mike Bell and Aaron Stecker. It almost seemed that Bush's role was ambiguous even when he was healthy.
I feel like I've got a lot to prove, Bush said to the Palm Beach Post in July. I'm one of those guys who feels he has something to prove year in and year out. But more so now, coming to a new organization, and getting an opportunity to be a feature back, is an even bigger chip on my shoulder.
Bush starts the season with an arduous task: running against the Patriots' defense. With the addition of Albert Haynesworth, along with return starters Jerod Mayo, New England's defense will be more experienced and deeper after finishing 11th best against the run last season.
A preseason game against the Panthers is one thing. A regular season game against the Patriots is another. Bush may have difficulty finding room to break off long runs.
Should Bush struggle, the critics might be quick to jump on the fact that new Saints' specialist Darren Sproles is a better fit in New Orleans than Bush, and that Bush's NFL future is in doubt.
That would probably be a snap analysis. The Dolphins' offensive lines has question marks, and in a shortened offseason, players on new teams like Bush, who only had 13 carries in the preseason, may struggle to find a find a rhythm.
Next week's game against the Houston Texans should be a far better indicator than tonight's New England.
But whether Bush likes it or not, he has a lot to prove this season. Miami has given Bush a shot to show that he deserves the role of featured running back.
It's up to Bush to live up to even his own lofty expectations.
© Copyright IBTimes 2023. All rights reserved.