Remembering The Khojaly Tragedy 30 Years Later - A Survivor Writes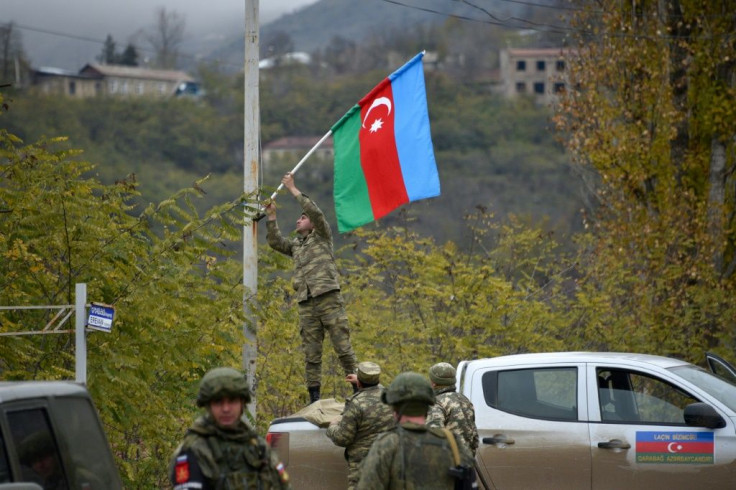 Exactly 30 years ago today, I fled my hometown of Khojaly, Azerbaijan. On that bitterly cold night of Feb. 26, 1992, Armenian soldiers entered our town and began killing indiscriminately. Women and children were bayonetted, men were shot. In the chaos, my brother and I were separated from our family. We reached as far as the surrounding woods before we were captured.
I had just started my first job at one of Khojaly's main telephone operators. As such, my captors thought I might hold classified information about Azerbaijan's communications systems. They sent me to a torture camp. To this day, I continue to require spinal surgeries for what I endured there. Nevertheless, I was more fortunate than most. The soldiers traded me back to the Azerbaijanis, like a package of damaged goods, for cigarettes and gasoline. I was 20 years old.
The night we remember 30 years ago today in Azerbaijan as the genocide at Khojaly. It was one of the defining events of the 1990s Nagorno-Karabakh war which, following the collapse of the Soviet Union, saw Armenian forces invade and occupy swathes of Azerbaijan, removing ethnic Azerbaijanis from their own lands. For a generation their occupation succeeded, rendering me and many like me refugees within our own country's borders, unable to return home. The U.N. refers to people like us as "Internally Displaced Persons" or "IDPs." Following the Nagorno-Karabakh war, Azerbaijan's IDPs numbered close to a million – more than a tenth of our entire population.
While many of those reading may know of the Nagorno-Karabakh war, they may be learning of the events of Khojaly for the first time. It was just one of many atrocities committedduring that war, but it was one of the most brutal. At least 613 civilians were murdered in one night, including 106 women, 70 elderly and 63 children. Human Rights Watch at the time called Khojaly "the largest massacre to date in the conflict" -- "to-date" because it was followed by others, which the then defense minister and later president of Armenia publicly acknowledged had been an organized plan to eliminate Azerbaijanis in Karabakh.
So, Khojaly is seared deeply into the Azerbaijani psyche but remains little known to the rest of the world. This is understandable. At the time, aside from some muted protest from the U.N., the West remained silent. That silence has continued to this day, with some even attempting to deny that the defining horror of my life ever took place.
Perhaps it is a question of numbers. The just over six hundred murdered at Khojaly might seem paltry compared to the genocides that followed in the mid-1990s in Rwanda and Srebrenica – also the result of emerging cold-war-created states and the resurfacing of ethnic rivalries which, whilesuppressed, had never been resolved. Indeed, crucially, Khojaly was a harbinger of those larger scale genocides in Africa and the Balkans. Specifically, the silence from the West that surrounded it was one of the key conditions that enabled it to take place again and again on ever-larger scales.
The United Nations defines genocide as "intent to destroy, in whole or in part, a national, ethnic, racial, or religious group".That is clear enough. We know what it looks like. Only our silence allows history to repeat itself. That, above all else, is why we must recognize and remember Khojaly: to make it clear to all future generations that no form of genocide will go unrecognized, that no person responsible for genocide should ever believe that their deeds will remain hidden.
Today, on the 30th anniversary of the Khojaly Genocide, my mind turns to the question of justice. Three decades after this event, can justice be achieved? Those who gave the orders remain free, and today even hold senior roles in Armenian political life. Two have become presidents. Justice seems remote, if obtainable at all.
A generation later and many IDPs have been able for the first time in three decades to visit their former homes, expectantly waiting now to return for good. This is the result of a second Karabakh conflict in late 2020 and its ceasefire agreement which included the return of illegally occupied lands to Azerbaijan.
I am confident the day will come when I and many other Khojaly residents will be able to return and mourn my friends and fellow citizens. Meanwhile, the ceasefire is a fragile one – it has been broken more than once since. But it is the largest step towards peace yet in one of the world's longest-running and most intractable conflicts. The Karabakh war did not end in the early 1990s. It has existed in some form or other ever since.
Perhaps now, in light of this fragile agreement, reconciliation between our peoples might be possible, even if justice, for now, is not. Azerbaijanis share more in common with our Armenian neighbors than we harbor differences. All have suffered in this conflict. Perhaps now, after 30 years, a shared healing can begin.
Durdane Agayeva is a survivor of torture and the 1992 Khojaly Massacre. A vocal advocate for peace, she works tirelessly for the empowerment of genocide and torture survivors around the globe, especially women. She is a firm believer in the unifying power of sharing to strengthen and heal. She lives in Baku, Azerbaijan with her daughter.
© Copyright IBTimes 2023. All rights reserved.