Republican Or Democrat? Mayweather, Tebow, Manning Among Athletes Linked To Past Elections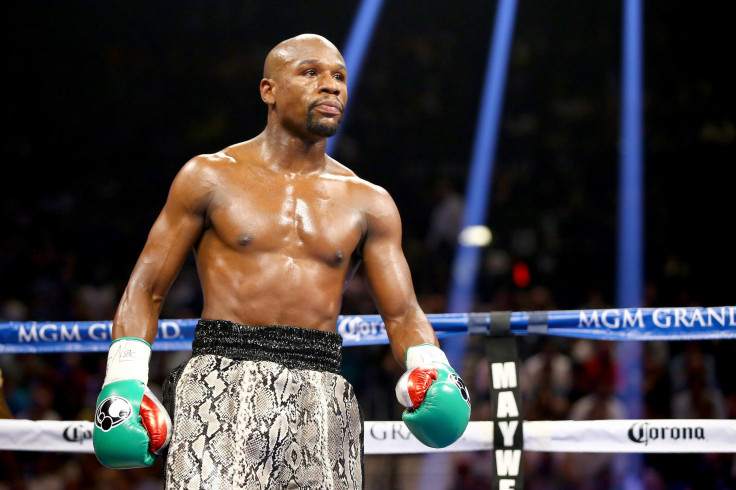 While fall is often the busiest time in sports with the NFL, MLB, NBA, NHL and soccer teams all competing, it also is campaign season. Millions of Americans Tuesday cast their ballots in the midterm elections, and with nearly $1 billion raised for 1,435 candidates, sports figures are no exception when it comes to contributing to campaigns and throwing their hats into the political ring.
Billions of dollars pour into sports every year, irrevocably tying the industry to Washington. The NFL's political action committee, Gridiron-PAC, contributed $121,500 to House Republicans and $110,000 to House Democrats in 2014, and gave $31,000 to Senate Republicans and $47,000 to Senate Democrats, according to opensecrets.org. Office of the Major League Baseball Commissioner PAC gave $135,000 to Democrats and $75,000 to Republicans in 2014, but evenly distributed a total of $120,000 to both parties' House and Senate campaign committees.
Some sports owners have also proceeded to run for office and win. Before being elected Republican governor of Texas in 1994 and president in 2000, George W. Bush was an owner of the Texas Rangers. Former Sen. Herb Kohl, D-Wis., who was college roommates with former baseball commissioner Bud Selig, is a former owner of the Milwaukee Bucks.
Former professional players have made the jump to the Capitol, as well. Bill Bradley played 10 years in the NBA before serving 18 years in Washington as a Democrat senator from New Jersey. Jack Kemp served in the House for 12 years as a representative from New York after 12 years in professional football. Both Bradley and Kemp made unsuccessful bids for presidential nominations while Kemp was part of the GOP ticket with Bob Dole in 1996. Other former players or coaches who have served in the House include Steve Largent, Heath Shuler, Jim Bunning and Tom Osborne, among many others.
Several famous active and inactive athletes have contributed to campaigns. Former Denver Broncos great John Elway contributed $4,600 to Republican candidates since 2013. Current Broncos quarterback Peyton Manning contributed $2,600 to Sen. Lamar Alexander, R-Tenn., in March 2013, and has a rather long history of contributing to GOP politicians, donating to George W. Bush's re-election bid among others.
In the 2012 presidential campaign, many notable names in sports announced their support for their candidate. Basketball legends Michael Jordan, Magic Johnson and Shaquille O'Neal as well as former NBA Commissioner David Stern and current commissioner Adam Silver, along with coaches Gregg Popovich and Doc Rivers, supported Democrat Barack Obama. Baseball legends Hank Aaron and Willie Mays, as well as current NFL stars Victor Cruz and Vernon Davis, also endorsed Obama. Outspoken boxer Floyd Mayweather supported Obama, and even went on Twitter to express his political views.
A year before Obama was elected to his first term as president, Mayweather was part of an Obama campaign event. While Mayweather was in attendance, an Obama spokesperson made it clear the boxer was not part of the campaign, somewhat distancing it from a public figure who had some previous brushes with the law.
Mitt Romney also received strong support from sports figures. Los Angeles Kings owners Phil Anschutz and Ed Roski, Los Angeles Angels owner Arte Moreno, Washington Redskins owner Daniel Snyder, former Pittsburgh Steelers wide receiver Lynn Swann, former NBA player Greg Anthony, current Los Angeles Clippers center Spencer Hawes, current Chicago Bears quarterback Jay Cutler, former tennis star Jim Courier, golf legend Jack Nicklaus and NASCAR legend Richard Petty reportedly backed the 2012 Republican candidate.
The left side of the New York Yankees infield split their vote. Shortstop Derek Jeter supported Obama while third baseman Alex Rodriguez pulled for Romney.
Syracuse sports management professor Dennis Deninger, the author of "Sports on Television: The How and Why Behind What You See," warns about the slippery slope of athletes in team sports expressing political opinions, as it could polarize a team's fanbase.
"It's not something the teams want to have their brand associated with," Deninger said. "So, if you are the quarterback of the Green Bay Packers, you should not be choosing sides as to who should be governor of Wisconsin in the eyes of the Packers organization. The team wants Democrats and Republicans to come to their games. It's nondenominational and apolitical."
Athletes, especially athletes with big money endorsements, want to appeal to a large swath of the American public. Discussing their voting interests can turn off a large portion of the target market. It can make them less marketable, something athletes and the companies with which they deal would like to avoid.
Michael Colangelo, assistant director of projects for University of Southern California's Sports Business Institute, echoed a famous phrase attributed to Jordan, when the basketball icon and Nike spokesman was an active player.
"There is debate whether Michael Jordan ever said, 'Republicans buy sneakers too,' but it is an issue that is very real in the business world," said Colangelo.
While both Republicans and Democrats have received their share of support from those involved in sports, there appears to be a divide between the players and upper management, especially in the NBA. In 2012, HoopsHype compiled a list of donations made by NBA personnel, and not one player gave to Romney's campaign. Of the 29 donations coming from ownership, just eight went to Obama.
Plenty of athletes have also avoided making their political leanings known, in fear of alienating themselves over a polarizing topic. Tim Tebow took such a stance in 2012 when he was asked by Republican presidential candidates for their support, but declined to do so. There were rumors Tebow would speak at the 2012 Republican National Convention, but he never publicly supported any candidate.
An IB Times staff reporter contributed to this report.
© Copyright IBTimes 2023. All rights reserved.