Republican Presidential Debate 2016 Live Updates: Best Twitter Reactions, Memes And Analysis As It Happens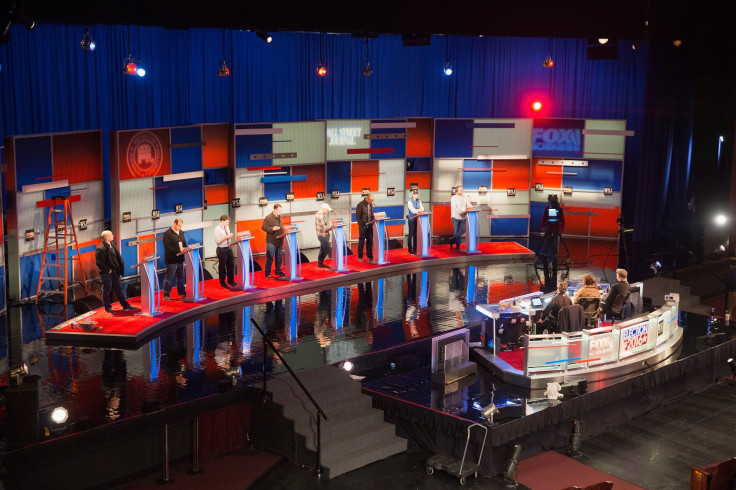 When Republican candidates take the main stage for Tuesday night's presidential debate, there will be a slightly smaller group preparing to face off. Thanks to the criteria set by Fox Business Network, New Jersey Gov. Chris Christie and Mike Huckabee, former governor of Arkansas, were relegated to the undercard debate, leaving eight candidates in the prime-time showdown. This will be the first GOP debate with fewer than 10 candidates onstage, which could cut down on some of the chaos and give them a bit more time to make their case.
This last point is especially important to some candidates, many of whom vocally criticized CNBC after the third Republican debate for what they saw as unfair questions and not enough time to talk. This time, Fox Business moderators have made a point to say they will be aiming to host a more policy-driven debate, so candidates may not be able to blame the "liberal media" for questions they do not like.
Front-runners Donald Trump and Ben Carson will still take center stage during the main debate, but attention will likely be spread around as several candidates have come under intense scrutiny in recent weeks. After seeing his version of his personal history questioned over the past week, Carson will want to prove he can stand up under pressure, while Florida Sen. Marco Rubio will try to use this debate to capitalize on his recent rise in popularity. Former Florida Gov. Jeb Bush and Texas Sen. Ted Cruz are also expected to attack their fellow candidates as they try to gain attention Tuesday night.
Regardless of which candidates stand out, Twitter will be alive with commentary and quick reactions to the candidates' policy arguments and gaffes alike. Here are some of the best jokes, memes and comments from the Twittersphere during tonight's undercard and main stage debates.
© Copyright IBTimes 2023. All rights reserved.
FOLLOW MORE IBT NEWS ON THE BELOW CHANNELS