Republican Steve Scalise Back In Intensive Care Unit, Condition Serious, Doctors Say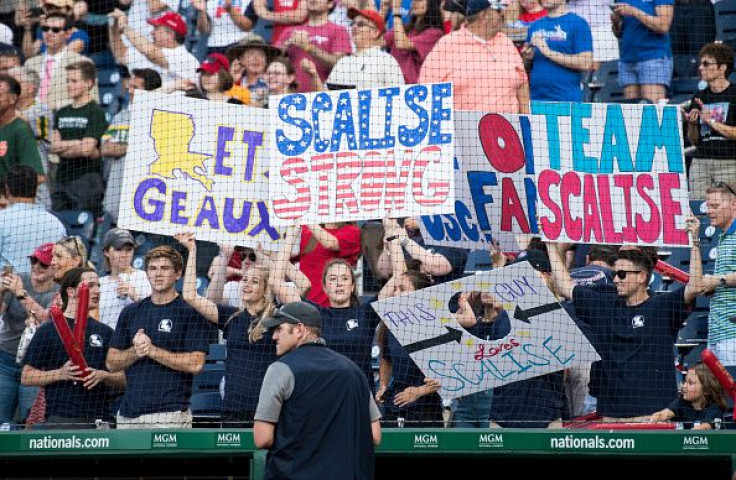 Congressman Steve Scalise (R-La), who was injured in a shooting last month, was readmitted to the intensive care unit in a serious condition, the MedStar Washington Hospital Center said in a statement Wednesday night. The hospital announced his condition was deteriorating from 'fair' to 'serious' as he had contracted an infection. The hospital also said it would release another update on his condition Thursday.
The official Twitter page of Scalise also tweeted the update from the hospital.
The Majority Whip was shot in the hip June 14 when a gunman opened fire on Republican lawmakers practicing for a charity baseball game. Scalise sustained a single rifle shot to his left hip. The bullet traveled across his pelvis, fracturing bones, injuring internal organs, and causing severe bleeding, his doctors said. He was rushed to the hospital in critical condition and had undergone a number of surgeries.
Read: Democrats, Republicans Receive Death Threats After Steve Scalise Shooting Amid Lawmakers' Security Concerns
His speedy recovery allowed the doctors to transfer him out of the Intensive Care Unit (ICU) on June 22. His condition was declared to be fair, although he had to undergo an extended period of healing and rehabilitation. He was expected to make full recovery soon.
At the time when Scalise was initially admitted to the ICU, Sen. Bill Cassidy (R-La), a gastroenterologist, said a gunshot wound to the hip like the one Scalise received had the potential for serious complications -- increased risk of bleeding from the high number of blood vessels in the area, injury to the colon and possible infection.
Last month, House Speaker Paul Ryan talked about Scalise's recovery saying most Republican lawmakers had been to see him. "He's making a very good recovery. So we're just — our prayers are being answered," Ryan said.
Police identified Scalise's shooter as James T. Hodgkinson of Illinois. He died after being shot at the crime scene. Although the motive behind the shooting was not immediately known, it was revealed that the gunman had a history of railing against Republicans and their conservative tax policies.
The New York Times reported Hodgkinson had a handgun and a rifle, that he had bought in March. Witnesses described him as a man with white hair and a beard wielding a long gun as he stood behind the dugout. Hodgkinson also appeared to have been a fervent fan of Senator Bernie Sanders, according to a Facebook page with references to the Vermont senator, said the report. A LinkedIn page for James Hodgkinson had a profile photo showing Mr. Sanders's famous hair and glasses and the words, "The Dawn of a New Democracy."
Read: Why Was Steve Scalise Shot? Possible Motive, His Stance On Gun Rights And Second Amendment
Senator Rand Paul of Kentucky, who was among the lawmakers practicing for the annual charity baseball game, which is still scheduled to take place on Thursday, told CNN, "the field was basically a killing field — it's really sick and very sad."
The others who were shot in the shooting include congressional staffer Zach Barth, Capitol Police special agent Crystal Griner, and Tysons Food lobbyist Matt Mika, who was recently released from the hospital, according to reports.
© Copyright IBTimes 2023. All rights reserved.