Why Was Steve Scalise Shot? Possible Motive, His Stance On Gun Rights And Second Amendment
Republican House Whip Steve Scalise was shot in Alexandria, Virginia, in what was described to CNN as a "deliberate attack," though the shooter and his possible motives were not immediately known. In addition to Scalise being shot in the hip, two Capitol Hill police agents and a congressional staffer were shot, too, at a Wednesday practice for the GOP congressional baseball team.
The shooter was in police custody and taken to the hospital. Further details about the gunman are unknown.
READ: Twitter Reacts To Donald Trump's Move To Block Stephen King On Microblogging Site
But one thing Scalise made clear during his tenure in government is his penchant for the Second Amendment. His website reads:
"A strong supporter of the Second Amendment, Scalise has sponsored and cosponsored legislation protecting citizens' right to keep and bear arms. In the 112th Congress, Scalise introduced H.R. 58, the Firearms Interstate Commerce Reform Act, which improves law-abiding citizens' ability to purchase firearms. The bills Scalise has recently cosponsored include H.R.645, a bill to restore Second Amendment rights in the District of Columbia and the National Right-to-Carry Reciprocity Act of 2011, H.R.822, which would ensure national reciprocity for concealed carry permit holders. Congressman Scalise's pro-gun stance has earned him an A+ rating from the National Rifle Association. A member of the Congressional Second Amendment Task Force, Congressman Steve Scalise will continue fighting to protect every citizen's Second Amendment right to keep and bear arms."
In November, Scalise joined President Donald Trump's Second Amendment Coalition, a team created by the president to advise him on issues related to gun rights. Scalise was one of 64 people added to the coalition that has Trump's son, Donald Jr., as the chairman.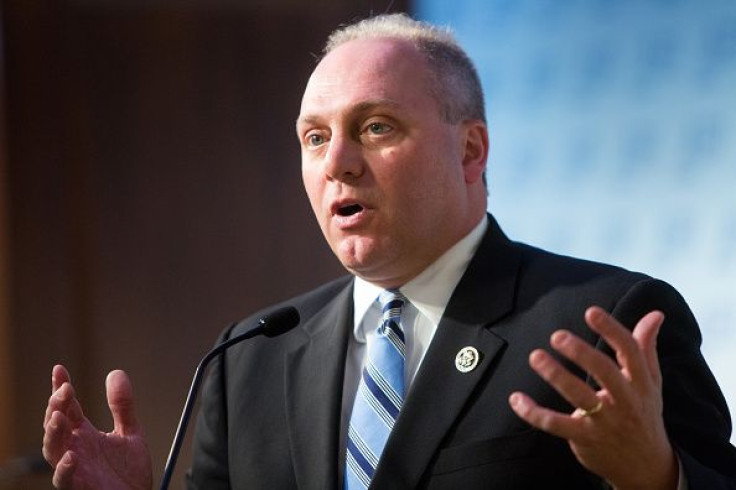 Other notable politicians included were Republican Reps. Blaine Luetkemeyer, of Missouri; Tom Emmer, of Minnesota; Rob Bishop, of Utah; Richard Hudson, of North Carolina; and Tom McClintock, of California.
At the time, Donald Jr. talked about his father's support of the Second Amendment. "My father defends the Second Amendment, so that you and I and your spouse and your children can take care of themselves when someone much stronger, much meaner and much more vicious than them tries to break into their home," Trump Jr. said, according to The Advocate. "It's not just a hobby or something I do on the weekends. It's a lifestyle; and as my father often says, 'this is about self-defense, plain and simple.'"
"Fortunately, Secret Service was here because Steve Scalise was here," Rep. Wenstrup says on Rep. Scalise's security detail taking action pic.twitter.com/RhFtHySHSt

— CBS News (@CBSNews) June 14, 2017
It's unclear if the shooter was motivated by Scalise's support of the Second Amendment.
READ: Donald Trump's Alleged Emoluments Clause Violation Prompts Nearly 200 Congress Members To Sue The President
The president tweeted about the Alexandria attack sooner after it happened. "Rep. Steve Scalise of Louisiana, a true friend and patriot, was badly injured but will fully recover. Our thoughts and prayers are with him," he wrote on his personal account.
If Capitol Hill Police were not at the baseball practice, it could have been a massacre. "Nobody would have survived without the Capitol Hill police," Kentucky Sen. Rand Paul told CNN Wednesday. "It would have been a massacre without them."
Sen. Flake: "I wanted to get to Steve Scalise, laying out there in the field, but while there were bullets flying overhead, I couldn't." pic.twitter.com/9yw37Cik20

— ABC News (@ABC) June 14, 2017
Follow me on Twitter @mariamzzarella
© Copyright IBTimes 2023. All rights reserved.
FOLLOW MORE IBT NEWS ON THE BELOW CHANNELS