Rescuers Race To Save Pets In Submerged Ukraine City After Dam Collapse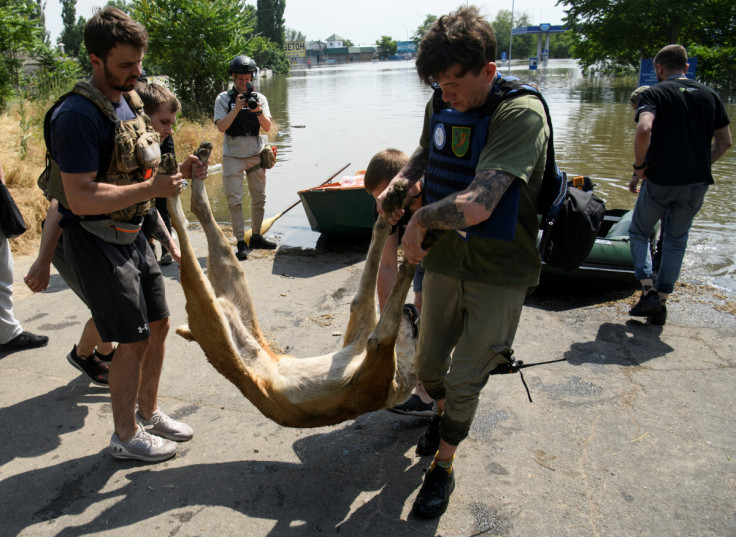 Rescue workers are scrambling to save thousands of animals trapped by floodwaters in the southern Ukrainian city of Kherson following the destruction of the vast Kakhovka dam some 60 km (37 miles) upstream.
Many dogs, cats and other pets are in peril after owners abandoned them when fleeing floodwaters unleashed by the collapse of the dam. President Volodymyr Zelenskiy said "thousands and thousands" of animals were trapped.
The vast Soviet-era hydroelectric dam was breached in the early hours of Tuesday, sending floodwaters cascading across a swathe of the warzone in southern Ukraine. Water levels in the Dnipro River have risen sharply, inundating farmland, villages and towns, including much of the regional capital Kherson.
Streets that were previously hundreds of metres (yards) from the river bank are now submerged, and impromptu jetties have been set up for travel by small boat or dinghy.
Many of the jetties are piled high with plastic pet carriers as volunteers ferry frightened animals to safety.
Iryna Bukhonska, the head of the municipal animal pound in the neighbouring city of Mykolaiv, came to Kherson on Tuesday to take part in the rescue effort.
By lunchtime that day, Bukhonska said her team had already taken 10 dogs to a shelter and brought 30 more to the shore.
"We caught many of them by the bank, as they are trying to return home and are swimming after the boats. We saw a dog drown before our eyes. They didn't let us through without a boat," she said.
"There were many in the morning that couldn't even be reached. Many of those who were locked away or on a chain have died."
'PLEASE SAVE MY ANIMAL'
Another rescuer, 45-year-old Iryna, said she was part of a team of six volunteers who had come from the north-eastern city of Kharkiv, over eight hours' drive away.
She said a group chat on the Telegram messaging app had been set up where dozens of rescuers received messages from desperate pet owners pleading for their animals to be rescued.
"People evacuate, then call us crying and say 'please save my animal, it is sat on the roof of my home, I cannot go anywhere'. A lot of people ask for help," Iryna added.
Rescuers must contend not only with powerful water currents but also with animals that are terrified and often aggressive.
"All our guys are covered in bites. You're saving the dog but it's in shock, so it bites your arms and legs," said Sviatoslav Spatar, a rescue volunteer.
It is likely that many animals have died.
While dogs can survive for some time in a flood, Bukhonska said, cats panic and freeze.
"Nobody can see cats... If a dog can swim, it will try to do so to save itself," she said. "A cat will fall into a stupor, and if the water approaches it will stay still in the same place. So the cats most likely died."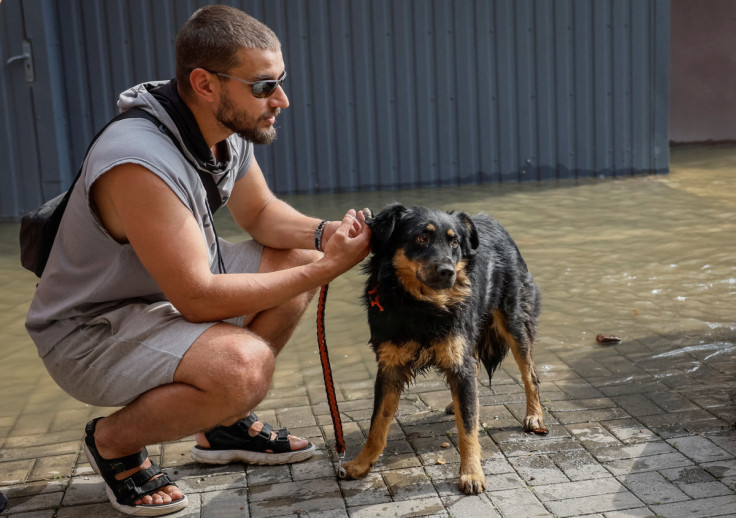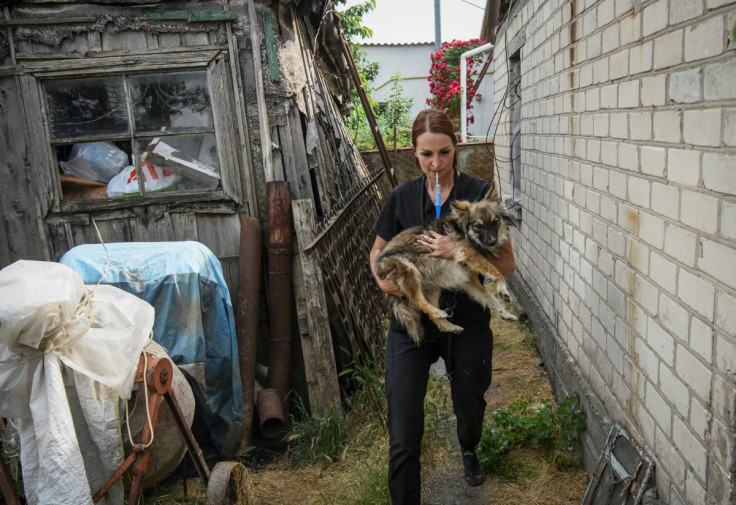 © Copyright Thomson Reuters 2023. All rights reserved.