Rhode Island Gov. Gina Raimondo's Campaign Contributions From Financial Services Industry Come Under Scrutiny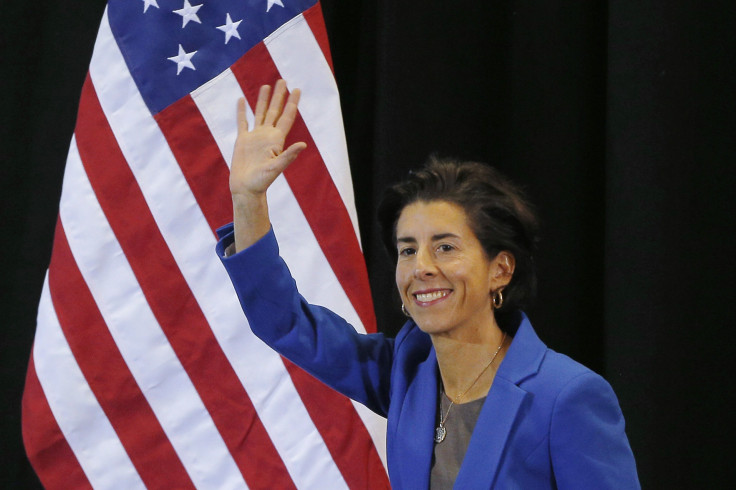 When Gov. Gina Raimondo of Rhode Island first won state office, she did so with a little help from her friends. As a new report from the nonprofit National Institute for Money in Politics reveals, the former venture capital partner received an outsized share of campaign donations from the financial services industry in her 2010 bid for state treasurer.
When it comes to pulling in Wall Street lucre, the report says, Raimondo was "in a class of her own." More than $100,000 flowed from the financial sector to her treasurer campaign, far outstripping the total any previous Rhode Island public office-seeker had received.
Raimondo's most notable undertaking as state treasurer was reforming Rhode Island's public employees pension plan, a task that won equal measures of praise and condemnation. Upon entering office, the state's long-mismanaged pension plan was only 48-percent funded, and there were more retirees collecting benefits than there were active employees paying into the system.
Raimondo pushed through a pause in cost-of-living adjustments and eased back the expected rate of return of the pension fund to 7.5 percent from 8.25 percent. Meanwhile, some state workers saw their retirement savings shift into 401(k)-style accounts, angering public employee unions.
The treasurer's finance background made some wary of her pension reforms, which also shifted hundreds of millions of dollars into so-called alternative investments such as hedge funds, real estate and private equity, which often come with sizeable fees. An independent analysis earlier this year estimated that these shifts into alternative investments may have cost Rhode Island $1.4 billion over four years, thanks to higher fees and below-expected returns.
The volume of financial industry donations to Raimondo's campaign, unprecedented in Rhode Island's history, raises further questions over the reforms. As the report notes, "the unusually large volume of contributions to her campaign for treasurer...preceded the legislative push for pension reform."
Notably, Raimondo's campaign for treasurer received more money from financial firms than her 2014 gubernatorial effort. In both cases, the majority of the donations -- 65 percent -- came from outside the state. However, lawyers and lobbyists have given even more to Gov. Raimondo, with campaign contributions totaling $316,000.
© Copyright IBTimes 2023. All rights reserved.