Rice Gives Up On Secretary of State Nomination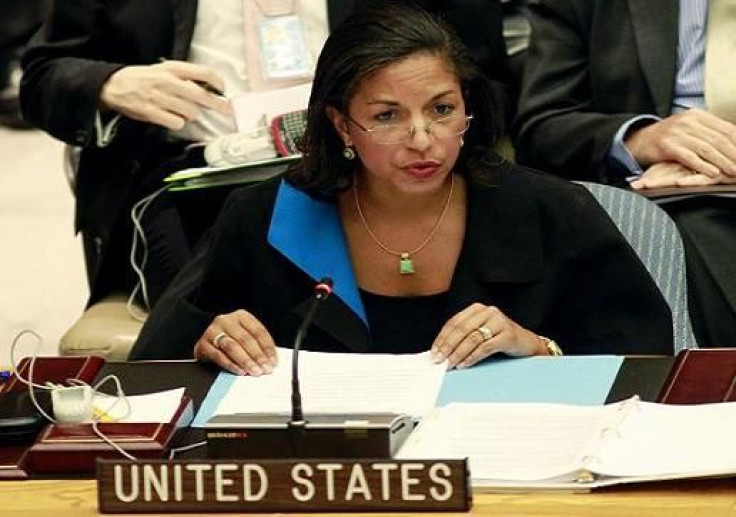 Saying her embattled hopes for promotion to secretary of state have become a distraction, U.N. Ambassador Susan Rice asked Thursday that President Barack Obama withdraw her from consideration.
"If nominated, I am now convinced that the confirmation process would be lengthy, disruptive and costly – to you and to our most pressing national and international priorities," Rice wrote in a letter to Obama obtained by NBC News. "That trade-off is simply not worth it to our country. ... Therefore, I respectfully request that you no longer consider my candidacy at this time."
The White House confirmed Rice's withdrawal. She was never officially nominated. Secretary of State Hillary Rodham Clinton is stepping down at the end of the first Obama term.
Opposing Rice's potential nomination were Senate Republicans who said she misled the American public in her response to the deadly Sept. 11 assault on an American diplomatic post in Benghazi, Libya. Rice initially suggested that the attack grew out of a spontaneous protest of an offensive video portraying the Prophet Muhammad.
"Opportunistic extremist elements came to the consulate as this was unfolding," Rice said in an interview five days after the attack. "They came with heavy weapons, which unfortunately are readily available in post-revolutionary Libya, and it escalated into a much more violent episode."
When it became apparent that the assault had been orchestrated by terrorists in advance, Republicans accused Rice of downplaying the episode.
Rice's departure could open the door for Sen. John Kerry, D-Mass., a leading foreign policy mind and chairman of the Foreign Relations Committee, who would likely find more Republican support and be confirmed without fuss. But some Democrats fear that if Kerry vacates the Massachusetts seat, it could let Republican Sen. Scott Brown, who was just unseated by Democrat Elizabeth Warren in the November election, get back in.
Obama will meet with Rice in the Oval Office Friday afternoon, the White House announced. There has been talk of naming her to the National Security Council, which would not require Senate confirmation. But she may wish to stay at the U.N.
In an interview with NBC's Brian Williams that will air Thursday night, said she didn't want to get in the way of Obama's second-term agenda.
"I didn't want to see a confirmation process that was very prolonged, very politicized, very distracting, and very disruptive because there are so many things we need to get done as a country, and the first several months of a second-term president's agenda is really the opportunity to get the crucial things done," Rice said. "We're talking about comprehensive immigration reform, balanced deficit reduction, job creation, that's what matters, and to the extent that my nomination could have delayed or distracted or deflected or maybe even some of these priorities impossible to achieve, I didn't want that and I'd much prefer to continue doing what I'm doing, which is a job I love at the United Nations."
Sen. John McCain, R-Ariz., the leader of the campaign against Rice issued a statement shortly after the announcement: "Senator McCain thanks Ambassador Rice for her service to the country and wishes her well. He will continue to seek all of the facts surrounding the attack on our consulate in Benghazi that killed four brave Americans."
"I respect Ambassador Rice's decision. President Obama has many talented people to choose from to serve as our next secretary of state," tweeted Sen. Lindsey Graham, R-S.C., another of her archfoes.
Kerry said, "I've defended her publicly and wouldn't hesitate to do so again because I know her character and I know her commitment. ... As someone who has weathered my share of political attacks and understands on a personal level just how difficult politics can be, I've felt for her throughout these last difficult weeks, but I also know that she will continue to serve with great passion and distinction."
FOR FREE to continue reading
✔️ Unlock the full content of International Business Times UK for free
offer available for a limited time only
✔️ Easily manage your Newsletters subscriptions and save your favourite articles
✔️ No payment method required
Already have an account?
Log in
© Copyright IBTimes 2023. All rights reserved.