Rice Leaves McCain, Graham And Ayotte 'More Disturbed' About Benghazi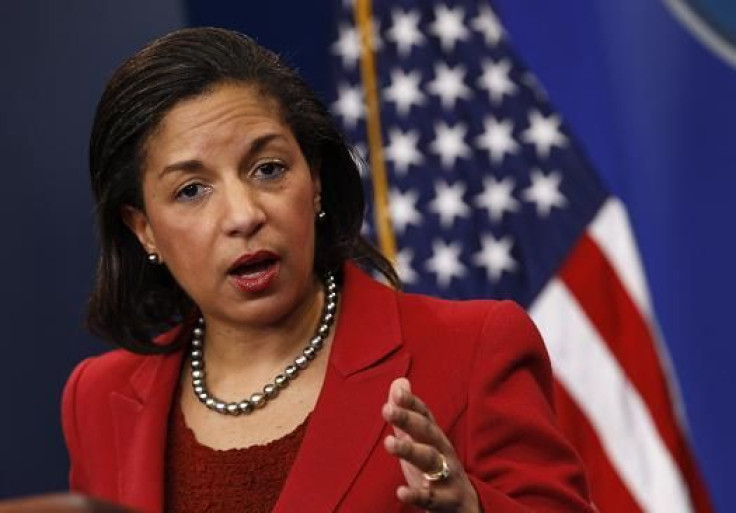 U.N. Ambassador Susan Rice's efforts to smooth things over with her Republican critics failed Tuesday, when senators opposed to her potentially being named secretary of state said they are "more disturbed" and "more troubled" after meeting with her.
Rice has been at the center of the controversy surrounding her account of the deadly assault on a U.S. consulate in Benghazi, Libya, on Sept. 11. Based on information she was given in the aftermath, Rice wrongly told the nation the attack resulted from a spontaneous protest to an American-made anti-Islam video.
Since then, the Obama administration has confirmed that al Qaeda operatives were behind the attack that claimed four American lives.
Rice was relying on talking points the intelligence community provided. Those talking points made reference to al Qaeda's involvement in the assault, former CIA Director Gen. David Petraeus told lawmakers in private hearings. However, the al Qaeda references were deleted from the final version Rice saw.
The intelligence community later took responsibility for the deletion.
Arizona Sen. John McCain, the most vocal opponent to Rice, on Tuesday told the media many of the answers given, and some they didn't get, pertaining to the Benghazi assault significantly trouble Republicans.
"It is clear that the information she gave the American people was incorrect, when she said that it was a spontaneous demonstration triggered by a hateful video," McCain said on an NBC broadcast. "It was not, and there was compelling evidence at the time that that was certainly not the case."
Additionally, Sen. Lindsey Graham said the bottom line for him is that he is "more disturbed now than I was before that the 16th of September explanation of how four Americans died in Benghazi, Libya, by Ambassador Rice, I think, does not do justice to the reality at the time and in hindsight clearly was completely wrong."
The South Carolina senator said Rice's explanation was a "statement disconnected from reality." He added that anyone who was paying attention to the threats in Libya would have seen that "it was an al Qaeda storm in the making."
"If you don't know what happened, just say you don't know what happened," Graham said. "If you can do nothing but give bad information, isn't it better to give no information at all?"
New Hampshire Sen. Kelly Ayotte said though the CIA and Rice herself said the initial information given was wrong, the Obama administration still hasn't "cleared that up to date."
© Copyright IBTimes 2023. All rights reserved.
FOLLOW MORE IBT NEWS ON THE BELOW CHANNELS