Richard Sherman Says San Francisco 49ers Deal Being Bad Is A 'Misconception'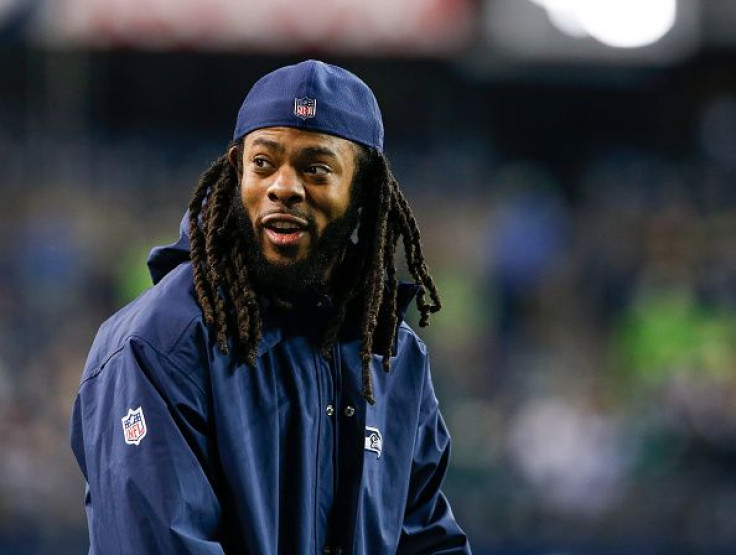 Cornerback Richard Sherman has hit out at critics claiming his new deal with the San Francisco 49ers was a bad one by comparing it to his old Seattle Seahawks contract.
Sherman recently signed a three-year deal reportedly worth up to $39.15m with the five-time Super Bowl champions a day after being released by their NFC West rivals.
The Compton native had a long and successful career with the Seahawks that culminated in him helping them win Super Bowl XLVIII against the Denver Broncos back in 2014 in a lopsided victory.
However, age and injuries have arguably affected his ability as the Seahawks decided to release Sherman, 30, later this month. He is also nursing an Achilles tendon injury that cost him half of the 2017 season.
Since signing for the 49ers, Sherman has seen disapproval of his new contract but speaking to reporters on Tuesday, claimed it was simply a misconception as he got what he wanted in guarantees and security.
"The biggest misconception is that it's a bad deal," Sherman said, as per ESPN. "... If I'm basing it just going off my last year [of the deal] in Seattle, and you compare it, I got no money guaranteed and I'm coming off a ruptured Achilles. What security do I have there? ... That's really all that I wanted. And [if] I play at the level that I'm capable of, I feel security in the upcoming years and I feel comfortable with that and I'm great with it."
Sherman, who notably handled negotiations on his own without an agent, feels more players should be in "control of their own destiny" as while there are some good agents in the game, there are also many who do not take care of their clients in the long run.
"I think the thing I'm most frustrated about is all the people that were so high on bashing this deal refuse to bash the agents that do awful deals every year," Sherman added. "There are agents out there that do $3 million fully guaranteed deals that look like $50 million deals. When a guy gets cut after two weeks or after a year and the guy only makes $5 million off a $50 million contract, nobody sits there and bashes the agent."
"... So I think that this was just one of those things where the agents feel uncomfortable with the player taking the initiative to do his own deal. That obviously puts a fire under them, it makes them more accountable for their actions because more players will do this."
The 29-year-old also posted a column on The Players' Tribune on Tuesday where he provided more details about his contract, such as the fact that he will receive a $2 million roster bonus should he pass a physical before Nov. 11, in addition to his $3m signing bonus. In comparison, he would have received no guaranteed money on his old Seahawks deal that had a year remaining.
Ultimately, Sherman is hoping more players follow his footsteps.
"I think it goes back to just educating our players in general on their own finances and being in control of your own life. I think more of our players are," he said.
© Copyright IBTimes 2023. All rights reserved.