Rick Santorum Leads in Michigan, but Mitt Romney Closing Gap: Poll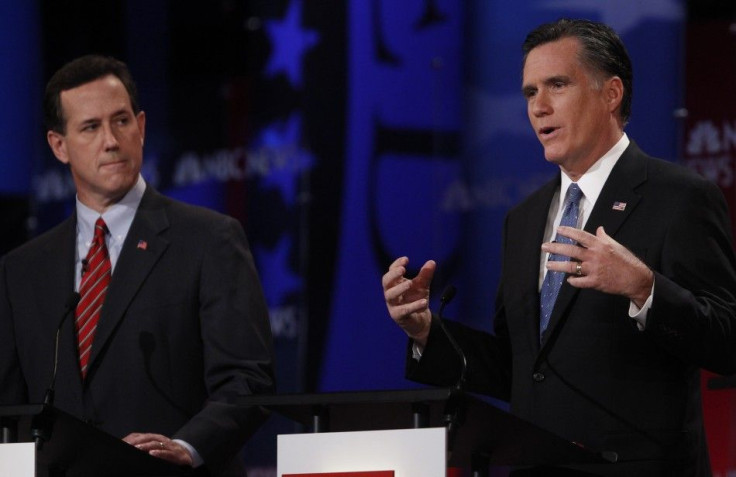 Mitt Romney, whose campaign for president is facing a make-or-break moment in Michigan, is gaining on Rick Santorum, his main rival in the Great Lakes State, a new poll said.
A survey from Public Policy Polling from Sunday showed Santorum leading the GOP pack with 37 percent of the vote, besting 33 percent support for Romney, who has highlighted his childhood in the state where his father was an auto executive and governor. The results are essentially a dead heat, given a four-point margin of error.
The latest poll shows an improvement among Romney's standing with Michigan GOP voters, who will head to the polls Feb. 28. Romney's favorability in the state is up to 55 percent and is leading Santorum among women, seniors, moderates and somewhat conservative voters.
Rick Santorum continues to have the lead in Michigan, but momentum is now on Mitt Romney's side, said Dean Debnam, president of Public Policy Polling, a Democratic firm.
Meanwhile, Ron Paul ranks third in Michigan with 15 percent of the vote, while former House Speaker Newt Gingrich takes 10 percent.
There is much riding on the results of the Feb. 28 Michigan primary. Romney needs a knockout in a state he has called home to stem the threat of Santorum landing the GOP nomination.
For Santorum, his campaign has planted its flag in Michigan to capitalize on recent surprise primary victories in three states and undercut the idea that Romney will eventually be the Republican nominee who has the best shot at beating President Barack Obama.
While the race will tighten considerably, the poll indicates better terrain for Santorum. More Michigan GOP voters said Santorum's politics fit their own, 48 percent to Romney's 32 percent.
Further, 63 percent said they believe Santorum's politics are about right, while 42 percent said the same of Romney. However, more voters -- 37 percent -- say Romney is too liberal.
In the campaign, Romney has focused on his opposition to the auto bailout that is credited with turning around the Michigan-based auto industry.
More than a third of Republicans said they would be more likely to vote for a candidate who opposes the bailout, while 37 percent said they would be less likely to vote for that candidate and 35 percent said it would make no difference.
© Copyright IBTimes 2022. All rights reserved.
FOLLOW MORE IBT NEWS ON THE BELOW CHANNELS