Rick Santorum Wins Primaries in Alabama and Mississippi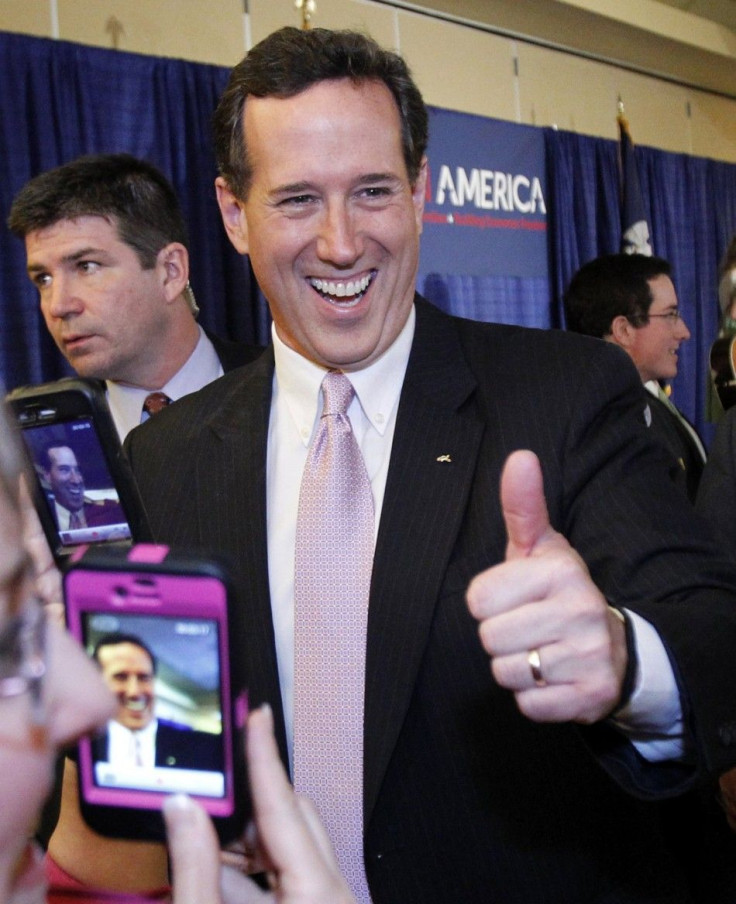 (Reuters) - Republican Rick Santorum won a pair of crucial Deep South primaries on Tuesday, staking a claim to leadership of the party's conservative wing and dealing a severe setback to presidential rival Newt Gingrich.
Television networks projected Santorum would narrowly defeat Gingrich and Mitt Romney in tight three-way battles that shook up a volatile Republican presidential race that has already seen a series of shifts and stumbles.
The losses were a severe blow to Gingrich, who represented Georgia in Congress and desperately needed a win in one of the Deep South states to validate his southern-based comeback strategy and keep his struggling campaign afloat.
Pressure will now mount on Gingrich, a former House of Representatives speaker, to drop out so Santorum can consolidate conservatives in challenging front-runner Romney.
We did it again, Santorum, who was heavily outspent by Romney in the two states, told supporters at a victory rally in Lafayette, Louisiana, the next southern state with a primary, on March 24.
We will compete everywhere, said Santorum, a former Pennsylvania senator. The time is now for conservatives to pull together. If we nominate a conservative we will beat Barack Obama.
The results were also a blow to Romney, the shaky front-runner who was hoping for a breakthrough southern win that would prove his ability to appeal to the party's core conservatives.
Gingrich spokesman R.C. Hammond told reporters the former speaker would push on with his campaign to the nominating convention in Tampa, Florida, in August even if he loses in the two states.
We're going on. We're going to Tampa. No matter what happens, Hammond said.
The Republican showdowns in the Deep South, a party stronghold in the general election, were a crucial test of strength in the battle for conservative supremacy between Santorum and Gingrich.
Romney has opened a big lead in delegates in the Republican race to pick a challenger to President Barack Obama in the November 6 election, but he has been unable to capture the hearts of conservatives who distrust him for some of the moderate stances he took as governor of liberal Massachusetts.
Romney adviser Eric Fehrnstrom said his goal for the evening was to win one-third of the delegates in play in the two states and Hawaii, which also will hold caucuses.
I think we will exceed that goal, he told CNN. I don't think anybody expected us to win Alabama or Mississippi.
Romney was running a close third in both states.
More than half of voters in Mississippi and Alabama said Romney was not conservative enough for them, but exit polls also showed that about 3 of every 10 voters in the two states described themselves as moderate or liberal, and Romney won them heavily.
© Copyright Thomson Reuters 2023. All rights reserved.
FOLLOW MORE IBT NEWS ON THE BELOW CHANNELS