Rio Olympics 2016: Activists Protest Olympics Meeting Over Golf Course Concerns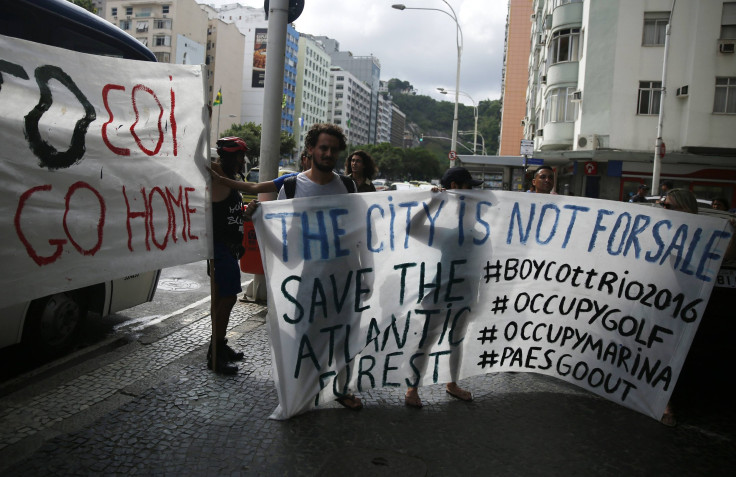 A small group of protesters disrupted a meeting of the International Olympics Committee Saturday to draw attention to the environmental destruction caused by preparations for the 2016 Olympic Games set for Rio de Janeiro. The Associated Press reported a group of environmental activists protested in the lobby of a hotel at Rio's Copacabana Beach where the executive board of the IOC was meeting to discuss developments for the 2016 Olympic Games.
The group reportedly lobbied complaints about the construction of an Olympic golf course in western Rio, which they said would destroy a nature preserve. The AP reported the protesters held signs accusing the committee of committing an "ecological Holocaust."
News agency Deutsche Presse-Agentur reported that a woman identifying herself as a hotel guest led the group, which consisted of at least five activists. The protesters demonstrated before dozens of journalists from around the world who were waiting for IOC President Thomas Bach to speak at a news conference.
Some of the protesters said they represented groups that opposed the construction of the Olympic golf course and another Olympic sailing venue, the AP said. In addition to their complaints against Bach and the IOC, the protesters also accused Rio Mayor Eduardo Paes of corruption for his support for the Olympic committee.
Opposition to the planned golf course has coalesced into the so-called Occupy Golf movement, which has gained momentum in recent weeks. Some have accused Paes of helping developers close to him gain lucrative contracts for luxury buildings near the proposed site. Earlier this month a Rio state prosecutor launched an investigation of the relationship between the mayor's office and one developer regarding allegations his claims to the land near the golf course had been falsified.
Several Brazilian cities have been victims of a severe drought for several months, exacerbating local discontent with the golf course plans and the water resources that would be required to run it.
The AP said Bach spoke at the news conference after the disturbance, saying the games were spurring development in Brazil that would not have happened otherwise. "It's clear evidence what a positive legacy these games are leaving in the infrastructure, the social and in the environmental areas," he said.
© Copyright IBTimes 2022. All rights reserved.
FOLLOW MORE IBT NEWS ON THE BELOW CHANNELS