Rio Olympics 2016: Fencer To Make History As First Hijab-Wearing Muslim-American Athlete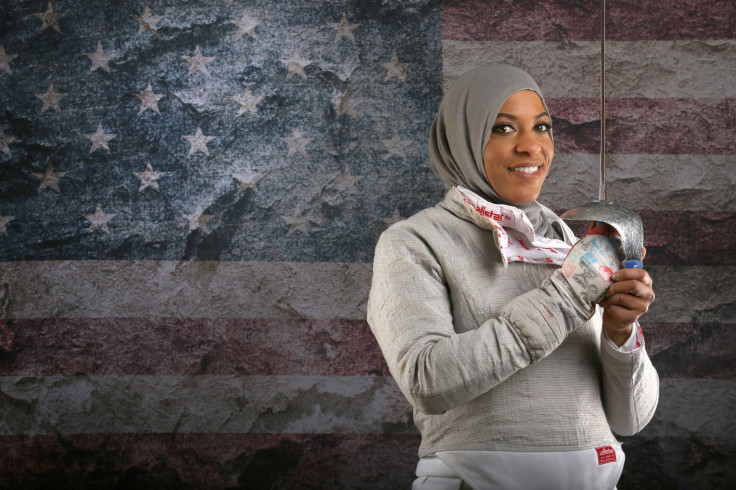 For nearly three decades, credit card giant Visa has acted as an official sponsor for the Olympic Games and since 2004 it has backed United States Olympians in their pursuit of a gold medal. At this year's Summer Olympics in Rio, Visa will be taking on perhaps its boldest sponsored athlete: U.S. fencer Ibtihaj Muhammad, the first Olympian to wear a hijab, a veil that covers the head and chest.
With Muslim immigration a hot political topic in this election year, and with some polls showing Americans don't view Islam in a favorable light, Visa's decision to back Muhammad for the games could be viewed as risky.
Market research firm YouGov released a poll in December that found 55 percent of Americans surveyed had an unfavorable view of Islam (which shouldn't necessarily be taken to mean unfavorable of Muslims) and that the sentiments were most particularly felt by Americans age 45 and older, according to the Guardian. And in 2014, Pew Research Center asked 3,000 Americans to rate members of religious groups along a "feeling thermometer," ranging from 0 to 100. Muslims were rated at 40.
However, Visa views the Olympics as the perfect stage not only to showcase some of its new pay technology, but also a place to display tolerance.
"We as a company and a business stand for acceptance," Chris Curtin, Visa's chief brand and innovation officer, told International Business Times during an event held at the Fencers Club in New York Thursday. "The core to what we do is have you go to Rio or you go to Tokyo or you go to any country you want to mention and feel like Visa's going to be accepted there.
"We want to communicate that there's a lot going on with respect to the concept of acceptance in today's world. And a lot of it pertains to our business, but a lot of it also is above and beyond our business and that's what we want to walk into, not around."
Though the International Olympic Committee and Team USA don't note athletes' religions, it's believed Muhammad will be the first practicing Muslim woman to compete for the U.S. at the games. She'll also be the first to wear a hijab.
"It was exciting to know that there was a brand out there who wanted to work with me because I was different," Muhammad told IBT, "and has totally built their platform on inclusiveness and acceptance. All things that I feel like for so long I struggled with, even as a kid.
The added and magnified attention of a major company like Visa backing her hasn't increased the pressure either, Muhammad said.
"I think as athletes we're always looking for sponsors that are in line with our own beliefs and that can help promote our brand."
Muhammad took up fencing at age 13 to satisfy both her love of sports and competition as well as the added benefit of covering her arms and legs. She is currently the No. 10 ranked fencer in the world and she's one of 46 athletes Visa is sponsoring for the games.
Visa carefully selected each member of its team, both for their athletic prowess and their stories. On top of adding Muhammad to Team Visa in March, the company, which boasted $6.3 billion in net income in 2015, announced the addition of Syrian refugee and Olympic swimmer Yusra Mardini to the squad Friday, nearly a year after her family fled to Greece. Mardini and her sister tugged the family's boat for three hours after the engine broke down.
"They're all phenomenal athletes by definition," Curtin said of Team Visa, "but instead what was their character, what was the story that they represent, what's the place from which they came and where they're going and what they're doing with their lives."
Muhammad's story certainly fits that bill. Originally a hopeful for the 2012 London Games, the 31-year-old Maplewood, New Jersey, native missed out as an alternate and was disappointed after years of training but wasn't deterred. Before the letdown, Muhammad was on the Olympic track. She starred for Duke University as a three-time NCAA All-American between 2004 and 2006, while attaining bachelor degrees in international relations and African and African-American studies.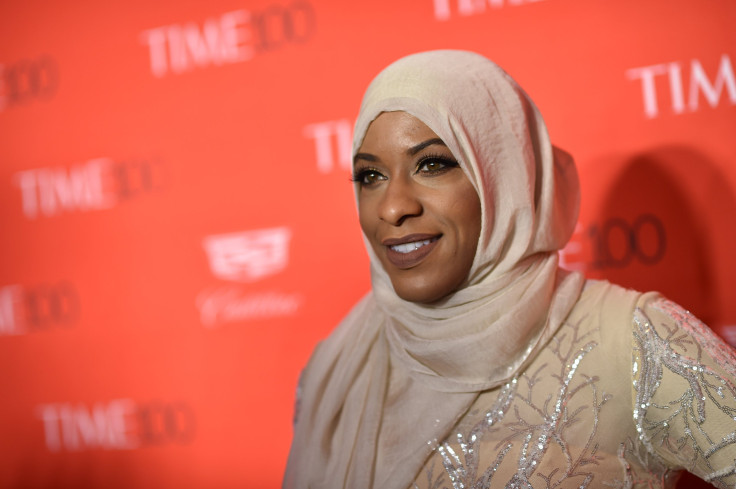 She has gone on to medal five times at the Senior World Championships in team and individual competitions, and beside No. 2 ranked teammate Mariel Zagunis, Muhammad's coach, Akhi Spencer-El, believes she has a chance to defeat the highly regarded Russian and Ukrainian fencers and medal.
"When I first started working with her," Spencer-El said, "I told her, 'I can get you to top eight in the world but I'm 100 percent sure you are going to make an Olympic team. I don't know which one it's going to be but you're going to be on one of those Olympic teams.' Because I knew what she had at the beginning. I saw it right away."
Spencer-El, who was a Team USA member at the 2000 Games in Sydney, likened fencing to chess and said Muhammad could outsmart her opponents in an almost preternatural way.
Blessed with a rare blend of athleticism and smarts, Muhammad has been on the national radar since right before the 2012 Games in London. Over the last four years she's been featured in Time, the New York Times, Washington Post and Wall Street Journal, earned a shoutout from President Barack Obama when he visited the Islamic Society in Baltimore in February, and also appeared on daytime talk show "Ellen."
But the Olympics are a grander stage than all those major news outlets combined. While 2014's Winter Games in Sochi, Russia, saw a decline in ratings, 2012's Summer Games were the most watched in U.S. history. NBC, which will broadcast from Rio, drew 219.4 million viewers in 2012, and averaged 31.1 million a day over the 17 days, according to Nielsen. That stands as the most-watched non-U.S. Summer Olympics.
Dr. Lee Igel, associate professor at New York University's Sports and Society program, believes Visa's decision to support Muhammad can be sliced down into parts political and social, especially given America's current political climate.
"The context for it couldn't be hotter, and it's so politically charged," Igel said. "Politically, it's a hot-button decision. It's everything we want to dredge up about what's going on in the political process with the presidential campaign.
"I think when you look at it socially and from a business standpoint, it makes all the sense in the world. Visa is a global company that has prided itself on access to things worldwide."
While there's no predicting how well the Rio Games will do in the ratings, Muhammad will be part of a closely monitored event as a member of one of the Olympics' biggest sponsors. Visa, which doesn't publicly release how much it spends on advertising, was estimated to spend roughly $500 million each year on ads around the globe, the New York Times reported in 2014. And last year, Visa committed 50 percent of its total U.S. media budget to digital platforms. The dollars, and the attention and pressure, are starting to add up, but Spencer-El believes Muhammad can handle it all.
"She's the only person that I can think of, that I know, who can handle that attention," he said, "and handle the pressure. I just don't know what it's like having the pressure of making the team, knowing that you are the only one who's going to be competing with the hijab on, and have a whole community of Muslim people around you supporting you. That could be nerve-wracking."
FOR FREE to continue reading
✔️ Unlock the full content of International Business Times UK for free
offer available for a limited time only
✔️ Easily manage your Newsletters subscriptions and save your favourite articles
✔️ No payment method required
Already have an account?
Log in
© Copyright IBTimes 2023. All rights reserved.