Rio Olympics 2016: Water Pollution Concerns Grow After US Rowers Sickened At World Rowing Junior Championships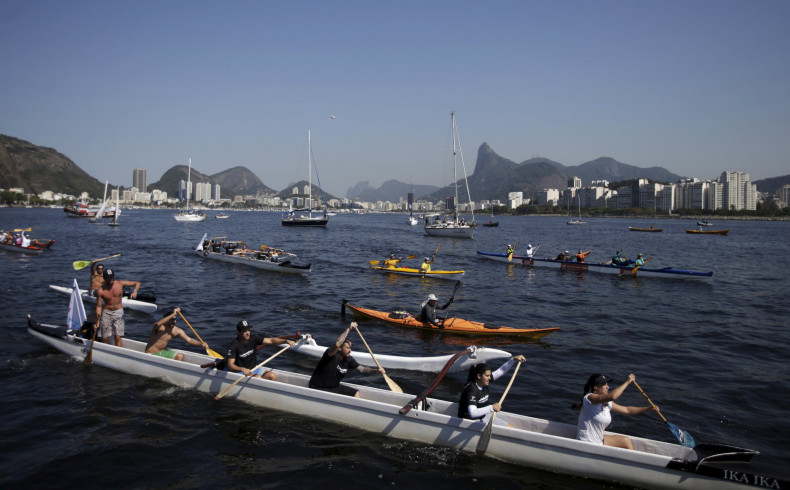 Officials from the United States rowing team suspect water pollution may have caused several American rowers to become ill while competing at the World Rowing Junior Championships in Rio de Janeiro, a report said Tuesday. Coming just days after an investigation found dangerous levels of viruses and bacteria in some of Rio's waterways, the illnesses once again raise concerns about the potential health risks hundreds of athletes will face in less than a year at the 2016 Summer Olympics.
Of the 40 U.S. rowers between ages 16 and 19 who arrived in Rio for training in late July, 13 experienced symptoms that included diarrhea and vomiting, the Associated Press reported. An additional four American staff members, as well as members of rowing teams from other countries, also fell ill. U.S. rowing officials stopped short of directly blaming the illnesses on water pollution, but acknowledged it likely played a role.
"I don't know if it was the water bottles in the boats, or hygiene precautions that some athletes were really good about and others weren't. … We're not really sure. My personal feeling is, I think it's from the lake," Dr. Kathryn Ackerman, the U.S. rowing team's physician, told the Associated Press.
Susan Francia, who coached the U.S. rowing team and also fell ill in Rio, echoed Ackerman's concerns. "It just doesn't seem normal," she said.
Rio's Olympic officials vowed in 2009 to address 80 percent of the area's water pollution before the 2016 games began. Earlier this year, city government officials said funding for cleanup efforts would be drawn from an $8.8 billion budget devoted to "legacy projects," such as water pollution and transportation infrastructure, USA Today reported. But Andre Correa, Rio's environment secetary, acknowledged an 80 percent cleanup was "not going to happen" and said it would cost about $3.8 billion to establish a sewer system capable of fully addressing Rio's needs.
A monthslong Associated Press investigation found in July that all of Rio's Olympic waterways were brimming with bacteria and viruses from human waste. In one case, the level of water pollution was more than one million times worse than an acceptable standard on a California beach, the AP reported.
Rio Mayor Eduardo Paes admitted this month that officials had "missed an opportunity" to address local water pollution and asked the International Olympic Committee to step in and provide guidance on how to proceed before the Olympics.
Water pollution levels were just one major concern for Rio's Olympic bid, less than 365 days before the 2016 games' opening ceremony. Paes touted the city's progress on construction of Olympic venues earlier this month and said the committee had kept the project under its proposed budget. Several major facilities, including a central Olympic stadium, are nearly complete, Paes said.
But Rio's Olympic budget had already risen from a preliminary figure of $2.93 billion in January 2014 to $13.2 billion by last May. Several structures, such as the Olympic tennis stadium, are scheduled for completion just weeks before the Olympics begin, and some have already gone over budget.
© Copyright IBTimes 2022. All rights reserved.