Rio Summer Olympics 2016: Construction Progress On Budget, Schedule Despite International Concerns, Officials Say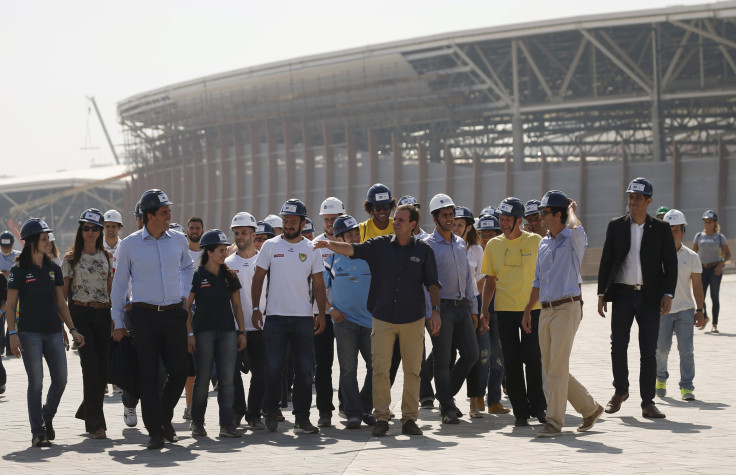 The International Olympic Committee and the mayor of Rio de Janeiro are insisting that Brazil will be ready to host the 2016 Summer Olympics. Despite widespread concern about construction progress and water pollution, officials reiterated this week that Olympic preparations are on schedule and within their projected budget.
One year before the 2016 Olympics' Aug. 6 opening ceremony, Rio Mayor Eduardo Paes touted the city's progress on a slew of projects that once seemed unlikely to have a happy ending. Paes spoke at Arena Carioca 3, an Olympic venue that he said is 98 percent complete. Other sites, including the Olympic village, aquatic center and central Olympic stadium, also are near completion, the Guardian reported.
"We want to show that we are capable of doing things on time, that Brazil is not a country where everything ends up over budget, everything ends up late," Paes said Wednesday, the Associated Press reported. "We are literally making a miracle happen here."
Despite Paes' optimism, critics are questioning whether certain facilities scheduled for completion next year will actually be ready for use. Brazilian officials were similarly confident about the country's progress on new soccer stadiums before the 2014 FIFA World Cup, only for several facilities to remain incomplete mere days before the event began.
In January 2014, Rio's proposed budget for the 2016 Olympics stood at $2.93 billion, Reuters reported. By last May, that number ballooned to $13.2 billion, with just 10 percent of necessary Olympic infrastructure in place. Work on an Olympic tennis center already has exceeded its budget. The Olympic shooting range, equestrian track and an athletics facility are optimistically slated to be finished by mid-2016, but any delays will prove costly.
Concerns about Rio's bid aren't limited to construction. An Associated Press investigation in July found Rio's waterways are rife with dangerous bacteria and that Rio's attempt to address the issue has fallen far short. Separately, forcible evictions of residents of Vila Autodromo, a small village on the outskirts of planned Olympic sites, led to violent protests in June.
Despite these woes, Thomas Bach, head of the International Olympic Committee, this week expressed satisfaction with Rio's progress. "We will have great games that will reflect both Brazilian passion, but also Brazilian efficiency," Bach said Tuesday. "I have no special worries because I'm very confident that the organizing committee and all levels of the government will continue in this dynamic way to work."
© Copyright IBTimes 2022. All rights reserved.
FOLLOW MORE IBT NEWS ON THE BELOW CHANNELS