Rioting In China's Restive Xinjiang Region Kills 16 People, Including 2 Policemen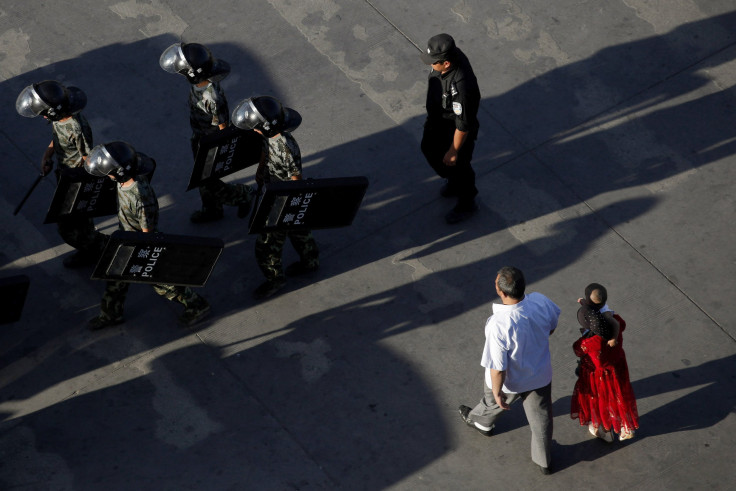 At least 16 people, including two policemen, were killed in a violent riot near Kashgar in China's Xinjiang province late on Sunday, the local government said on Monday, according to media reports.
According to the reports, 14 of those dead were armed assailants who threw bombs at a police squad in a village near the city of Kashgar, located near the border with Tajikistan and Kyrgyzstan in the country's northwest, about 2,130 miles west of Beijing, the Xinjiang Autonomous government, said in a statement posted on its official website.
Police from Shufu county were attacked when they attempted to arrest suspects for an unspecified crime in Selibuya Township, the report said, adding that the "terrorist assailants" were wielding knives. Police returned fire, killing 14 attackers, after two policemen were killed by the mob, and arrested two attackers.
Xinjiang province has witnessed several violent clashes between local ethnic groups and police over the years. The regional government describes these riots as terrorist attacks and the attackers as "armed assailants," but it is unclear whether these "assailants" are linked to any international terrorist groups.
Xinjiang province is home to about nine million Muslim Uighurs, who complain about religious and cultural repression. However, China's government disputes the allegations of repression against the Muslims and claims that the attackers are Islamic militants who are waging a holy war against the country.
Last month, at least nine civilians and two policemen were killed when a group of people armed with axes and knives attacked a police station in Selibuya Township, according to state media reports.
In April, 21 people, including nine officials, six police and six ethnic Uighurs, were killed in a riot, while 15 people were killed, in February 2012, in a knife attack in Yecheng county. In July 2009, at least 197 people were killed in clashes between thousands of ethnic Uighurs and Han Chinese in Urumqi.
© Copyright IBTimes 2023. All rights reserved.
FOLLOW MORE IBT NEWS ON THE BELOW CHANNELS