Rise Up October NYC Police Brutality Protest Results In Multiple Arrests: Report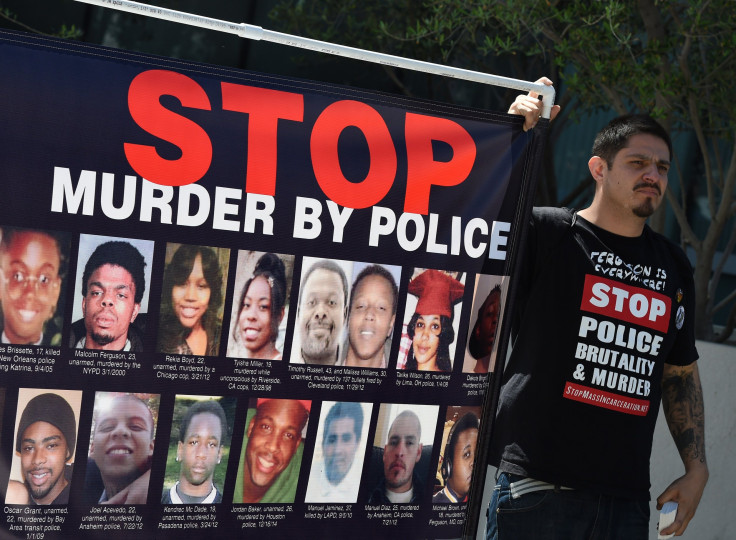 Activists and concerned citizens marched the streets of Manhattan in New York City Saturday as part of "Rise Up October," a mass demonstration to protest police brutality in the United States. A number of protesters were reportedly arrested, but it wasn't immediately clear what the charges were.
According to a tweet, a police officer allegedly smacked the cell phone out of the hand of the first woman arrested. It was not immediately clear how many protesters marched the streets, which were filled with chants of "justice now" and signs saying "Stop police terror!" and "Which side are you on."
Demonstrators gathered in Washington Square Park Saturday morning and marched to a closing rally at Bryant Park near Times Square, according to the group's website. Activists predicted in August that Saturday's Rise Up October event could attract about 100,000 people.
"What I see it accomplishing is radically transforming the way people look at this question [which side are you on] getting them to go from sympathy with people who are suffering this to actively siding with them and acting together with them, and then getting other sections of people to go from, 'This doesn't have any effect on me. It's not my problem,' to seeing that it is all of our problem," Carl Dix, a Rise Up October co-founder, said in a radio interview in August.
Saturday's event came one day after demonstrators gathered in Queens to protest Rikers Island, saying it should be shut down, according to a Bronx news station. About a dozen protesters were arrested outside the jail's entrance Friday.
Among those in the crowd Saturday were prominent civil rights activist and scholar Cornel West, who along with Dix founded the Stop Mass Incarceration Network, a national protest group. Filmmaker Quentin Tarantino was also marching.
Tears glistened in the eyes of some protesters and others gave voice to the dissatisfaction many have felt in the past two years over police tactics and use of force, according to the TeleSUR news network. Deaths of unarmed black men at the hands of police across the country have led many to call into question how the police do their job.
© Copyright IBTimes 2023. All rights reserved.