Rising Costs Of Medical Care, Health Insurance: Median Pay For CEOs In Health Care Companies Higher Than Any Other Industry, Analysis Finds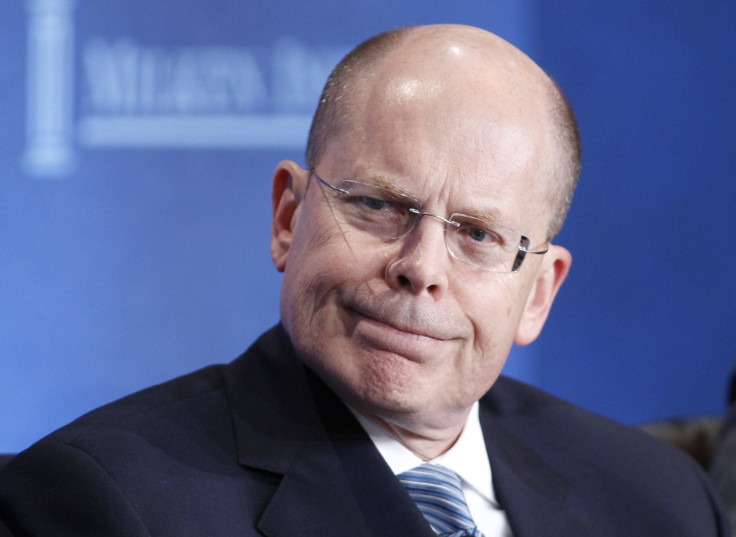 In 2014, Stephen Hemsley, CEO of the health insurance company UnitedHealth Group, reportedly took home more than $66 million in salary, stock options and other forms of compensation. If that paycheck seems handsome, it wasn't. At least, not when you compare it to Hemsley's total pay five years earlier, when it amounted to $102 million.
Executives at health care companies in the United States had the highest median CEO pay of any industry in 2014, according to an analysis by the Associated Press/Equilar released Tuesday. Yet whatever the supposed benefits of higher CEO pay are -- more efficient management, better health care -- they are not trickling down to ordinary Americans, who want better, more affordable medical care. In fact, analysts noted that these outsized paychecks, not just for CEOs but also for other managers in the health care industry, are in fact serving to drive up the costs of health care.
"There's no doubt that one of the reasons why Americans pay more for health insurance and for health care than people in any other country in the world is because of this high executive compensation," Wendell Potter, a former public relations executive for insurance company Cigna, said. Yet "there is no real justification for it," he added.
As the United States struggles to rein in rising health care costs -- at the last count, the U.S. spent $2.9 trillion in 2013 -- many questions have focused on how medical care could become more efficient, such as how to pay doctors according to the quality rather than the quantity of care they provide, or how to cut back on costly yet unnecessary trips to the emergency room. The compensation for leaders of hospitals, pharmaceutical companies and insurance companies hasn't been a major part of the conversation, even as their pay steadily rises.
Chief executives at health care companies earned a median of $13.6 million in 2014, up 4 percent from the year before and marking the sixth time pay has risen in the past seven years, the AP's analysis, conducted with data firm Equilar, found. The broad range of health companies analyzed included pharmaceutical companies, insurance companies and hospitals, Aaron Boyd, director of governance research at Equilar, said.
The sheer amount of money involved in awarding six-, seven- and eight-figure compensation packages to CEOs is not the only reason health care costs can be inflated by executive pay, analysts say. It's also about what those generous packages consist of.
"If executives are loaded up with stock options and other types of equity-based pay, they have a personal incentive to boost share prices by whatever means necessary," Sarah Anderson, global economy project director at the Institute for Policy Studies, said. That could push them to cut corners in medical services, training or any number of cutbacks that could hurt consumers. "The incentives for short-term thinking among managers is actually more dangerous than the dollar amount of executive pay," Anderson added.
On average, a CEO at a health insurance company earns $584,000 a year, the New York Times found in 2014. Hospital CEOs earn an average of $386,000, while hospital administrators earn $267,000. But for some, earned salaries constituted merely a small portion of how much these executive actually took home. Mark T. Bertolini, CEO of insurance company Aetna, had a salary of $977,000 -- but received more than $36 million in total compensation that included stocks and options.
Linked to these dollars are growing budget lines for administrative costs at these companies. Insurance companies in the U.S. spent at least twice as much on administrative costs as other developed countries did, according to a 2013 survey by the Commonwealth Fund. And yet Americans are paying these very administrators through the nose, by comparison.
"If you look at some of the most globally competitive firms from other countries, the executive pay levels are nowhere near the level they are in the United States," Anderson said. "We do not have a pay-for-performance system."
The Affordable Care Act, commonly known as Obamacare, has tried to bring down these pay grades. A little-known rule in the law aimed to encourage health insurance companies to pay executives less by imposing a cap on the amount of money companies could seek in tax deductions for those salaries. That regulation gave back $72 million to taxpayers in 2013, according to the Institute for Policy Studies. Yet despite the minimal benefit to taxpayers, the rule had little impact on compensation overall, the institute found. In other words, salaries for health insurance CEOs didn't take a hit -- companies were just paying more in taxes because of them.
Health care companies justify these high packages by saying they have to pay competitively to attract the best talent, Potter, the former Cigna executive, said. "They hire compensation experts who supposedly review compensation at their peer companies," he explained, adding that the system virtually "guaranteed" that salaries would keep climbing.
As long as they do, Americans can expect to shell out more and more for their health care, with little guarantee they're getting what they're paying for.
© Copyright IBTimes 2023. All rights reserved.