Rising food prices drive China inflation to two-year high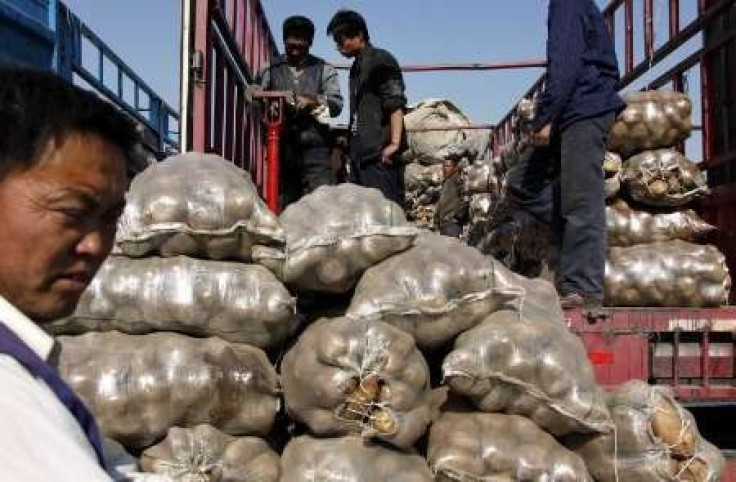 A surge in food prices propelled Chinese consumer prices to a 25-month high in October, despite the government's efforts to control inflation.
Chinese consumer price index (CPI), a major gauge of inflation, rose to 4.4 percent in October compared with 3.6 percent in September, the National Bureau of Statistics (NBS) said on Thursday.
Food prices in the world's second largest economy went up by 10.1 percent in October year-on-year. Food prices continued to increase from 5.7 percent in June to 8 percent in September.
From January to October, China's CPI stood at 3 percent, hitting the government target rate for 2010.
The People's Bank of China raised interest rates by 0.25 percent in October for the first time in three years to tame inflation.
Further, the central bank ordered banks on Wednesday to increase reserves in a move to curb lending.
"China needs to do more to keep this year's inflation under the target ceiling,'' a report from the Economic Times said quoting Sheng Laiyun, spokesman, NBS.
Economists and markets believe there could be further rate moves in the next few months, as inflation stays above 4 percent.
However, Capital Economics said in a note further rate moves are not expected till the first quarter of next year, even as the People's Bank of China (PBC) has indicated a desire to 'normalize' monetary policy.
China has expressed concerns that America's plan to inject more funds into its economy in the form of a second round of quantitative easing might fuel inflation.
"Continued expansionary monetary policy in advanced economies poses a risk that strongly performing "Emerging Asia" countries will import inappropriately loose monetary conditions, in turn risking higher inflation and volatility in local asset markets," said a recent report from Fitch Ratings.
According to Fitch, China ('A+') look relatively more exposed than their rating levels would suggest.
"China's already?strong real credit growth points to risks from a further loosening in global monetary conditions," Fitch said.
Also, home prices in China rose 0.2 percent in October, highlighting the need for further government controls to crack down on speculation and avert asset bubbles.
© Copyright IBTimes 2023. All rights reserved.