Road To Rio: Can The Olympics Save Golf?
After a 112-year absence from the Olympics, the sport of golf — and the $70 billion industry that supports it — has a unique opportunity in Rio de Janeiro to hit its way out of the bunker.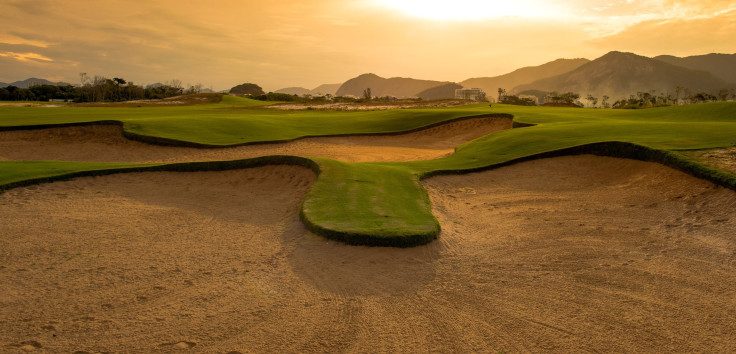 Daniel Stapff was once a chubby, 11-year-old tennis player from Curitiba, Brazil, the son of a former pro whose entire family lived racket-in-hand. But one day Stapff found himself bored and near a golf course. He whacked a few balls.
Stapff left the course underwhelmed. Striking the tiny dimpled ball with an awkwardly shaped club was a towering task. The game was tedious to learn — and besides, Stapff's dream was to turn pro in his father's sport. The only problem: He never won in tennis. His dad, perhaps assessing his son's abilities, pushed him back toward the course.
And while the first try didn't go well, Stapff improved quickly.
"I was like, 'Dude, I never won a tennis tournament and my first golf tournament — I won,' " Stapff said. "Maybe I should give some more attention to this."
He grew to love the game, uncommon as it was in soccer-crazed South America. When his childhood friends would ask him to go kick around a soccer ball, he'd often decline.
"No, I'm going to go practice golf," he'd say.
"Practice what?"
His friends had never heard of golf.
"It remains to be seen if golf translates well in the Olympics."
Stapff is now a 25-year-old pro golfer on the PGA Tour's Latinoamérica tour and one of the most promising young players in Brazil. And more than a dozen years after he took his first swing, the sport's epicenter will be in his homeland: Golf is returning to the Olympic Games after a 112-year absence. Sixty men and 60 women will play in separate tournaments, putting the game associated with upper-class networking and manicured country clubs on more than 3 billion television screens worldwide.
The games come at a fraught moment for golf. As of now, just 10 countries — chiefly the United States, Japan, Canada, England and Australia — account for nearly 80 percent of the world's golf facilities. The sport's major markets in the U.K. and U.S. are stagnant or in decline. Industry leaders see Olympic golf as an opportunity to create more die-hards like Stapff in Asia and Latin America, where a growing middle class presents an attractive potential market. The $70 billion golf industry — including course designers, equipment makers, professional tours, charity events — would reap the benefits.
"There's no doubt in my mind that Olympic golf is the best grow-the-game opportunity we have today," International Golf Federation (IGF) President Peter Dawson told International Business Times. "I don't think it's going to grow the participation in the United States or the U.K. where golf is a mature game. In other countries, where golf is a minor sport, it certainly will grow the game."
The Olympics have radically shifted the landscape of global sports before. In 1992, USA basketball's "Dream Team" traveled to Barcelona and dispatched the competition by an average of 44 points. The excitement generated by the team helped reshape the game, inspiring a new generation of basketball fanatics in places like Spain, China and Argentina — which went on to win the 2004 Olympic gold in the sport.
But golf has officially secured a place in only the 2016 and 2020 Olympics, so the Rio de Janeiro debut needs to be a success. Tensions between elite players and golf officials over the tournament setup could put a damper on the effort. Big names like Australia's Adam Scott, ranked seventh in the world, and South Africa's Louis Oosthuizen have said they will skip the games, preferring to stick with the lucrative pro season.
Rio initially had just two golf courses, neither of them up to standard for top players. Plagued by delays, a new course was slowly built for the Olympics, drawing protests over environmental concerns since part of the land was protected. In response, Brazilian Golf Confederation President Paulo Cezar Pacheco pointed to a government study that found the newly constructed course contributed to the growth of local vegetation and helped wildlife.
The Olympics will give the sport "unprecedented visibility," Pacheco told IBT in an email. "We expect global growth in golf, including Brazil."
Brazil's march toward hosting the games this summer has confronted other challenges. The country is in chaos as President Dilma Rousseff faces impeachment over corruption allegations, and a collapsing economy has forced budgets to be slashed.
Still, the numbers are alluring. Olympic officials say that 3.6 billion viewers watched at least one minute of coverage of the London Games in 2012. And if a player from a non-powerhouse region — Argentina or Brazil especially — gets airtime sinking putts and charging up the leaderboard, the result could be magic. One defining moment, one popular player, can change everything.
World Golf Hall of Fame member Se-ri Pak of South Korea, for instance, debuted on the LPGA tour in 1998 and went on to win more than two dozen events and five majors. She became a hero back home, inspiring a generation of players that has made South Korea the dominant force in women's golf. As of the first week of May, eight of the top 15 players in the world were South Korean. Pak plans to retire from the LPGA this year, but first she'll travel to Rio to captain the South Korean squad.
"People get inspired by people who look like they do. Our hope is that athletes, whether they win or not, they'll get featured ... and that will inspire people who look like that person to say, 'Maybe this is a game for me,'" said World Golf Foundation CEO Steve Mona. "Where's the next Se-ri going to come from? We don't know."
Mona sees it as a stroke of good luck that golf's Olympic return will play out in Rio, instead of onetime potential host Chicago, where golf is a known quantity.
"I think the bigger upside is being in a part of the world where golf isn't really a part of that culture," he said. "It certainly gives us a chance at greater exposure."
In places where golf is an established part of the culture, the game is struggling. There are some 25 million golfers in the U.S. — the game's largest market — down from a high of about 30 million 10 years ago, by some estimates. Participation among young people is down about 30 percent. New course openings are at an all-time low, according to the R&A, one of golf's governing authorities, and every year in the past decade, more U.S. golf courses have closed than have opened. That's troubling, considering that the U.S.'s 15,372 golf facilities compose about 45 percent of the global supply. ​
In the U.K., golf's second biggest market, participation seems to have stabilized at around 3.3 million people after a precipitous 11 percent drop about five years ago.
The common reasons given for the decline or stagnation are threefold: Golf can be prohibitively expensive and is perceived as elitist; in a fast-paced society, a four-hour round of golf isn't appealing or even feasible for many people; and courses have becoming increasingly difficult, pushing average players away from the game in frustration.
The PGA Tour remains financially healthy, just three years into a 12-year, $1.2 billion TV contract, but long term, the sport needs a new, younger fan base.
"I think it's just going to get harder and harder to start playing," said golf historian Richard Moss, author of the book "The Kingdom of Golf in America." "Courses that charge under $40 are closing faster than any other course."
The sport still has its loyal fans. Three of the four professional major tournaments saw a rise in viewership last year. Industry analysis firm Golf Datatech said gear sales in the U.S. and U.K. were steady and there was actually a 1.8 percent uptick in total rounds played in the states last year, all indicating dedicated golfers who were willing to spend.
But while the U.S. population has grown by about 20 percent in the past two decades, the number of golfers in the country has stayed essentially flat during that period, said Tom Stine, co-founder of Golf Datatech.
Looking elsewhere for players and fans is a natural move, he said: "Even a small percentage will help."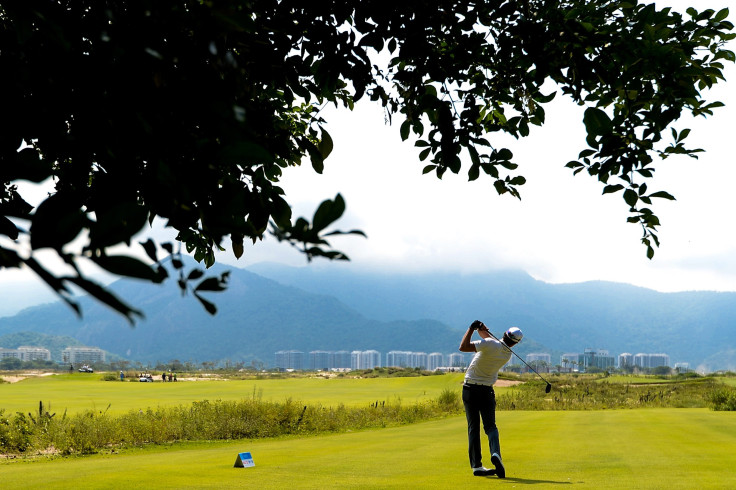 Sports have often been shuffled in and out of the Olympic Games, but for years golf wasn't even a part of the conversation. About a decade ago, the golf world began pushing to get back in. Top officials — from the European Tour, the PGA Tour, the U.S. Golf Association, the R&A and more — joined together in 2008 under the International Golf Federation banner to lobby the International Olympic Committee. They enlisted elite pros like Tiger Woods, Phil Mickelson and Annika Sorenstam to film pleas directed at the IOC, stressing the sport's global appeal.
It worked. In 2009 the sport was approved for the Rio Games. The players who earn a spot through a system based on the world rankings will take part in a 72-hole, traditional tournament-format event. To ensure that lesser golfing nations would be represented, the IGF capped the number of participants from any single country.
A few years later, the PGA Tour launched its only developmental leagues outside of North America: the PGA Tour Latinoamérica and the PGA Tour China.
China is "the most obvious" market for the golf industry to pursue through the Olympics, Mona said. Even amid an economic slowdown, China — population 1.4 billion — has seen its upper middle class thrive, with some 17 percent of urban households now in that strata, compared with just 7 percent in 2010. By 2020, 30 percent of urban households — 100 million people — are projected to be in the upper middle class.
It doesn't hurt that Beijing cares enormously about the country's Olympic performance. The country spent some $40 billion on hosting the 2008 Games. Chinese officials also seem to be taking Olympic golf seriously. They hired legendary Australian player Greg Norman to help prepare the squad, and regional provinces are beginning to set up development programs for young players.
A handful of Chinese players are making their mark on the sport. Shanshan Feng is the 11th-ranked women's player in the world and won the 2012 LPGA Championship, becoming the first Chinese golfer ever to win a major. On the men's side, teens Tianlang Guan and Jin Cheng have succeeded on the amateur circuits, playing at the prestigious Masters tournament, while 20-year-old Li Haotong just earned his first victory on the European tour this month. The country also already hosts big professional tournaments, including the lucrative HSBC Champions event that attracts elite players from across the globe.
Yet according to official R&A figures, China's 473 courses lag well behind its much smaller neighbors. Japan has a staggering 2,383 facilities, while South Korea boasts 447.
China's relationship with golf is complex. The game has long been viewed with suspicion as a symbol of government corruption or conspicuous affluence. The first new Chinese course was built in 1984 and by 2004, building new courses became illegal.
The law was largely ignored and construction continued to surge — until last year, when the Communist Party cracked down. Dozens of those illegal facilities were shut and the party effectively banned its 88 million members from playing the sport. In April, though, just months before golf's Olympic return, the party indicated that playing the game was no longer considered a wrongdoing: The real issue was said to be officials who accepted club memberships as perks.
"The question has always been: Will Olympic success in golf equal a golf boom in China?"
"What we think will happen there is the Chinese officials will embrace Chinese participation in golf," said Mona.
Already, China is the sixth-largest market in the world for golf equipment. In 2013, it was estimated to be worth nearly $1 billion with just over 1 million people playing the game. The prospect of a China that fully embraces golf is the stuff of fantasies for those involved with the sport. What's a few lost participation points for golf in the U.S. if the world's most populous country falls in love with the game?
"The question has always been: Will Olympic success in golf equal a golf boom in China?" said Dan Washburn, author of "The Forbidden Game: Golf and the Chinese Dream." "It was and remains a down time for the golf industry in China, but at the same time as all of these crackdowns, China did start funneling a lot of money — an unprecedented amount of money — into its Olympic golf program."
It makes sense that China's focus on medal counts could help grow the game, Washburn said. But Beijing could turn against the sport at any time.
"A lot of very smart people have been made to look very dumb by trying to predict what's going to happen in China," Washburn said.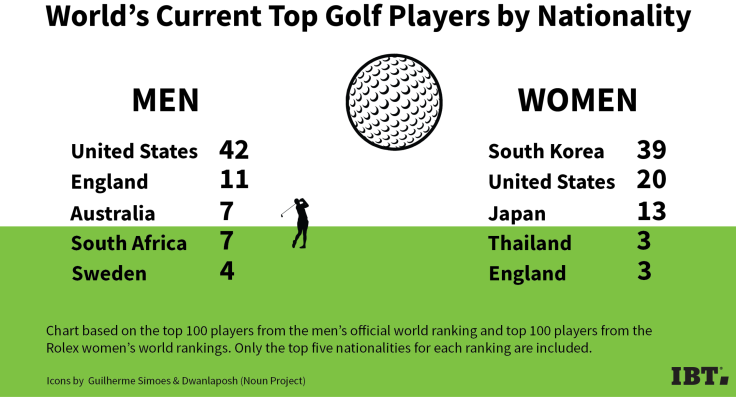 Latin America — and Brazil and Argentina in particular — also have a complicated relationship with golf. It's widely considered an elitist undertaking, even more so than in the United States, with access mostly limited to the upper class that can afford to join private clubs. As in China, there can be a social resentment against golfers.
Agustín Pizá is aware of this image and it troubles him. He's a Mexican golf course designer and the only Latin American senior member of the European Institute of Golf Course Architects. Pizá has worked with architecture greats like Gary Player, Jack Nicklaus and Tom Fazio to design courses across Latin America; he started a nonprofit called Primer Swing to give access to golf to underprivileged kids in Mexico, Peru and one day across Latin America.
"We need to tear down the wall to have people stop thinking of golf as a status and start thinking it's a sport," he said. "It's seen more like a social environment. ... You get your cart, you get your buddy, you have your drink, you have fun with your friends."
Golf is growing in Latin America, Pizá said, but mostly among people who already have the means to play. Latin America as a whole has been hit with economic hardship in recent years amid a global downturn, but the International Monetary Fund projects that Argentina, which has the most established golf community in South America with 319 facilities, will see its GDP contract slightly this year but grow by 2.8 percent in 2017. Brazil, which has the second most golf facilities at 123, is expected to see its real GDP contract this year but return to even by 2017.
Both countries are home to expanding middle classes, with the strata between the lower middle class and upper class up by 63 percent in Brazil from 2004 to 2014, and Argentina experiencing more growth between 2005 and 2015 than any country in Latin America, doubling the size of its middle class. These are the folks that golf wants to reach: the business executive who can take a meeting to the course and fall in love with the game.
Stapff, the Brazilian pro, has started to see results as he darts across Latin America on tour. "There's an increase in the sport pretty much every country that we go because every country is paying attention to the Olympics," he said.
For a long time, the golf courses at country clubs in Latin America were largely unused green space built largely to project status, Pizá said. People now are at least open to teeing up and giving the game a try. To really push the game forward, and to develop professional-level players who can in turn inspire future world-class players, the game needs to be more inclusive, Pizá said.
"There's two worlds," he said.
Argentina's Ángel Cabrera, a two-time major champion, comes from that other world. The son of a handyman was able to get his start in the game only because he worked as a caddie in a country club in Cordoba. The lower-class Cabrera wasn't even allowed to enter the clubhouse, but his talent caught the eye of a rich member who helped him along. It's not yet clear whether Cabrera will qualify for Argentina's team.
Some players who likely would make the cut seem lukewarm about the prospect. Top golfers were invited to participate in a March test event for the Rio course, and despite the PGA commissioner offering to charter a flight, no one showed. That left Brazilian golfers, including Stapff, to test the links. To avoid a similar embarrassment in August, officials announced last month that an Olympic gold medal would automatically qualify the winner for all four major pro golf tournaments next year.
"It remains to be seen if golf translates well in the Olympics," said Hilary Fordwich, president of Strelmark Business Development Consultants and a golf business expert who has contributed to major industry publications. "Like any first, the first needs to be well done. Should there be a disaster, it would be memorable."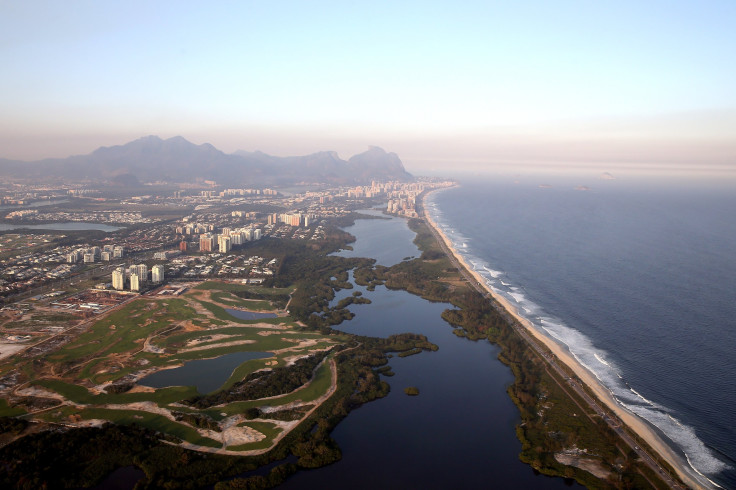 Establishing a huge event is especially tricky in golf. Golf was last played at the Olympics in St. Louis in 1904, with just Canada and the U.S. participating. The sport, perhaps more than any other, ties itself to tradition and a sense of place, said Richard Moss, the golf historian. Think of the hallowed grounds of St. Andrews in Scotland or Augusta National in Georgia. The relative newness of the Olympics is another hurdle in getting the top golfers on board.
"I really wonder how the Olympics can sort of drop in this thing, and then four years later have any sense of continuity for the next one," he said.
Scott, 35, the No. 7 ranked Aussie who won't be in Rio, told reporters that while it was "tough" to skip the chance to represent his homeland, "I feel like I do that every week."
But some of game's younger players are ready to relish the new challenge. Top U.S. player Jordan Spieth, who will be 23 at the games, said he is thrilled to have a shot at a gold medal. "Just competing in the Olympics, just walking the opening ceremony, staying in the village and doing whatever it is, meeting these incredible athletes from around the world, hopefully that's something I'll be able to experience next August," he told reporters.
Stapff has earned nothing like Spieth's fame or money and is unlikely to make the cut for the games. Yet he was able to test out the Olympics course and raved about the rolling, wide fairways, firm greens and intimidating water hazards. Stapff struggled to pick a favorite spot, simply calling the whole thing "amazing."
The experience, he said, was inspiring for a player working his way through golf's lower rungs. His ultimate goal is to advance out of the Latinoamérica tour to the second-division Web.com circuit, then eventually to the game's elite level, the PGA Tour. He wants to be Brazil's best golfer.
His friends back home are far less likely these days to question what it is exactly that he's running off to practice all the time. They've heard about golf, and that's half the battle.
"Now people know a little bit more because it's an Olympic sport," he said.
© Copyright IBTimes 2023. All rights reserved.