Rob Gronkowski Injury Update: Patriots' TE Not Yet Cleared For Super Bowl 2018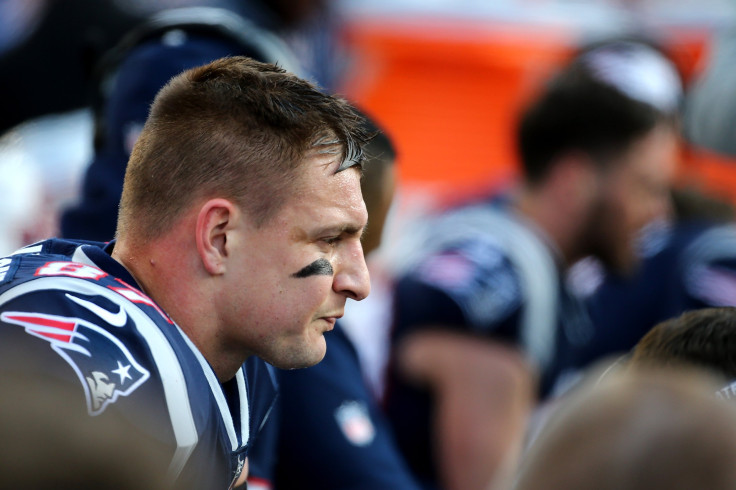 The New England Patriots are still waiting for Rob Gronkowski to be cleared to play in Super Bowl 2018. The AFC Champions didn't practice Wednesday, but if they had taken the field, the tight end wouldn't have been able to participate.
Gronkowski exited the AFC Championship Game against the Jacksonville Jaguars early after receiving a hit from safety Barry Church. The Pro Bowl selection remains in the NFL's concussion protocol ahead of the team's matchup with the Philadelphia Eagles.
The extra week in between games should help Gronkowski's chances of being able to compete in the Super Bowl. The Patriots are reportedly optimistic that the tight end will be ready to go against the Eagles in Minneapolis on Feb. 4.
If Gronkowski isn't able to play, it could have a major impact on the Super Bowl. He's the most dangerous weapon on either team, having caught 69 passes for 1,084 yards and eight touchdowns in 14 regular-season games. Gronkowski had six catches for 81 yards and a score in the divisional round.
Since the start of the 2012 NFL season, Gronkowski has averaged 1,234 yards and 12 touchdowns per 16 games. He has 10 touchdowns in 11 career playoff games.
Injuries have been a big part of Gronkowski's career. He's missed 26 regular-season games since the start of the 2012 season. Gronkowski was hampered by a sprained ankle in the 2012 Super Bowl, catching just two passes for 26 yards in New England's loss to the New York Giants.
New England, of course, doesn't need Gronkowski to beat Philadelphia, and they will still be significant favorites if the tight end is ruled out. Gronkowski missed last year's Super Bowl with an injury when the Patriots came back from a 28-3 deficit to defeat the Atlanta Falcons in overtime.
Tom Brady engineered the eighth fourth-quarter comeback of his playoff career in the AFC Championship Game without Gronkowski on the field. The quarterback completed nine of 14 passes for 138 yards and two touchdowns in the game's final 15 minutes. Brady threw for 466 yards, two touchdowns and one interception in last year's Super Bowl.
The Patriots are five-point favorites over the Eagles with 10 days remaining until the Super Bowl.
© Copyright IBTimes 2023. All rights reserved.