Rob Gronkowski Retirement: Belichick Praises Tight End, Kyrie, Brady React
New England Patriots tight end Rob Gronkowski announced his retirement from the NFL on Sunday. The 29-year-old spent nine years with the reigning Super Bowl champions after being picked in the second round of the 2010 NFL Draft.
The Patriots tight end had threated to end his career prior to the 2018-19 season, but played one more season in the NFL. Talks of retirement began circling prior to Super Bowl LIII but the longer the decision was delayed, the more it was expected Gronkowski would play for at least one more season.
The four-time All-Pro announced on Sunday he would be walking away from the sport with nothing but good memories. Gronkowski thanked the Patriots organization, the fans and all his past and current teammates via an Instagram post that included a picture of the tight end lifting the Vince Lombardi Trophy.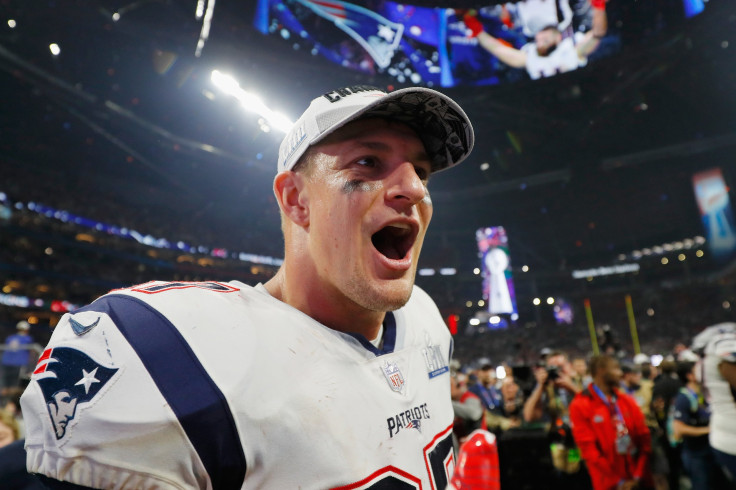 Patriots coach Bill Belichick, who coached Gronkowski for nine seasons, was one of the first to praise Gronkowski's legacy in the game. He admitted that the tight end was one of the reasons the New England franchise had been so successful in the last decade and the coach was certain that 'the Gronk' — as he is known — will remain one of the greatest tight ends to ever play the game.
"It was a pleasure and a privilege to coach Rob Gronkowski the past nine years. From his rookie year to his final season and through countless times in between, Rob was a major reason why we won games and championships. His elite combination of size, skill, intelligence, toughness and ability to perform in pressure situations set him apart," Belichick said.
Gronkowski received wide-spread praise from his Patriots teammates, fellow NFL players and colleagues from across the sporting world. Tom Brady, his teammate for nine seasons, called him the GOAT — greatest of all time — while Boston Celtics star Kyrie Irving was also effusive in his praise of the tight end.
© Copyright IBTimes 2023. All rights reserved.