Is Robert F. Kennedy Jr. The New Jenny McCarthy? RFK Jr To Publish Book About Vaccines And Autism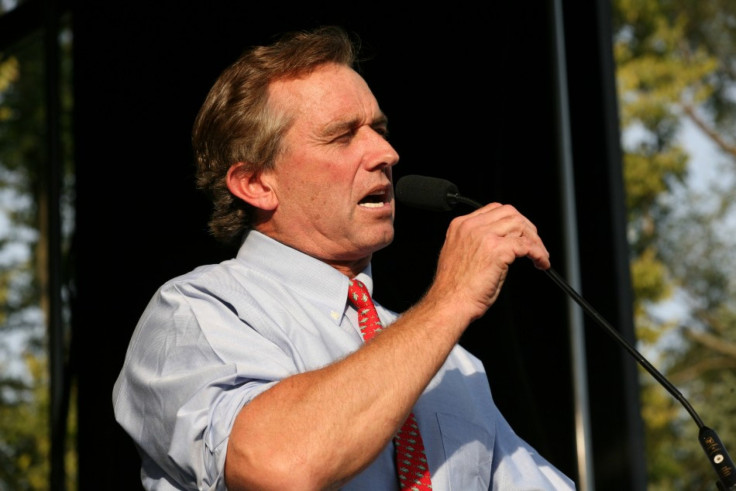 Lawyer and environmental activist Robert F. Kennedy Jr. is threatening to publish a book about how childhood vaccines cause autism.
In a Washington Post magazine profile published last week, he spoke at length about his battle to be taken seriously. "The only way I can stop this is if someone shows me I'm wrong on the science," he said to the Post's Keith Kloor, who outlined Kennedy's anti-vaccination crusade, which started with a controversial magazine article in 2005 and is still going strong.
Measles cases in the U.S. are at a 20-year high, which the CDC attributes to unvaccinated people picking up the disease abroad; there are more cases of whooping cough in the first six months of 2014 than in all of 2013; and study after study after study has disproved the supposed causal link between childhood vaccines and autism.
So it's not surprising that RFK Jr.'s crusade has made him a target of harsh criticism. "Fascinating it is, and absolutely maddening. And dangerous," wrote Slate's Laura Helmuth, pointing out that she received a personal call from Kennedy after one of the publication's reporters criticized his claims last year.
Almost a decade ago, Kennedy wrote a story for Rolling Stone magazine entitled "Deadly Immunity" in which he argues that thimerosal, a preservative found in children's vaccines, causes Autism Spectrum Disorder (ASD) and that the government covered this up to protect pharmaceutical companies.
Salon also published the piece. But after issuing five corrections, the editors decided to pull the story, citing subsequent criticism that "further eroded any faith we had in the story's value."
Back in May 2013, Kennedy gave the keynote address at a Chicago conference organized by prominent anti-vaccination group AutismOne. He has reportedly compared vaccine-caused autism to "Nazi death camps."
"I'm completely f------ alone on this," he said in the Post profile.
In fact, Kennedy has plenty of company among celebrities like Jenny McCarthy. After her son was diagnosed with autism, the actress became an outspoken opponent of vaccines, but after years of promoting the idea that vaccines cause autism she has lately tried to walk back her comments. Radio host Don Imus has also expressed concerns about thimerosal, and reality star Kristen Cavallari defended her decision not to vaccinate her children because she "has read too many books about autism."
© Copyright IBTimes 2023. All rights reserved.