Robust Singapore Q1 GDP Points To Steady Policy For Now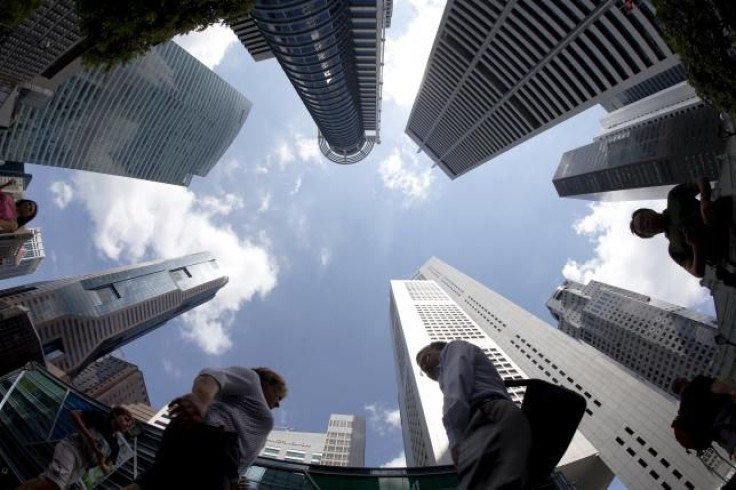 Singapore's economy in the first quarter grew faster than estimated as manufacturing and services sectors showed more resilience, boding well for the city-state's economic growth outlook this year.
The surprisingly strong data bolsters the case for the Monetary Authority of Singapore (MAS) to hold off from additional monetary easing later this year, economists said.
The trade-reliant economy expanded an annualized and seasonally adjusted 3.2 percent in the January-March quarter from the previous three months, the Ministry of Trade and Industry said on Tuesday.
That far exceeded the 1.1 percent expansion in the government's advance estimate released in April, and beat a Reuters poll forecast for 1.8 percent growth.
"It was the services that really surprised on the upside. I think wholesale and retail was one number that was much stronger than we anticipated," said Chua Hak Bin, head of emerging Asia economics for Bank of America Merrill Lynch in Singapore.
"Given that growth seems to be holding up better, MAS is more likely to maintain the current weak appreciation bias despite the low inflation," Chua said.
Consumer prices posted their biggest annual drop in five years in April, an outcome economists said could lead to further monetary easing if economic growth disappoints.
Jacqueline Loh, deputy managing director at MAS, told a news conference the MAS does not see any material change to the inflation outlook and therefore monetary policy remains appropriate.
Annual growth in services-producing industries was revised up to 3.8 percent from the advance estimate of 3.1 percent.
Manufacturing activity shrank 2.7 percent from a year earlier, but that was still an upward revision from a 3.4 percent contraction in the advance estimate.
The ministry kept its 2015 growth estimate of 2-4 percent and forecast the economy would grow around that pace until 2020.
That medium-term forecast range "takes into account downside risks arising from an uncertain global economic environment, as well as the expected slowdown in resident workforce growth due to our ageing population," said Ow Foong Pheng, permanent secretary at the ministry.
From a year earlier, GDP grew 2.6 percent in the first quarter, better than the advance estimate of 2.1 percent.
Economists said growth could pick up in coming months on an improving U.S. economy and recovering exports.
"Exports in Asia have been weak in the first quarter due to mainly transitory factors," and will not remain weak in the second quarter, said Michael Wan, an economist at Credit Suisse, adding that planned fiscal spending may also lift growth.
Exports are pivotal to Singapore, a country whose annual trade in goods and services amounts to about 3.5 times the size of its economy.
© Copyright IBTimes 2023. All rights reserved.