Roger Federer 'Enjoys' Rafael Nadal, Novak Djokovic Challenging Grand Slam Record
Novak Djokovic believes Roger Federer enjoys having his record challenged by him and the likes of Rafael Nadal and others.
Federer ended a near-five-year Grand Slam drought last year when he went on to add another three to his resume with two wins in the Australian Open and a record eighth Wimbledon crown.
It puts his record at 20 major titles and given his career resurgence last year, the 37-year-old could potentially add to it in the near future to further solidify himself as the greatest player of all time.
Reflecting on Federer's career, Djokovic believes the Swiss legend is now being challenged more than ever when it comes to his Grand Slam record.
"He started winning Grand Slams like they were regular tournaments year after year," Djokovic recently said. "On the grass, this is where he plays his best tennis. He is definitely now challenged, I think from Nadal, and from some other players, including myself, for the major titles."
"I think he enjoys it. He looks at it as a big challenge, you know, to overcome the other players and try to win more majors," he said.
Federer's Grand Slam record was previously seen as unbreakable, however, it is definitely at risk given his recent performances. When fit, Nadal is always a threat and is just three behind Federer after his win at the French Open earlier this year.
Meanwhile, Djokovic ended a two-year Grand Slam drought in the summer when he won Wimbledon before going on to win the US Open early last month. The Serbian is at 14 Grand Slams so he is still somewhat further behind Federer, however, considering his remarkable form, anything is possible.
Djokovic is just the third player in tennis history to win four consecutive Grand Slams — a feat he accomplished in 2016 dubbed the "Nole Slam" — and having won his last 18 matches in a row and 27 of his last 28, many wouldn't put it past him repeating the achievement, including US Open finalist Juan Martin del Potro.
"Of course he can," Del Potro said after the US Open final when asked if Djokovic could break the Grand Slam record. "He has 14 already. He won two Grand Slams in one year. He's healthy. He has a great team working with him."
"Hopefully him, Rafa, Roger will still fight for Grand Slams, because it is so nice to watch them fighting for the history. We just do what we can against them. But Novak has everything to make records in this sport," he added.
Djokovic recently won the Shanghai Masters for the fourth time in his career over the weekend, following his victory over Borna Coric in the final.
It takes him to No. 2 in the rankings behind Nadal and should he accept a wild card into the Vienna Open or the Basel Open, both of which take place next week, another tournament win could see him return to the top of the rankings.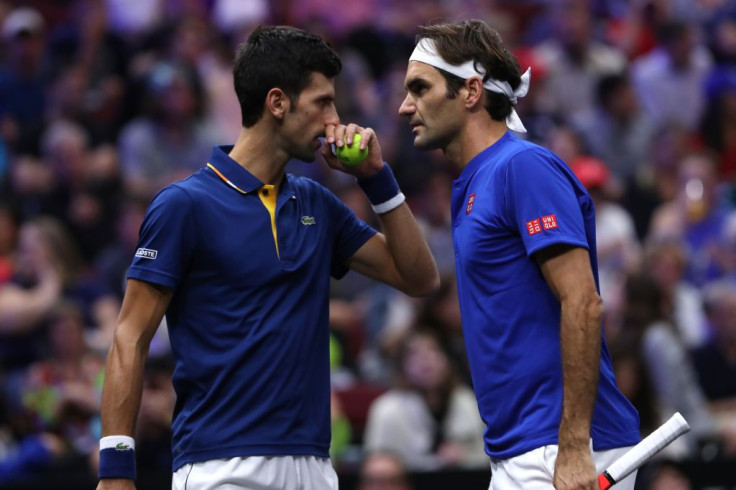 © Copyright IBTimes 2023. All rights reserved.