Romania's Ponta Closes In On Presidency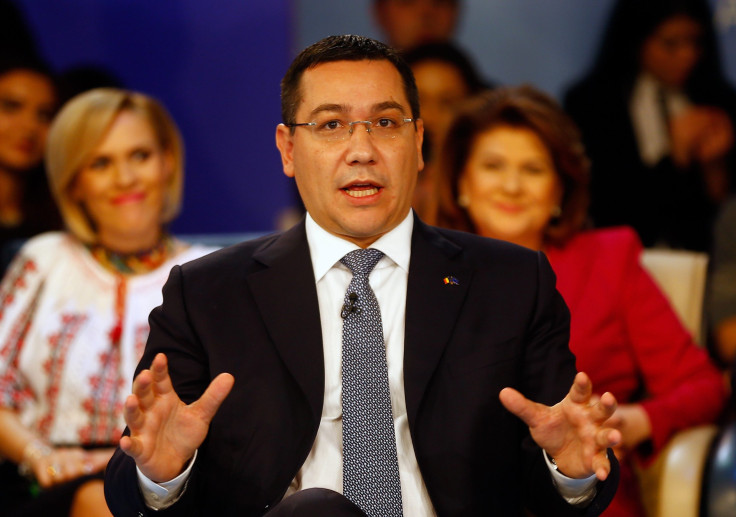 BUCHAREST (Reuters) - Prime Minister Victor Ponta looks set to become Romania's youngest president in a runoff vote on Sunday, a result that could make one of Europe's poorest nations more stable as it looks to exit an IMF-led aid deal.
Backed by a well-oiled party machine, Ponta has led opinion polls and comfortably beat his nearest challenger, ethnic German mayor Klaus Iohannis, in the first round election on Nov 2.
The former Communist state of 20 million is emerging from painful budget cuts imposed during the global slowdown. Growth rebounded to more than 3 percent in the third quarter of 2014, but corruption and tax evasion are rife, and progress to implement reforms and overhaul a bloated state sector is mixed.
A former prosecutor and amateur rally driver, the 42-year-old Ponta has courted voters with tax cuts and promises of more pension hikes, shrugging off several scandals that dogged the final weeks of his campaign.
A Ponta presidency would tighten his leftist Social Democrat party's grip on power. Prime minister since 2012, Ponta often feuded with his rival, outgoing President Traian Basescu, which stymied policymaking and had sparked a constitutional crisis.
The office of president was created under Communist dictator Nicolae Ceausescu in 1974 and is a powerful position, with the holder able to appoint the prime minister, judges and prosecutors -- and also stall government policy proposals
"The fact that there's unlikely to be discord between the president and parliament, as there has been over the past few years, means that the chances of reform are higher now than they have been in several years," a Capital Economics note said.
EU SUPERVISION
The challenger, Iohannis, is a physics teacher credited with transforming the medieval Transylvanian town of Sibiu into a tourist hub. One of his two main backers, the center-right Democratic Liberal Party, was toppled by anti-austerity protests that paved the way for Ponta to become premier.
"I think Klaus Iohannis will bring Romania back to 2010, as he is surrounded by the same people who cut pensions," Ponta said in a recent televised debate. "Mr. Iohannis resembles Basescu because first and foremost he is against everything."
Without the check on power hitherto provided by Basescu, Ponta's rise has raised concerns he might tighten political control over the judiciary, prosecutors and media, in a country whose justice system remains under special EU supervision.
The campaign has also put the spotlight on how Ponta, and the government he would help shape as president, will honor both its spending pledges and a commitment to slash the fiscal deficit to 1.4 percent of national output next year.
Under Ponta, Romania will probably not renew a 4 billion euro standby aid accord made with the International Monetary Fund (IMF) that expires next year. The agreement had nudged Bucharest to cut a deficit that spiked to 7.2 percent in 2009, and helped restore its credibility with investors.
Iohannis has portrayed his opponent as a puppet of the Social Democrat party, heir to the former Communist rulers.
"While he is a young politician, Mr. Ponta is the exponent of a very old system and is maneuvered from the shadows," said Iohannis.
© Copyright Thomson Reuters 2023. All rights reserved.