Romney Ad About Obama Moving Jeep Production To China Named 'Lie of the Year'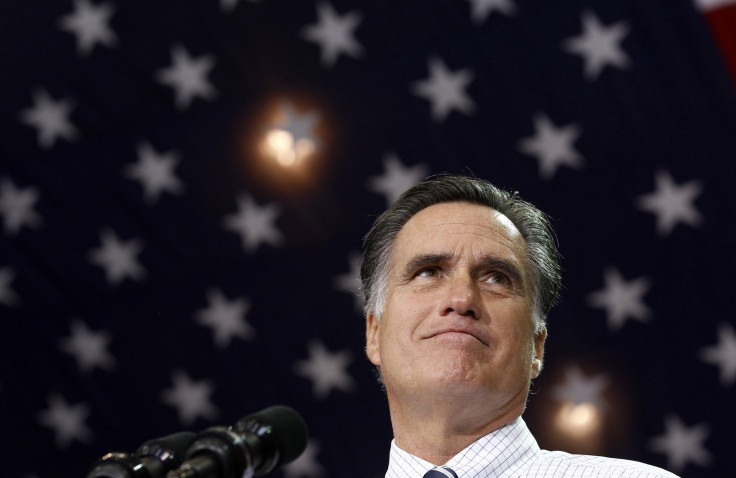 Amid a heated campaign with scathing ads from both sides, Mitt Romney's claim that President Barack Obama and the Chrysler corporation were shifting jobs out of America and into China was named PolitiFact's "Lie of the Year."
The widely-disseminated story started with a Bloomberg feature that morphed into a conservative blog post, which eventually spiraled into an anti-Obama attack ad that reached millions of voters, many in Ohio.
On Oct. 22, Bloomberg published a report that Jeep, owned by Chrysler, was planning to reignite production in China and sell its cars there, a common practice to reduce tariffs and transport costs. The story made it clear that while Chrysler might expand in China, it would not be decreasing U.S. production to do so.
Paul Bedard, a conservative columnist for the Washington Examiner, did not (or chose not to) understand the report, however.
Bedard wrote on Oct. 25 that Jeep would give up production in the United States in favor of China, a move that would "crash the economy in towns like Toledo, Ohio." Drudge Report picked up Bedard's column and the story spread like wildfire.
Within hours, Jeep and Chrysler representatives were decrying Bedard's column and calling his report wholly erroneous.
"Let's set the record straight: Jeep has no intention of shifting production of its Jeep models out of North America to China," Chrysler's Gaulberto Ranieri wrote. "A careful and unbiased reading of the Bloomberg take would have saved unnecessary fantasies and extravagant comments."
Just as Chrysler began to fan out the flames however, the Romney campaign picked up Bedard's interpretation.
"I saw a story today, that one of the great manufacturers in this state, Jeep, now owned by the Italians, is thinking of moving all production to China," Mitt Romney said at a campaign stop in Defiance, Ohio, to boos from the audience. "I will fight for every good job in America. I'm going to fight to make sure trade is fair, and if it's fair, America will win."
Romney's ardent support for keeping American jobs in America was well-established by then, and his team used the false report to jump on President Obama's back about jobs and trade.
"Who will do more for the auto industry? Not Barack Obama," a pro-Romney campaign ad began. "Obama took GM and Chrysler into bankruptcy and sold Chrysler to Italians who are going to build Jeeps in China. Mitt Romney will fight for every American job."
Appalled, Chrysler Chairman and CEO Sergio Marchionne stated that his company would "remain in operation in the United States and will constitute the backbone of the brand. It is inaccurate to suggest anything different."
The President's camp issues a swift and stern response ad.
"Chrysler itself has refuted Romney's lie. The truth? Jeep is adding jobs in Ohio," the spot said.
Furthermore, the Obama campaign framed Romney's miscue as trust issue. Could you really put your faith in a candidate who continued to issue a lie, Obama asked?
William Binning, a political science professor at Youngstown State University in Ohio, told PolitiFact that conservative spin on the Bloomberg report was an effort to make Romney more popular with auto workers who disliked him because of his opposition to the auto bailout.
"I think the Romney people just couldn't figure out how to handle this, or mitigate its effect," Binning said. "So they came up with this ad. And this ad didn't get them anywhere."
In response to the falsehood, the Romney camp was shifty and defiant. Stuart Stevens, a senior advisor to Romney, only told The New York Times that it would "be better if they [Jeep and Chrysler] expanded production in the U.S. instead of expanding in China."
At the Republican National Convention earlier this year in Tampa, Fla., Romney pollster Neil Newhouse responded to claims that his candidate's team had knowingly propagated falsehoods by saying "We're not going to let our campaign be dictated by fact-checkers."
In the end, PolitiFact's judgement about the Romney ad was backed up by other organizations. Factcheck.org said the Romney speech about Jeep production was false and misleading, while the Washington Post gave the ad "four Pinocchios."
Obama chief strategist, David Axelrod, thinks the ad backfired right in the face of the Romney camp.
"At the end of the campaign, when everybody is watching everything closely. … They just weren't going to get away with it. It was a very high-risk strategy," he told PolitiFact.
© Copyright IBTimes 2023. All rights reserved.