Romney Snubs Sarah Palin? No Invite Yet To 2012 Republican National Convention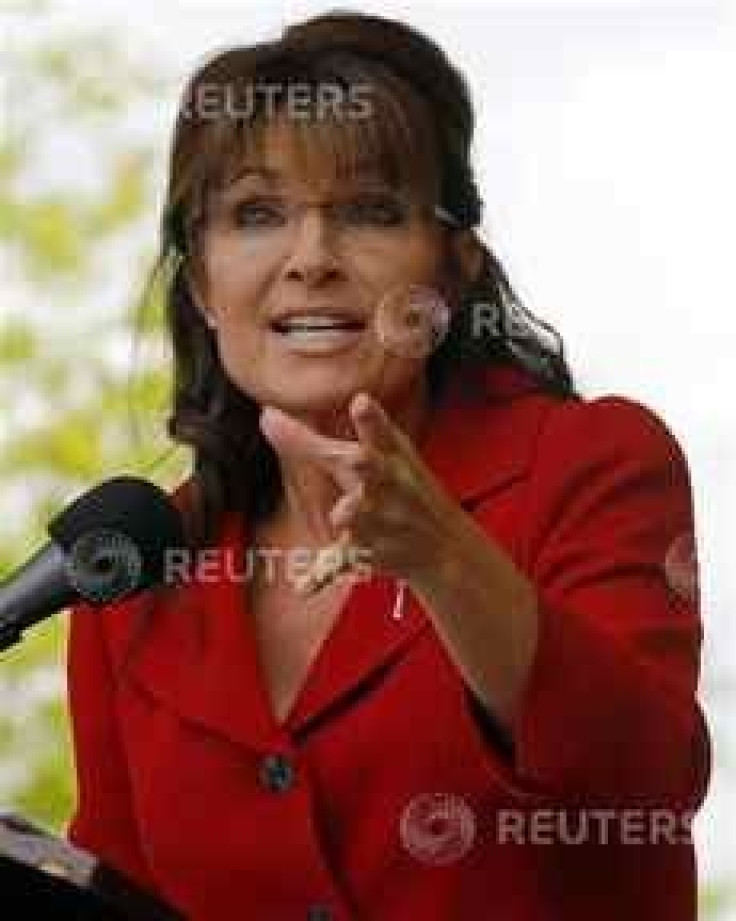 Mitt Romney, the presumptive Republican presidential candidate, seems to have snubbed Sarah Palin. The former vice presidential candidate and former Alaska governor has not been asked to speak or even offered an invitation to the 2012 Republican National Convention to be held next month in Tampa, Fla.
Newsweek's Peter J. Boyer made that revelation and reported Monday that Romney's camp was silent when asked if Palin will possibly have any role at the convention.
The lack of invitation or contact didn't come as a surprise to Palin. She told Boyer in an email:
What can I say? I'm sure I'm not the only one accepting consequences for calling out both sides of the aisle for spending too much money, putting us on the road to bankruptcy, and engaging in crony capitalism.
In accepting those consequences, she added, one must remember this isn't Sadie Hawkins and you don't invite yourself and a date to the Big Dance.
Politico pointed out that if Palin doesn't get a role in the upcoming Tampa convention, she would join John Edwards, the 2004 vice presidential candidate who was snubbed in 2008 -- but Edwards had just been exposed in a major scandal when it was revealed he had fathered a child out of wedlock.
That Palin hasn't received an invitation yet is unsettling for some in the Tea Party, who said Romney needs someone like her to stimulate conservatives who aren't so enthusiastic about him.
Romney's just not a fighter, Jenny Beth Martin, head of the Tea Party Patriots, told Boyer. That's why it would be good for him to have someone like Palin speaking at the convention. He needs to do something to rile up his base, to make them enthusiastic. And I don't mean just the Tea Party. I mean die-hard Republicans. I live in the second-most-Republican county in the state of Georgia, and the folks around here are not enthusiastic about him.
But the relationship between Romney and Palin has been uneasy at best.
When former presidential hopeful Rick Perry and others began attacking Romney's business records and his claims to have created tens of thousands of jobs at Bain Capital, Palin defended Perry in January asking for the proof to those assertions. She also demanded Romney release his tax returns, which he hasn't done except for one year.
That's fair, that's not negative campaigning, Palin told Fox News' Sean Hannity. That's fair, to hold a candidate accountable to what's been claimed.
The issue surrounding Bain Capital and the non-release of tax returns recently returned to haunt Romney, as President Barack Obama's campaign continued its onslaught. Additionally, the Boston Globe reported Thursday that government documents showed that Romney remained head of the firm a full three years past the 1999 date when he said he left the company.
Romney's state financial disclosure forms indicate he earned at least $100,000 as a Bain 'executive' in 2001 and 2002, separate from investment earnings, the paper reported.
Obama's campaign has argued that Romney's Bain records show that jobs were outsourced under his watch. They also argued that Romney might have possibly committed a felony if the SEC filings showing he was not at Bain do turn out to have been untrue.
© Copyright IBTimes 2023. All rights reserved.
FOLLOW MORE IBT NEWS ON THE BELOW CHANNELS