Ron Paul, Republicans Pressure Romney To Release Tax Returns, But He May Not Budge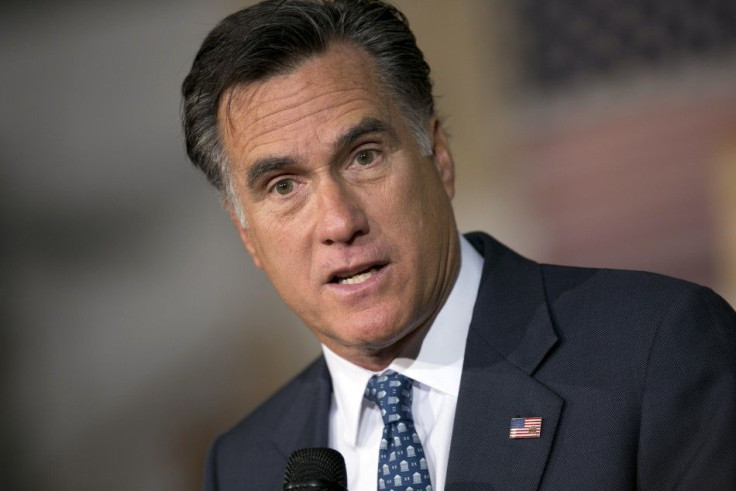 More Republicans are chiming in on the tax returns controversy that is plaguing the party's presumptive presidential candidate Mitt Romney, urging him to release multiple years of the documents and get on with his campaign.
Rep. Ron Paul spoke to Politico on Tuesday, telling the website that the debate over Romney's tax return could end if the presidential hopeful releases more than two years of returns. So far he has made public only his 2010 and 2011 filings.
In the scheme of things politically, you know, it looks like releasing tax returns is what the people want, Paul said.
There has been mounting pressure on Romney for greater transparency in regard to his personal finances. The former Massachusetts governor is a wealthy man, said to be worth more than $200 million. The release of his tax returns could give Americans not only a better insight on how Romney acquired his wealth, but also on where his money is going. It could also clear up whether or not Romney did have any financial dealings with Bain Capital beyond the year he said he retired from the firm.
Romney said he left Bain in 1999, but recent government documents showed that he was head of the firm until 2002. Democrats have pounded Romney on this differing information and have said he may have committed a felony if his SEC filings showing he was not at Bain were proven to be false.
Rick Perry Says Candidate Must Be Transparent
It is not the first time that prominent Republicans have asked Romney to be more transparent with his personal wealth.
Earlier on in the race, rival presidential candidates attacked Romney's claims of creating tens of thousands of jobs. There were calls then that he release his returns as well as information to back up his claims.
Former Alaska Gov. Sarah Palin, a very influential voice on the party's right flank, said those requests weren't negative campaigning, and that it was fair to hold a candidate accountable to what's been claimed.
More top Republicans are urging Romney to comply with the public's request.
When asked if Romney should put out more years of tax return information, Texas governor Rick Perry told the Houston Chronicle that he believes that no matter who a person is or the office he or she is running for, that individual must be transparent with his or her tax returns and other aspects of his or her life.
Perry said this is so that the public can have the appropriate ability to judge your background and what have you.
A Divided Romney Camp
In the meantime, while Romney stalls on the issue, there are reports that there is some divide in his camp.
A Republican strategist told the Washington Post that some advisers are privately arguing for the additional tax returns to be released while others are against it.
According to the Post, Kevin Madden, a senior adviser, didn't discuss the internal strife but said, The final voice on this is the governor's, and he's made it very clear that the two years that he's provided represent going above and beyond what's required to be disclosed.
Romney has made it clear that no more than two years of tax returns will be made public. His campaign has even said that former presidential candidate John McCain only released two years of his returns while running for the presidency in 2008.
Dancing around the issue by Romney's own people has left the field open to speculation. And the speculation is rife.
In a special on CNN, Edward D. Kleinbard and Peter C. Canellos wrote that past returns and not the current ones are what matter. Kleinbard is a professor at the Gould School of Law at the University of Southern California, and a former chief of staff of Congress's Joint Committee on Taxation. Canellos is a lawyer and the former chair of the New York State Bar Association Tax Section.
In their piece they noted that George Romney initiated the tax returns practice more than 40 years when he released 12 years of his returns while seeking the Republican Party's nomination, and questioned why Romney is deviating from a tradition started by none other than his father.
The two believe issues such as Romney's Swiss bank account and his $100 million IRA could be factors.
Given Romney's financial sophistication, it has been assumed by some that there cannot be any tax skeletons in his closet, the article read. His reluctance to disclose past returns, however, undermines that assumption. We are left with the difficult task of plausibly reconstructing his financial record based on the one full return that he has released. The result is troubling.
Is There Something Damaging?
Others have pointed out that Romney must be hiding something damaging by not disclosing more returns information.
If something's going to come out, get it out in a hurry, said ABC News' George Will, a top conservative commentator, on the This Week roundtable. I do not know why, given that Mitt Romney knew the day that [John] McCain lost in 2008 that he was going to run for president again that he didn't get all of this out and tidy up some of his offshore accounts and all the rest.
The costs of not releasing the returns are clear, Will added. Therefore, he must have calculated that there are higher costs in releasing them.
Watch Will discuss the issue below:

video platform
video management
video solutions
video player
© Copyright IBTimes 2023. All rights reserved.
FOLLOW MORE IBT NEWS ON THE BELOW CHANNELS