Roszke Refugee Camp Update: Makeshift Shelter Housing Thousands In Hungary Fleeing Sectarian Violence Is Accused Of Human Rights Violations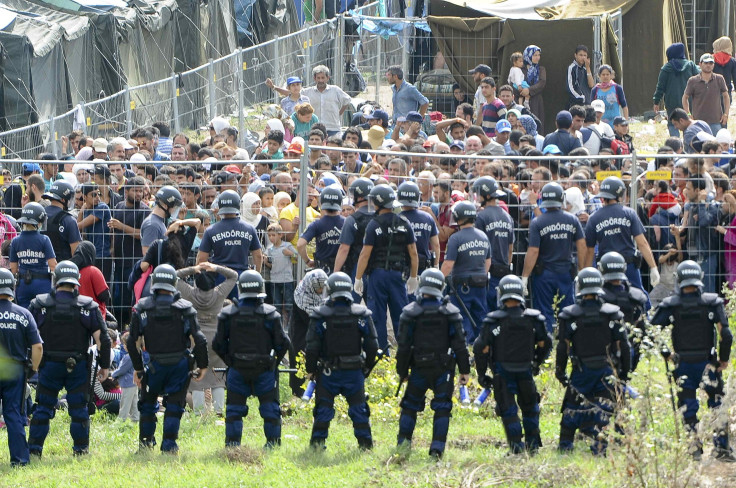 Until the summer of 2015, the small village of Roszke in southern Hungary near the Serbian border was virtually indistinguishable from neighboring working-class communities. But since Tuesday, when a refugee camp was constructed there in response to the massive influx of mostly Syrians, Iraqis, Afghans and North Africans seeking refuge from sectarian violence in their home countries, the village that sits 175 kilometers from the capital Budapest has been transformed with tall barbed-wire fences, security cameras, and heaps of stinking trash.
Over the past few moths, refugees have been arriving in Europe every day by the thousands only to be detained in refugee camps with poor living conditions. At least 1,500 people escaped from the Roszke camp Friday amid allegations of nonexistent hygiene and food and water shortages in the makeshift shelters. As droves of refugees continued to arrive in Hungary, nonprofits and journalists alike reported worsening instances of human rights violations in the European nation, with some even comparing the situation to the treatment of Jewish people during World War II.
Syrians and Afghans of all ages, including women, children and the disabled, stood behind the Roszke camp's barricades, guarded by armed police in riot gear. Several people were reportedly tricked into being taken to the camp throughout the week after being told they were boarding a train to Austria or Germany, the intended destination for most of the refugees. The apparent deceit caused chaos when they arrived only a few kilometers away at Hungarian camps.
Fearing they would meet with the same fate, hundreds of people broke out of the Keleti train station in Budapest Friday and joined several hundred others from refugee camps in attempting to run to the Austrian border, a distance of 275 kilometers from Budapest.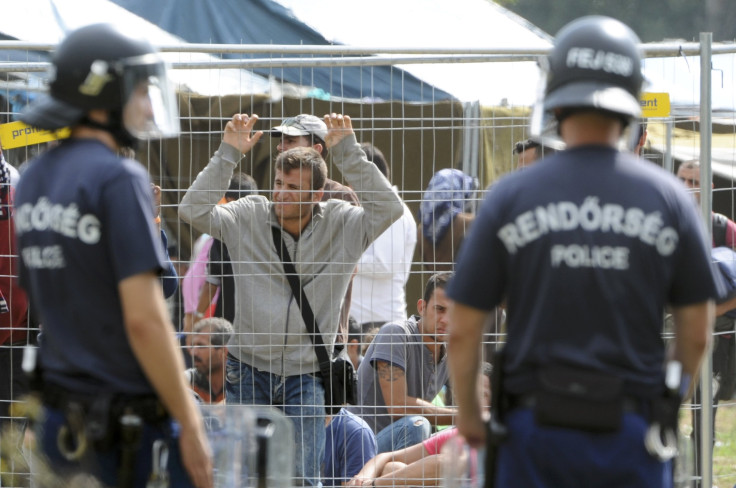 "People must be treated humanely and with dignity," said Chris Boian, a spokesperson for the United Nations High Commission on Refugees. Boian said the majority of people arriving in Hungary were from Syria, including a high proportion of women, children and the disabled. According to images and reports from people inside, many women and children ended up in either the Roszke camp or a similar one in Bickse, which is west of Budapest.
Refugees trying to get to Austria, Germany, the U.K. or other European destinations were denied passage Tuesday when Hungarian authorities refused to allow them to leave the railway station unless it was to go to the refugee camp. One family was so desperate to avoid going to the camp that they laid down on the tracks with their young baby in protest.
"The UNHCR is advocating for the relocation of these refugees from Hungary," said Boian, before adding that "no single country can take on the responsibility of all these arrivals at once."
Authorities barred journalists from entering the Roszke camp, though many reporters have filmed the exterior and spoken to refugees about the conditions inside. Refugees reported receiving only one meal a day and not having enough water or other basic supplies in the sweltering camp. Piles of refuse accumulated along the outskirts of the fenced-in camp, causing a sanitation problem as the temperature outside rose to about 95 degrees Fahrenheit Tuesday, the first day the camp opened to families.
"We never get an evening meal, and often we don't have water. I have been here for five months," one 30-year-old Iranian man in the refugee camp told the British newspaper the Guardian Thursday. "Why does Hungary keep us here when they don't have the money to look after us?" he asked.
As tensions in the camp among refugees and with authorities have risen, the tactics for dealing with refugees have become more aggressive. Hungarian riot police used tear gas to disperse frustrated refugees, who said they had been waiting to be registered inside the camp for hours or even days, in some cases.
Leaders from human rights organizations and nonprofits worldwide have been explicit in drawing similarities between the treatment of Jews during World War II and the way refugees have been mistreated in Europe this summer, emphasized by reports of Syrian refugees being crammed into camps, denied basic supplies, and even in some cases tagged by the police with numbers on their arms.
"What never stops amazing me are people who look at the Holocaust and think that it only holds lessons for Germans and Jews," Andrew Stroehlein, a representative from the non-profit Human Rights Watch, wrote Wednesday on Twitter.
This surge in immigration marks the greatest spike since World War II as well as the highest number of people displaced by war since 1945.
© Copyright IBTimes 2023. All rights reserved.
FOLLOW MORE IBT NEWS ON THE BELOW CHANNELS