Royal Couple May Sue After "Grotesque" Publishing of Nude Kate Middleton Shots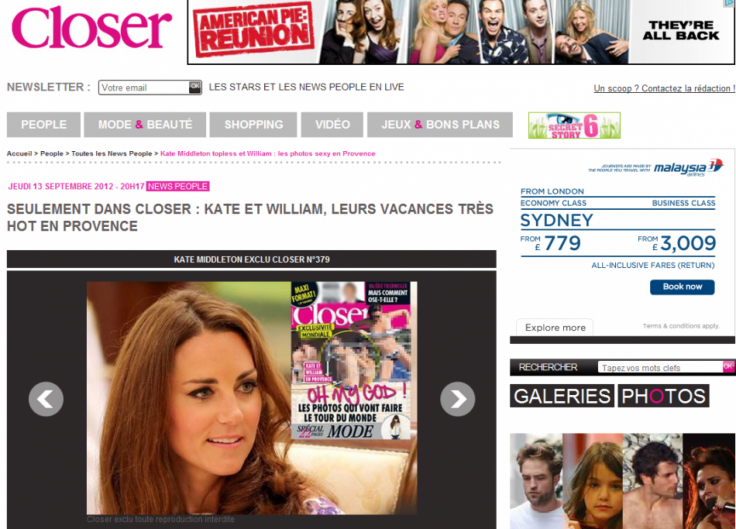 By Dominic Gover and Oliver Tree
Kate Middleton and Prince William are considering legal action after French magazine Closer prepared to publish topless pictures of the Duchess of Cambridge.
The pictures will appear in its latest issue, due to be released On Friday. A teaser of the magazine's front cover has already appeared on Closer's website, featuring pictures of Kate in a bikini apparently about to remove her top.
The pictures were taken with a long lens when William and Kate were staying at the French chateau of the Queen's nephew, Lord Linley, a week before their Asia Pacific tour.
Calling the photographs a "grotesque" invasion of privacy, spokespeople for the royal couple have said they are consulting with lawyers over whether to sue the magazine Closer.
"Their Royal Highnesses have been hugely saddened to learn that a French publication and a photographer have invaded their privacy in such a grotesque and totally unjustifiable manner," a statement from St James' palace read.
"The incident is reminiscent of the worst excesses of the press and paparazzi during the life of Diana, Princess of Wales, and all the more upsetting to The Duke and Duchess for being so."
"Their Royal Highnesses had every expectation of privacy in the remote house. It is unthinkable that anyone should take such photographs, let alone publish them."
"Officials acting on behalf of Their Royal Highnesses are consulting with lawyers to consider what options may be available to The Duke and Duchess."
The royal couple are currently in Malaysia and are about to head to the state of Sabah, on the island of Borneo, where they will attend a reception. They will visit the rainforest, which shelters orangutans, clouded leopards, elephants, sun bears and rhinos.
Simon Featherstone, the UK's high commissioner in Malaysia, said that the activities were continuing as planned.
"The visit will allow their royal highnesses to deliver a powerful and positive message on rainforest conservation that has global reach and genuine impact," he said.
Regarding a response to the photos, the aide said that "we are communicating with French lawyers as to what our options are in terms of French laws. So we want to take advice before we take further action."
Kate was snapped while sunbathing by a pool during a holiday with her husband at a French chateau, owned by the Queen's nephew Lord Linley. The pictures were taken a week before the royal couple set off on their current tour of the Far East.
Publishing the snaps could be dangerous for Closer, because France has strict privacy laws.
Closer is published by a media corporation owned by former Italian prime minister Silvio Berlusconi.
© Copyright IBTimes 2023. All rights reserved.