Royals-White Sox Brawl Earns MLB Crackdown; See Video Of Kansas City, Chicago Fight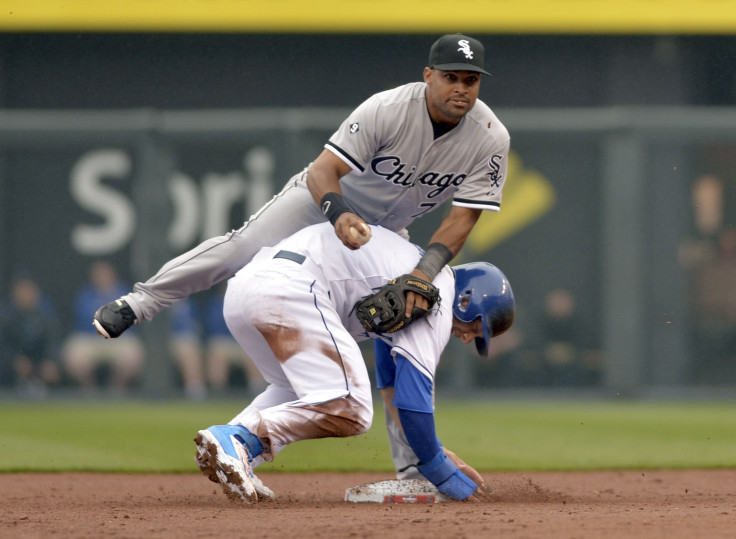 Major League Baseball sent down swift punishment to the Kansas City Royals and Chicago White Sox after the two squads squared off in a seventh-inning brawl Thursday night in Chicago at U.S. Cellular Field. The league announced Saturday that six players had earned suspensions for their roles in the wild fracas. One other player was fined but not suspended, bringing the discipline to a total of seven fines doled out as well.
Royals starting pitcher Yordano Ventura received the harshest punishment -- a seven-game suspension for ramping up tensions when he exchanged heated words with White Sox second baseman Adam Eaton. Ventura hasn't been able to stay out of trouble in 2015, already receiving a fine earlier this week after a Royals and Oakland Athletics scrum last weekend.
Both squads will be short pitchers in the upcoming week. Of the other five players suspended, four are pitchers. White Sox starting pitchers Clay Sale and Jeff Samardzija received five-game suspensions; Royals starting pitcher Edinson Volquez received a five-game suspension and Royals pitcher Kelvin Herrera earned a two-game suspension. Kansas City outfielder Lorenzo Cain was given a two-game suspension and White Sox infielder Tyler Flowers was fined. Every suspended player was fined as well, but the dollar amounts were not disclosed.
The seventh-inning brawl cleared the benches and featured wild shoving and flailing blows. The fight was just the latest chapter in what has already become a tense rivalry between the two American League Central teams. The stiff punishment might be an attempt to curb future melees between the two squads that will play one another at least 13 more times this season.
The tension between the two teams began on Opening Day, when Samardzija hit Cain with a pitch after a Royals homerun. Sale hit Kansas City third baseman Mike Moustakas with a pitch Thursday and Ventura followed suit by beaning White Sox star first baseman Jose Abreu. The fight was sparked by Ventura and Eaton arguing while the second baseman was up to bat. Eaton hit a groundball back to Ventura, and the pitcher cursed at Eaton before throwing him out at first base.
While the MLB came down hard, an important fact to note is that starting pitchers normally take the field just once every five days. So, the five-game suspensions for Volquez, Samardzija and Sale will essentially just push their starting appearances back one day.
© Copyright IBTimes 2023. All rights reserved.