Rush Limbaugh's Popularity Takes a Nosedive Among Republicans After Sandra Fluke 'Slut' Comment: Poll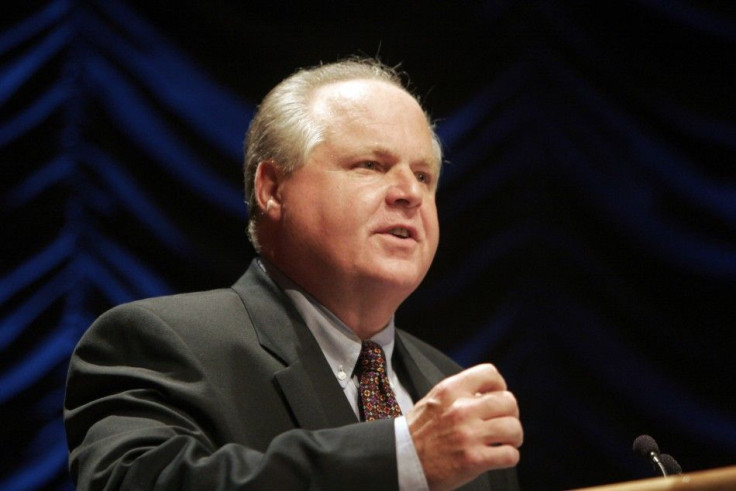 Fallout over Rush Limbaugh calling Georgetown Law School student Sandra Fluke a slut and a prostitute is now hurting the conservative radio show host among his core audience, according to a poll released Monday.
The last time Public Policy Polling took the pulse of Limbaugh's popularity in 2009, he was liked by 80 percent of Republicans, with only 12 percent holding an unfavorable view toward the commentator.
A PPP survey conducted after Limbaugh faced a barrage of criticism for the remarks, which led to advertisers pulling out of his show, revealed Limbaugh's appeal among Republicans has taken a severe hit in three states set to hold primary's as part of Super Tuesday.
In Ohio, 45 percent of those polled have a favorable view of Limbaugh and 28 percent hold an unfavorable opinion of the conservative commentator.
Republicans in Tennessee have a favorable opinion of Limbaugh at a 46 percent clip and 29 percent have an unfavorable opinion.
Nearly 3 in 10 Republicans in Georgia are not a fan of Limbaugh while 44 percent say they view him in a favorable light.
Rush Limbaugh seems to be carrying a lot of power with Republican elected officials in the early days of the Obama administration, said Dean Debnam, president of Public Policy Polling. Based on these numbers you have to question whether that's justified though. Most GOP voters have a generally favorably opinion of him, but at the same time a strong majority of them also don't think he should have a lot of influence in American politics.
Fluke testified before Congress that religious institutions should pay for birth control as part of their health insurance packages, even if the concept goes against their moral beliefs.
Limbaugh took to the airwaves Feb. 29 and proclaimed Fluke as a slut and a prostitute for her position and testimony, leading advertisers to pull out of his show.
What does that make her? It makes her a slut, right? It makes her a prostitute. She wants to be paid to have sex, Limbaugh said.
Rush has since apologized for his remarks, although he still defended his opposition to Fluke's position.The backlash against Limbaugh also led Republican presidential candidate and former Pennsylvania Sen. Rick Santorum to repudiate Limbaugh's choice of words.
© Copyright IBTimes 2023. All rights reserved.