Russell Wilson Rumors: Wife Allegedly Cheated On QB With Seahawks Teammate Golden Tate, Says Gossip Website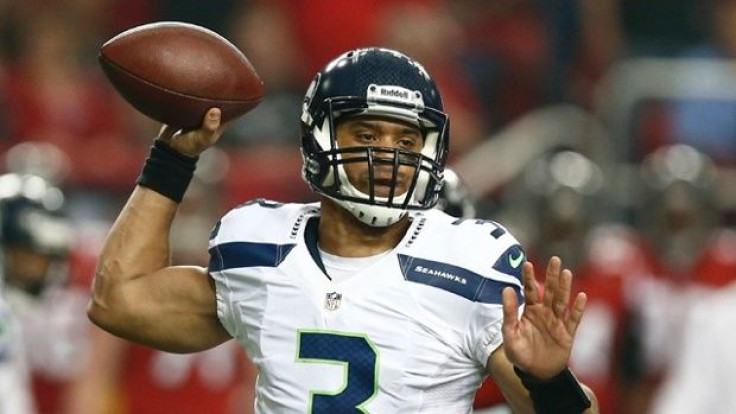 Seattle Seahawks quarterback Russell Wilson reportedly filed for divorce from his wife, Ashton Meem, last month after less than two years of marriage for undisclosed reasons.
A recent report from gossip site Terez Owens says Wilson may have learned of an alleged affair between Meem and former Seahawks teammate and top receiver Golden Tate. There were no other details as to how or exactly when Wilson learned of the alleged affair or how long it may have gone on.
Wilson made a statement through the Seahawks last month about the divorce, a move rarely, if ever, seen in the NFL.
"I have made the difficult decision to file for divorce," Wilson said. "Clearly, decisions like these don't come easy. Ashton and I respectfully ask for prayers, understanding and privacy during this difficult time. Moving forward, I will have no further comment on this matter."
Wilson and Meem began dating when they were in high school, and she eventually transferred from the University of Georgia to North Carolina State where Wilson was playing quarterback. Meem again moved for Wilson when he transferred to the University of Wisconsin, and the pair married before the Seahawks made Wilson a third-round draft pick in 2012.
Tate moved on from the Seahawks in the offseason after signing a five-year, $31 million contract with the Detroit Lions. While he didn't directly address the issue, Tate vehemently denied a rumor on his Twitter account on April 30, saying he and his girlfriend Elise Pollard are still close with Meem and Wilson.
© Copyright IBTimes 2022. All rights reserved.
FOLLOW MORE IBT NEWS ON THE BELOW CHANNELS