Russia Closes Air Space Over Sea Of Azov In De Facto Blockade Of Ukraine's Coast
KEY POINTS
Experts believe Russia's move a "de facto blockade" of Ukraine's coastlines
Trackers report over 10 warships passing Crimean Bridge to Sea of Azov
Satellite images show increased activities among Russian units near border
Amid U.S. warning that Moscow is closer to invading Ukraine, reports have emerged that Russia has closed most of the airspace over the Sea of Azov. This comes as independent trackers spot 10 new warships entering the Sea of Azov, bounded in the northwest by Ukraine.
Russia's Aeronautical Information Center issued a NOTAM (a Notice to Airmen) Sunday, notifying the closing of the airspace, reports The Jerusalem Post. There are other official notices about partially closing the airspace over the Black Sea as well. While some have already taken effect, others come into effect later this week.
Though Russia had always cited military drills as a reason for the ban, military analysts believe this could mean a "de facto blockade" of Ukraine's southern coastlines.
The Sea of Azov, the world's shallowest sea bordering Ukraine, Russia and annexed Crimea, is allegedly controlled by Russian forces. According to Ukraine, "Russia always try to push the boundaries and come closer to the shoreline than they're legally allowed to."
Though there is a pact between Ukraine and Russia that allows sharing of the Sea of Azov, the latter controls almost 70 percent of the waters.
Meanwhile, independent trackers reported the arrival of Russian naval vessels into the Sea of Azov. According to Rob Lee, a Russian military expert, over 10 warships passed under the Crimean Bridge and entered the Sea of Azov.
This includes Novocherkassk Project 775 and the Saratov Project 1171 large landing ships, and Pavel Derzhavin Project 22160 patrol ship. He also tweeted the images of the ships.
International Business Times has not independently verified the images.
Meanwhile, new satellite images show a flurry of activities among Russian units close to Ukraine's northeastern border. According to CNN, the units that were earlier in garrisons have appeared to have taken up field positions.
The report, citing satellite images collected by Maxar Sunday, said "multiple new field deployments of armored equipment and troops have been observed northwest of Belgorod and near Soloti and Valuyki, Russia."
"This new activity represents a change in the pattern of the previously observed deployments of battle groups (tanks, armored personnel carriers, artillery, and support equipment). Until recently, most of the deployments had been seen primarily positioned at or near existing military garrisons and training areas," the report added.
The U.S. has also said that Russia has sent orders to commanders to proceed with an attack on Ukraine.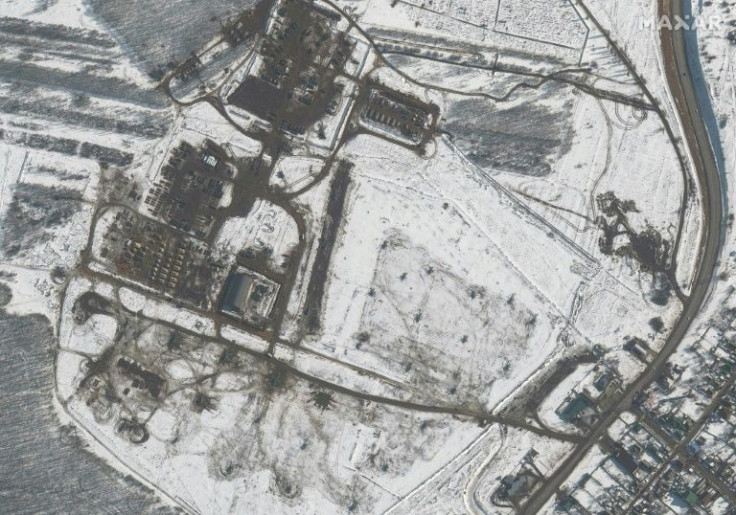 © Copyright IBTimes 2023. All rights reserved.