Russia Conducts Missile Drill In Barents Sea Near Norway As Aircraft Carrier Allegedly Prepares To Travel To Syria For ISIS Fight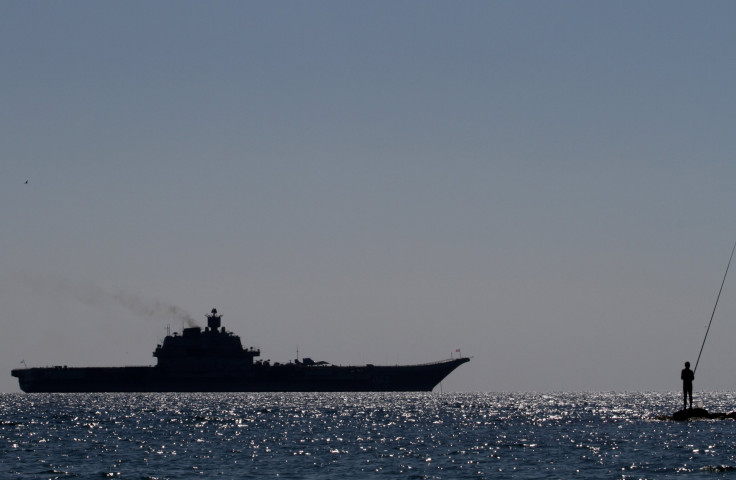 Russia conducted firing drills in the Barents Sea near Norway Monday, testing a missile amid speculation that the country's only aircraft carrier could be preparing to travel to Syria to fight the Islamic State group. The spokesman for the Russian Defense Ministry's Northern Fleet told the Russian News Agency TASS that the drill on carrier Admiral Kuznetsov was part of a combat readiness check that also included an examination of its radio equipment.
"The heavy aircraft carrier Admiral Kuznetsov has completed a combat exercise destroying a sea target with a Kinzhal missile system. The firing by the cruiser took place in the waters of the Barents Sea," spokesman Vadim Serga told Sputnik News. "The naval target was successfully hit."
The Admiral Kuznetsov, which is the Russian Navy's only aircraft carrier, launched in 1985 and was revamped this past summer. It reportedly carries dozens of fighter jets, Granit ship missiles, Klinok air defense missiles and Udav submarine missiles as well as a Kortik gun and missile system.
Russia began airstrikes in Syria -- and allegedly against the Islamic State group, nicknamed ISIS -- Sept. 30. The United States and other countries immediately expressed skepticism over Moscow's actions, saying they thought the bombs wasn't targeting ISIS areas and instead were killing civilians, CNN reported.
Reports emerged earlier this month that Russia was getting ready to send Admiral Kuznetsov to Syria, but military officials denied it. "The heavy aircraft carrying cruiser Admiral Kuznetsov has no long-term missions or other military assignments to look forward to any time soon," Northern Fleet spokesman Serga said at the time, according to previous International Business Times reporting. "The ship will soon head out to the Barents Sea to perform planned combat training tasks and support a naval aviation regiment of the Northern Fleet."
Meanwhile Monday, the Vice Admiral Kulakov ship left for a long cruise to the Atlantic Ocean, according to Port News.
© Copyright IBTimes 2023. All rights reserved.