Russia Grounds 'Backbone' Of Its Defense Sector After MiG-31 Crash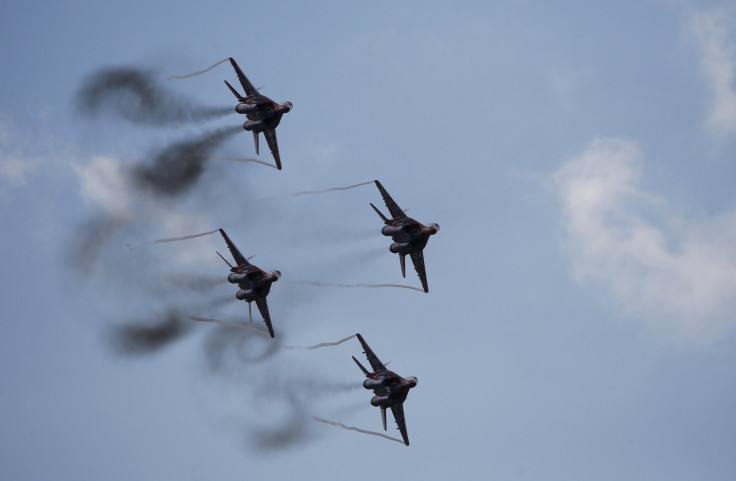 After losing a MiG-31 aircraft over Siberia Monday, the Russian government moved to ground 120 of its aircraft that make up a "cornerstone" of the country's national defense, Defense News reported Tuesday. Both pilots in the Monday crash were able to safely eject and no damage was caused on the ground.
"They [the pilots] told me the details today. The pilots were trying to save the plane to the end. The officers were staying in the cockpit to the end and ejected from the engulfed-in-flames plane only when the situation became hopeless," said Yuri Shvytkin, a deputy from the Krasnoyarsk region, Russia news agency Tass reported.
An investigation is ongoing into the crash, which occurred in a wooded area outside of the town of Kansk. Russian defense officials said that the aircraft was not carrying any weapons. The fleet of aircraft will be grounded until the causes of the crash are determined with initial reports pointing to equipment failure.
The MiG-31 aircraft, known by the NATO codename Foxhound, have experienced crashes in the past with an aircraft going down at the end of October in the Kamchatka region. That crew was also able to safely eject.
"Russia consistently loses one or two MiG-31s each year in crashes," said analysis from Jane's Defense, a security-focused firm, after the October crash. Jane's Defense described the interceptor MiG-31 as the "backbone" of Russia's defense system with the aircraft capable of tracking 10 targets and attacking four at the same time.
Russia is already working to develop a successor aircraft to the MiG-31, which is expected to enter service in over a decade, while also working to modernize its current fleet. The MiG-31 was first used in 1981 and there are an estimated additional 80 of them in reserve.
"It is already clear that after modernization … [the MiG-31] might be in military service for [a total] of 40 to 45 years. But that isn't even the limit," said Deputy Defense Minister Yuriy Borisov when discussing fleet modernization in April.
© Copyright IBTimes 2023. All rights reserved.