Russia Military Expansion: Academies See Boom In Applicants As Putin Announces $400B Defense Modernization Effort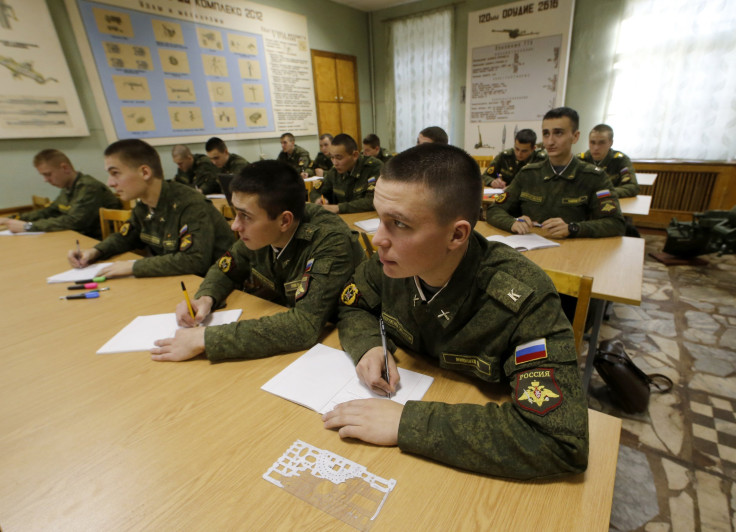 Russian military academies are seeing an influx of applicants who have faced increased competition for vacancies, according to TASS Russia News Agency. In some cases, as many as 30 applicants are vying for each empty seat in the Russian military's training facilities, which have not yet increased enrollment to manage the growing number of candidates.
Female candidates have had the most difficult time getting accepted. "Among women applicants the competition is 30 applications per vacancy. To the military university, 33 per vacancy," Deputy Defense Minister Nikolai Pankov told reporters on Monday, TASS Russia News Agency reported. "We will have to ask the defence minister to reconsider the current quotas…We cannot be indifferent to this type of situation. We will give thought to it and approach the defence minister with our proposals."
The number of people applying to Russia's command academies was the highest it has ever been, with six applicants per opening, according to military officials. Pankov added that he had "never seen a situation like this" before. Russia has about 771,000 active military service members and 2,035,000 in its reserves.
President Vladimir Putin on Thursday announced a $400 billion spending plan to modernize the country's military. The effort would include adding hundreds of new planes, thousands of tanks, missiles and other weapons to the military's reserves, Putin told graduates of Russian military academies in the Kremlin. Putin said the Kremlin's intentions were not aggressive and that the government was looking to "settle any disputes exclusively by political means with respect to international law and interests of other nations," according to the Associated Press.
Some have wondered whether Putin's push to strengthen the military is evidences of his intent to seize Ukraine, despite the Russian president's insistence of peaceful intent. Russia has continued to deny Western claims that the country is involved directly in the ongoing eastern Ukraine conflict, which has resulted in thousands of deaths since the summer of 2014.
© Copyright IBTimes 2023. All rights reserved.
FOLLOW MORE IBT NEWS ON THE BELOW CHANNELS