Russian Military Buildup Is Evidence Putin Plans To Seize Ukraine, Kiev Official Says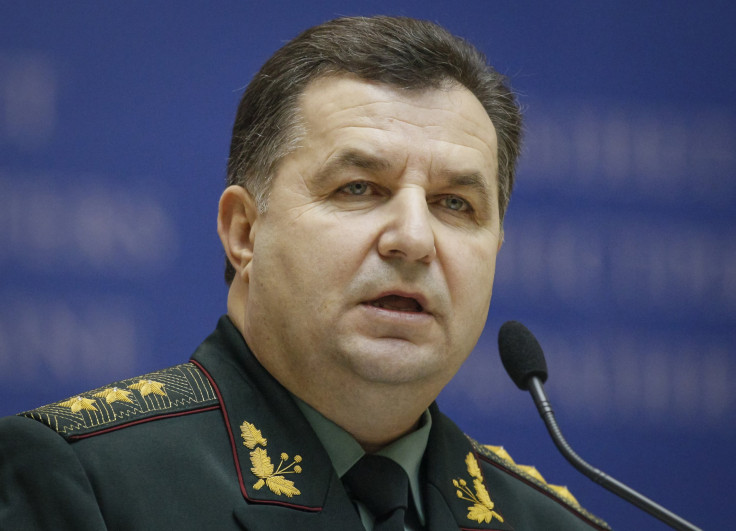 Russian President Vladimir Putin still intends to seize Ukraine despite his apparent support of last February's Minsk ceasefire agreement between Kiev and pro-Russian separatists, Ukraine Defense Minister Stepan Poltorak said Friday. Poltorak's comments came as NATO built up its military presence in Eastern Europe as a check against further Russian military aggression.
"There is threat still because the military groups of the [separatists] ... and Russian troops continue to build up their forces, bringing additional equipment and ammunition, and of course their plans are not peaceful," Poltorak said at a press conference, according to the Moscow Times. "One should not be naive and think that Putin has given up his plans to seize Ukraine, to destabilize the situation in Ukraine. He's just changing his tactics and strategies, but his goal remains the same: to seize Ukraine."
The Kremlin repeatedly has denied Western accusations that Russian troops and military equipment were directly involved in the eastern Ukraine conflict, which has killed more than 6,400 people since early 2014. Casualties continue to mount in the country in violation of the ceasefire, which came about as the result of a summit between Germany, France, Russia and Ukraine.
The European Union voted earlier this week to extend economic sanctions against Russia through January 2016. First enacted late last year, the sanctions were intended to punish Russia for its annexation of the formerly Ukrainian territory of Crimea in March 2014 and purported involvement in the Ukraine conflict. The EU vowed the sanctions will remain in place until Russia adequately demonstrated its commitment to the peace process in Ukraine.
The U.S. Pentagon announced plans this week to station 250 pieces of military hardware, including tanks and howitzers, in six Eastern European nations. Secretary of State Ash Carter admitted the move was intended to support NATO allies against Russia, which has threatened several Eastern European nations in recent months, including Poland and the Baltic states of Latvia, Lithuania and Estonia.
© Copyright IBTimes 2023. All rights reserved.
FOLLOW MORE IBT NEWS ON THE BELOW CHANNELS